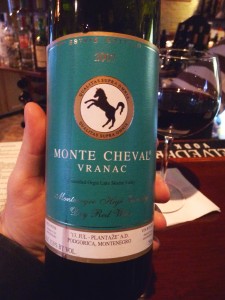 My favorite small wine shop, In Fine Spirits, delighted me once again this week. In response to my question, "What's the weirdest thing you've got right now," the clerk thought a moment, and I could veritably see the light bulb above his head suddenly burst into incandescence.
"I know! Here – this is called Vranac, and it's from Serbia." How magnificent — I had never tasted the variety, nor any wine at all from Serbia, and it cost only $12. I purchased the Vranac, and decided it would be most fun to share my discovery with a Serbian friend or two.
A quick scan of the contacts in my cell phone reminded me that, unfortunately, I have no Serbian friends. Determined to rectify the situation, I took the bottle to the nearby Café Adriatic (5553 N. Clark St., Chicago, 773-828-8889), an attractive if relatively unpopular Balkan restaurant up the street. I've yet to see the restaurant more than 1/3 full, and this evening was no exception. It was just what I was hoping for.
I sat down at the bar, and Tanja, the bartender and daughter of the owner, offered me a drink. I proudly produced the Vranac (pronounced "vrah-nahts"), and suggested that we all share it, gesturing to her and her father seated a couple barstools down. "I'm starting a blog about unusual wines," I explained.
For some reason this did not impress Tanja, who wouldn't budge on the $15 corkage fee. I repeated my offer to share the wine, but a skeptical Tanja demurred. "We really can't… Not before 10:00, certainly. But we do have some Vranac here, you know."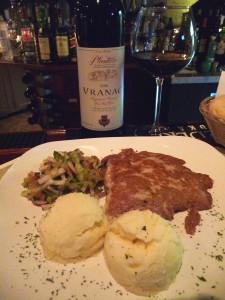 She suggested a 2007 Monte Cheval Vranac from the Plantaze vineyard in the Lake Skadar Valley near Podgorica in Montenegro. I have long wanted to explore nearby Kotor (ideally staying at the luxurious Aman Sveti Stefan), and a $7.00 glass of Vranac allowed me to at least picture myself there, overlooking the dramatic bay. Tanja opened a fresh bottle and poured a generous glass of deeply red wine with magenta around the edges. Big and beefy, the wine offered relatively soft tannins, up-front flavors of dark fruit and some pleasant minerality at the end.
Paired with my Njeguski Steak, a pork tenderloin pounded flat and stuffed with pickles and prosciutto, flavors of plums and cherries came through even more clearly. Its heartiness and rusticity reminded me a bit of a Nero d'Avola. At room temperature, it tasted a little too hot — a slight chill would have served this wine better.
I did some research, and discovered that Vranac is grown almost exclusively in Montenegro, though some is grown in Croatia as well as Serbia, of course. According to K&L Wine Merchants, its ancient origins are somewhat obscure, but many believe it to be related to Croatia's Plavac Mali variety, an ancestor of Red Zinfandel. Wikipedia offered the additional tidbit that the word "vranac" means "strong black and powerful horse."
I also consulted one of the largest books I own, titled simply Wine, by André Dominé. Only 1/6 of one of its 928 pages is devoted collectively to the wines of Montenegro, Serbia and Kosovo, in addition to a map showing their 14 distinct wine-growing regions. Dominé asserts that "The best red wines are made in the Kosovo region, along Montenegro's Adriatic coast, and in Macedonia." It seems Café Adriatic chose their Vranac well.
The owner of Café Adriatic, Ivica, had been chatting with me while I ate about his home country of Montenegro and my nascent blog. I had almost finished my glass of Vranac when he started insisting I try some shots. It was at this point things started to get really interesting…
SUMMARY
2007 Monte Cheval Vranac: A hearty, rather rustic wine from Montenegro reminicent of a Nero d'Avola. Serve a bit below room temperature. Drink now.
Grade:   B
Follow this link to Part II
Balkans, Restaurant Reviews, Vranac Aman Sveti Stefan, Andersonville, Cafe Adriatic, In Fine Spirits, Kotor, Monte Cheval, Montenegro, Podgorica, Serbia, Vranac