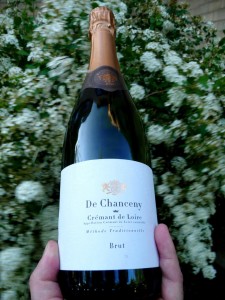 There may be an almost countless number of wine regions gracing the globe, but Bordeaux remains arguably the most important benchmark of quality. It wasn't always so, of course. The Loire Valley once held that title, its river serving as an easy trade route into the Atlantic, from which cargoes of wine swung north to thirsty Holland and England.
That all ended in the 12th Century, when Eleanor of Aquitaine and Henry II favored Gascony with generous excise tax privileges, ensuring that "…Gascony became the most important supplier of the English court and London society," according to André Dominé's Wine.
The Loire Valley's still wines have languished in the shadow of Bordeaux ever since, and to the north, the sparklers of Champagne continue to eclipse Loire bubblies. But again, "Saumur producers claim to have been in the fizz business long before the Champenois." (Alice King, Fabulous Fizz.)
Despite this long history of making sparkling wine, the Loire Valley received an official Appellation Crémant de Loire Contrôlée designation only in the mid-seventies (in 1975 according to Wine Searcher or 1976 according to Fabulous Fizz). The Crémant de Loire I found, De Chanceny Brut, contained the three most common blending varieties, Chenin Blanc (70%), Chardonnay (15%) and Cabernet Franc (15%), but the AOC allows for almost all the other Loire grapes, including unlikely varieties such as Grolleau and Pineau d'Aunis.
Notably absent from the list is the Loire's most famous variety, Sauvignon Blanc. According to Wine Searcher, "Despite its high acidity (effectively a prerequisite in quality sparkling wines), Loire Sauvignon is not thought to be well-suited to sparkling wine production." I'm continuing to hunt for a more satisfactory explanation.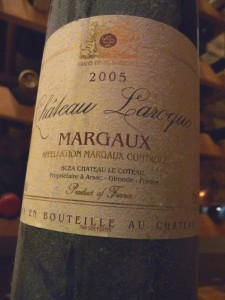 In the meantime, I happily drank a flaxen flute of non-vintage De Chanceny Brut as an aperitif at a recent dinner party. The complexity of its nose surprised me, considering I'd spent only about $10 for the bottle (discounted from $13). I loved the yeasty, nutty notes, as well as some aromas of flowers and green apples. The plus-sized bubbles disappointed me a bit, but the dry, minerally finish offered some compensation.
With the main course of lamb burgers, we opened a bottle of Bordeaux, the Loire's 12th-Century nemesis. Because few styles of Bordeaux can be considered especially obscure, I won't go into great depth about this 2005 Chateau Laroque Margaux (not to be confused with the famous Chateau Margaux). This wine comes from a highly regarded vintage, but it caused some controversy at the table, with one guest dismissing it as "past its prime."
He was likely correct, considering the poor aging conditions my wines suffer, but I found it enjoyable nevertheless. This brick-ruby wine presented a metallic nose and ample tannins, with flavors of earth, black pepper and old oak. Paired with the lamb burgers, notes of plum rose to the surface, the wine's last gasp of fruit. The Chateau Laroque had some life left after all!
SUMMARY
De Chanceny Crémant de Loire (non-vintage): It may lack the depth of a Champagne, but it lacks the price tag as well. An excellent value, with flavors of apples, yeast, flowers and minerals. Chill well.
Grade: B
Find It: This bottle was purchased at Whole Foods Market Evanston South for approximately $10, discounted from $13.
2005 Chateau Laroque Margaux: Complex and earthy, though a bit past its prime because of my non-cellar. Almost any 2005 Bordeaux is worth seeking out — it's an "outstanding" or even "extraordinary" year according to Robert Parker's vintage chart.
Grade: B+
Find It: This bottle was purchased at Sam's Wines, a store that is now but a cherished memory.
Blends - Bordeaux Style, Chenin Blanc, France - Bordeaux, France - Loire Valley, Sparkling Chateau Laroque Margaux, Chenin Blanc, Cremant de Loire, De Chanceny, Robert Parker