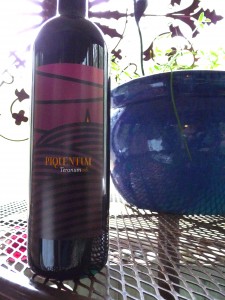 Many people think of Teran, when they think of it at all, as a varietal, which it is, except when it isn't.
Officially, Teran can only be grown in iron-rich terra rossa, the karst soils found in specific sections of northeastern Italy, Slovenia and Istria. "Teran" grapes grown elsewhere are merely Refosco (or Refošk). Teran then, by definition, is not just a varietal but an expression of its terroir.
I'd sampled some Slovenian Terans when I visited a few years ago, and honestly, I didn't like them very much. They may very well have been well-crafted wines, but the notes of iron simply didn't agree with me. I feel the same way about Bleu, Stilton and Gorgonzola cheeses — however lovingly and artisinally made they may be, I can't get over the moldy taste. It's a flaw, I know, but what can I do?
I hoped the 2008 Piquentum Teranum from Croatian Istria would be different. The winemaker, Dimitri Brečević, hails from the French Pyrenees and studied enology in Bordeaux, Burgundy and New Zealand. He returned to his father's native Istria to start his own winery in 2004, naming it "Piquentum" after the ancient Roman moniker for Buzet, the picturesque hill town that was now his home. (Read an interview with the winemaker here.)
Dark magenta in the glass, the Piquentum Teran presented a telltale aroma of iron along with some black pepper. I could almost taste the terra rossa — Mr. Brečević's wine did not hide its terroir behind a veil of racy fruit or oak. Indeed, it's become quite clear to me why this varietal once served as a treatment for anemia.
With the Bouef Bourguignon, flavors of strawberries alighted on the front of the tongue, with iron and spiciness asserting themselves at the back of the palate. After about 20 minutes of breathing, the spiciness morphed into a distinct taste of black pepper.
I wish I could like the 2008 Piquentum Teranum, because Mr. Brečević has surely crafted an impressive version of the Teran varietal. But once again, my palate felt overwhelmed by the unavoidable clang of iron. In researching this varietal, one website noted that Teran "…is a wine that one either loves or rejects at first sip." I pride myself on enjoying all sorts of different wines, but despite my best efforts, I can't get into Teran.
This is not to say that you might not enjoy Teran, however, and I most certainly encourage you to try one. The distinctive personality and undeniable terroir of a Teran makes it worth drinking at least once. It's unlike any other wine I know.
SUMMARY
2008 Piquentum Teranum: Strawberries, iron and black pepper. It worked well with a beef stew; prosciutto is the classic food pairing. Refrigerate for 10-15 minutes before serving.
Grade: Since this wine, regardless of quality, was not to my taste, I'm not able to assign a fair grade.
Full Disclosure: This wine was a complimentary sample provided by Tasty Wine Company.
Balkans, Teran Buzet, Croatia, Istria, Piquentum, refosco, terra rossa