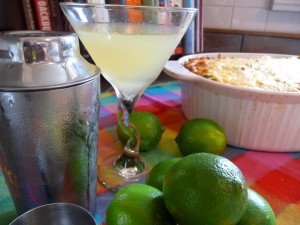 As I put the finishing touches on a giant pile of enchiladas, I mentally catalogued my wine inventory, trying to decide what might make a good pairing.
The enchiladas were a little complicated. I stuffed corn tortillas with brown rice, red peppers, caramelized onions and chorizo, and topped them with Chihuahua cheese and a homemade salsa of tomatillos, toasted pepitos, garlic, jalapeño and fresh epazote.
I'm sure I could have come up with something that would have worked, but as I stuffed my 14th tortilla, I decided the heck with it. I'm making a margarita.
A margarita, of course, could hardly be considered unusual or obscure, especially when made with distressingly fluorescent "sour mix," a chemical concoction of corn syrup and alien-green food dye. What, then, would make for an Odd Bacchus-worthy version of the cocktail?
First, treat a margarita like a cocktail, not a Slurpee. I serve mine straight up, in a martini glass. My favorite recipe is actually quite simple:
–1 oz tequila (I prefer a reposado or gold tequila, which has a mellower flavor than silver)
–½ oz triple sec or other orange liqueur
–Juice of 1 lime
–1 small squirt agave nectar (inexpensive agave nectar is available at Whole Foods, Trader Joe's and many other groceries)
Combine all the ingredients in a shaker with large ice cubes, shake vigorously, and strain into a martini glass or small margarita glass.
The round reposado tequila and honey-like agave nectar give the margarita a bit of depth, while the orange liqueur provides a touch of additional complexity. It takes a little more effort than sloshing some Cuervo and margarita mix together, but your exertions will be well rewarded.
Cocktails, Tequila Agave Nectar, Margarita, Reposado Tequila, Triple Sec