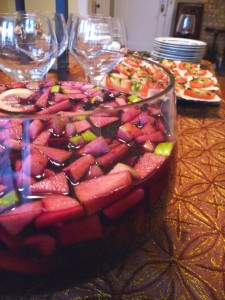 Sangria my not be the oddest thing I've discussed on this blog, but it's undeniably unusual to find really high-quality sangria. Indeed, "high-quality sangria" may seem like an oxymoron to those accustomed to flabby, sugared-up red wine swirled with some mealy apples and orange peel. But sangria can be a wonderful and even complex drink, worth making with care.
Vincent Astor made perhaps the most infamously high-quality sangria in history. According to Eric Felten, writing for the Wall Street Journal in 2007, "Astor was known to astonish waiters by asking for a bottle of Dom Perignon, a bottle of 1947 La Tâche (one of the great vintages of that fine Burgundy) and then instructing them to mix the wines together with cucumbers and plenty of fruit to make the most aristocratic of Sangrias."
Fortunately for those of us without seven-figure salaries, it's not necessary to purchase a bottle of La Tâche to make delicious sangria. What is necessary is a fruity, robust wine you would enjoy drinking on its own. If it's not able to stand on its own in a glass, it won't support the weight of a punch bowl.
I chose a 2010 Venta Morales Tempranillo from the D.O. of La Mancha in Spain. La Mancha, stretching from just south of Madrid to the foothills of the Sierra Morena north of Cordoba, is the world's largest contiguous wine growing region. Relatively undistinguished white wines dominate La Mancha, with only about 1/5 of its area devoted to reds. The Venta Morales, according to the label, comes from vineyards near the village of Villanueva, "…handcrafted in small batches to insure the highest quality possible."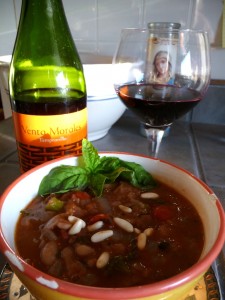 On sale at Whole Foods for $6.29 a bottle — and that's before a 20% case discount was factored in — the Venta Morales seemed worth a risk. With plums on the nose, this deep magenta Tempranillo offered surprising tannins, a medium body and flavors of raspberry jam with a touch of oak. Paired with a hearty Pappa al Pomodoro (Tuscan tomato/bread soup), the wine developed distinct notes of spicy white pepper. Dry, tannic and fruity, it seemed just right for making sangria.
A Google search yields a multitude of sangria recipes, and there are easily as many non-digitized versions in cocktail books of varying wisdom. My Mr. Boston Official Bartender's and Party Guide, for example, recommends adding "Other fruits as desired (bananas, strawberries, etc.)." As much as I enjoy an unusual cocktail from time to time, I draw the line at mixing bananas and wine.
I prefer a modification of Eric Felten's recipe, restrained to citrus fruits and peaches:
2 bottles robust red wine (chilled)
2 white peaches
1 red- or pink-skinned apple
1 green-skinned apple
3 oranges
3 lemons
1/2 cup triple sec or other orange liqueur
1/2 cup brandy
1/4 to 1/2 cup sugar (to taste)
A few drops of lychee liqueur or rose water (to taste)
Slice one orange and one lemon into rounds, and gently macerate with the sugar in a large bowl, keeping the flesh relatively intact. Squeeze in the juice of the remaining oranges and lemons. Dice the white peaches and the apples and add them to the bowl. Add the triple sec, brandy and a few drops of lychee liquor or rose water (adding a floral touch to the nose), stir, cover, and refrigerate for three or more hours.
Combine all the ingredients in a punch bowl, floating the orange and lemon rounds on top. To keep cool, drop in a single large chunk of ice, rather than many small cubes. One large ice chunk, about the size of a fist, dilutes the sangria more slowly than faster-melting cubes.
A tannic Tempranillo should keep things grounded, the citrus adds sweetness and texture, and the peaches and lychee/rose water provide some floral notes at the top. It's a delightful drink, and I think Vincent Astor himself might have enjoyed it.
SUMMARY
2010 Venta Morales Tempranillo: Fruity, some tannins, a bit spicy and very inexpensive — perfect for sangria.
Grade: B
Find It: I purchased this wine at Whole Foods Market Evanston South for a little over $5 per bottle, but $7 seems to be a more representative price.

Cocktails, Spain, Tempranillo Eric Felten, La Mancha, Lychee Liqueur, Pappa al Pomodoro, Sangria, Venta Morales