When a colleague at work gave me a bottle of Garnacha Tinta (Grenache) from Spain, I didn't think it would be suitable to discuss on this blog. After all, this varietal grows all over the country. According to The Oxford Companion to Wine, Garnacha Tinta is "Spain's second most planted red wine grape after Tempranillo in 2004," covering no fewer than 203,300 acres.
But I looked a little closer at the label of this 2006 Via Terra Garnacha, and noticed it came from a Denominación de Origen (DO) I had never heard of: Terra Alta. I located this large, Catalan wine region on a map in The World Atlas of Wine, lying just west of much more famous Priorat, near the city of Tarragona.
Neither the atlas nor the Oxford Companion had very much to say about this mountainous "high land," other than to note that it's scenic and up-and-co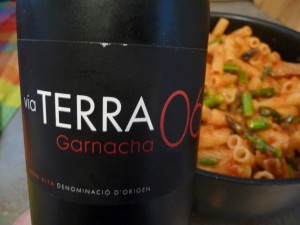 ming, but not yet fully developed. Wikipedia agrees, adding that Terra Alta wines were consumed almost exclusively locally until just recently.
André Dominé's Wine goes into further detail, describing how "the red wines here were considered to be as rough as the climate," but thanks to more modern wine-making techniques, "these wines have now become softer and more complex." Indeed, the best examples have led "Spain's top enologists [to] consider Terra Alta to be one of the greatest hopes."
It seemed this Garnacha could be worth writing about after all! I decided to open it after a visit to the farmer's market down the block, where I found some beautiful asparagus, spring onions and garlic scapes (green stems removed from the bulbs). I sautéed these vegetables in some olive oil, and added a small can of chopped San Marzano tomatoes (these flavorful Italian tomatoes, available inexpensively at Whole Foods and Italian markets, are my favorite). I find a small can is all you need for a pound of pasta — it's just enough to coat without becoming soupy.
The juicy acids of the 2006 Via Terra Garnacha worked quite nicely with the pasta. A watery-edged brick red, it presented a nose of blackberry jam, soft tannins and flavors of plums and black pepper, with a hint of iron in the finish. The pasta drew out additional flavors of strawberries. As it warmed, a powerful spiciness developed, but it became a little too much when the wine reached room temperature.
This wine confirmed what "Spain's top enologists" have been saying: The Terra Alta region is worth watching.
SUMMARY
2006 Via Terra Garnacha: Fruity and spicy, this wine pairs will pair well with non-spicy tomato sauces and roasted/grilled meats. A great choice for a cookout. Refrigerate for 20 minutes before serving.
Grade: B
Find It: I found a number of examples online priced at $12 or $13.
Garnacha/Grenache, Spain Catalunya, Terra Alta, Via Terra Garnacha