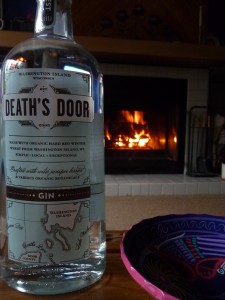 Perhaps as a holdover from my old cosmo-swilling days, I usually have a number of fresh limes on hand, but rarely any lemons. But we recently happened to have a couple extra after jarring a batch of preserved lemons, and I resolved to make good use of them.
I also happened to have a bottle of gin I've been itching to open. Back in April, when we visited Door County, Wisconsin, I picked up a bottle of Death's Door Gin. This gin is actually vintage, marked with the date the "organic hard red winter wheat" was harvested from Washington Island: August, 2009. Because Washington Island, set at the very end of the Door County Peninsula, is a particularly scenic and tranquil spot, I couldn't resist this gin made from its wheat (as well as "wild juniper berries and various other botanicals").
On its own, the gin has a nose of juniper (of course) and a bit of fresh mint. Sipped neat, anise flavor gives way to juniper before a hit of white pepper.
A gin this complex and smooth deserves better than a swish of tonic. Since I had some fresh lemons, I dusted off my old Aviation recipe.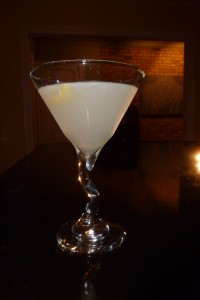 If you look up this cocktail, which always calls for gin, fresh lemon juice and maraschino liqueur, you'll find two main variations: Recipes with crème de violette and recipes without. (And then there's my eccentric The New New York Bartender's Guide, which inexplicably calls for apricot brandy instead of crème de violette.)
If you omit the crème de violette, a somewhat expensive and hard-to-find liqueur, you will still end up with a fine cocktail, appealing especially to those who enjoy a strong gin martini. The almond-scented maraschino liqueur (not to be confused with maraschino cherry juice) adds an element of roundness to the gin, and the lemon provides an important textural element.
I prefer the addition of crème de violette, which gives the cocktail the barest touch of sweetness, a hint of flowers on the nose and a beautiful pale lavender color. Even so, it remains a sophisticated, strong and adult drink which even James Bond could drink in masculine comfort.
After trying out a few recipes, I decided these were the proportions I liked best:
4 parts high-quality gin
1 part maraschino liqueur (you could also substitute kirschwasser for a drier cocktail)
1 part fresh-squeezed lemon juice
1/2 part crème de violette
Since the amount of juice from half a lemon will vary, I recommend basing the proportions of the other ingredients on how much lemon juice you get. Add all the ingredients into a cocktail shaker with ice, shake vigorously, and strain into a martini glass. If you accidentally add too much crème de violette, as I occasionally have, compensate by adding more lemon juice.
FIND IT
Death's Door Gin: $30 at Binny's Beverage Depot
Maraschino Liqueur: $28 at Binny's Beverage Depot
Crème de Violette: $27 at In Fine Spirits or $25 at Binny's Beverage Depot
(You are unlikely to finish an entire bottle of crème de violette making Aviations, but it's useful for other drinks as well. Add a few drops to a flute of sparkling wine for a modified Kir Royale. A little can also work wonderfully in a gin and tonic, a gimlet or a daquiri.)
Cocktails, Creme de Violette, Gin, Maraschino Liqueur Classic Cocktails, Daquiri, Death's Door Gin, Gimlet, Kir Royale, Washington Island