I had been mostly avoiding cooking during this recent Chicago heat spell, but as the "spell" turned into a full month, the desire to get back in the kitchen became too great. Despite the 90+ temperatures and a non-air-conditioned kitchen, I decided it was time to get back to the stove.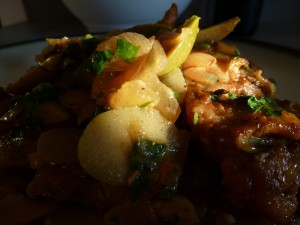 My thoughts turned to the warm-weather cuisine of Morocco, since we had recently made a batch of preserved lemons. A tagine of slow-cooked chicken thighs, fresh green olives, preserved lemon and caramelized onion seemed just the thing.
But what to pair with this Moroccan stew? It may or may not surprise you to know that I had no Moroccan wine on hand. Instead, I made the most of Morocco's connection to France and opened a white Bordeaux from Entre-Deux-Mers, which means "between two seas" (in this case, the Dordogne and Garonne Rivers). The name itself already seemed cooling.
Bordeaux may not be especially odd or obscure — indeed, it's perhaps the world's most famous wine region. But many people seem to think of Bordeaux as invariably expensive and out of reach, and so almost never drink it. When is the last time someone showed up to a party of yours with a bottle of Bordeaux in tow?  It's arguably the ultimate snob wine.
Somehow it's escaped the notice of the general wine-drinking public that Bordeaux can be a staggeringly good value. What many see as a snob wine, oddly enough, is some of the most accessible wine in the world.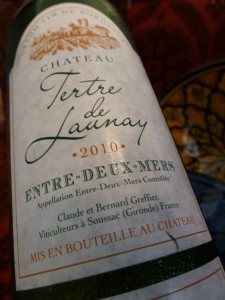 While browsing Binny's Beverage Depot, I found a bottle of 2010 Chateau Tertre de Launay at a price I simply couldn't ignore: $8.99, on sale for $7.99. Even I thought this price seemed a little too good to be true, but the wine lived up to its Bordeaux name.
A pale straw color, it smelled brightly green-gold. Juicy, lemony acids kicked things off, but the wine kept a tight focus, wrapping up with an elegant finish of limestone. It made a fine pairing with the tagine, working in concert with the preserved lemons, but surprisingly it helped bring the green olives to the fore.
The Sotheby's Wine Encyclopedia notes that "Entre-Deux-Mers has a growing reputation for exceptional-value wines of a high technical standard." There was no question this wine qualified as an exceptional value. With bottles like this costing well under $10, why reach for a soulless wine named after the unnaturally colored hindquarters of a kangaroo?
SUMMARY
2010 Chateau Tertre de Launay (Appellation Entre-Deux-Mers Contrôlée): Up-front lemony acids, with a tight focus and a brisk, stony finish. A food-friendly, summery delight.
Grade: A-
Find It: I purchased this wine for $8.00 at Binny's Beverage Depot on Clark Street in Chicago.
Blends - White, France - Bordeaux Binny's, Chateau Tertre de Launay, Entre-Deux-Mers, Tagine