I've written about poorly organized wine lists before, but until now, I haven't felt moved to remark on a particularly well done wine list. Apparently, it took traveling to Muscat, the capital of Oman, to find one worthy of note!
Our first night, we dined at a hilltop Indian restaurant called Mumtaz Mahal. Because I was worried that jet lag, alcohol and a rental car wouldn't mix, I didn't drink any wine, but I did marvel at the restaurant's list. Here, on the edge of the Arabian Peninsula — a region not exactly known for wine appreciation — was one of the better wine lists I've ever encountered: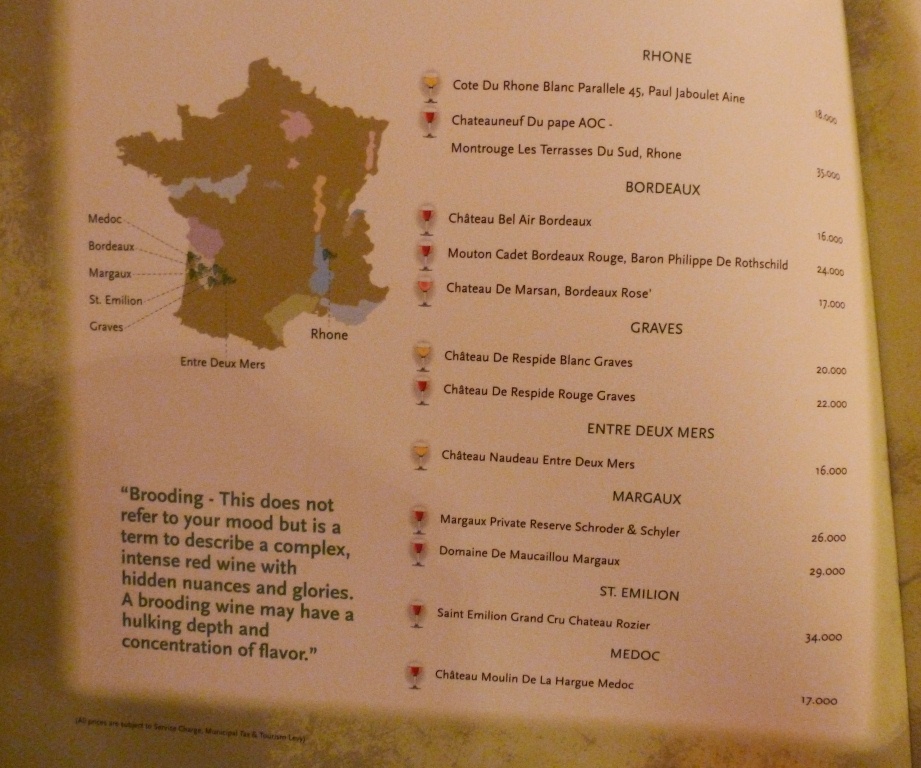 Not only does it list the regions from which the wines originate, it indicates all the regions on a map! For those of us interested in a wine's terroir, this information is particularly useful. How strange though, that they chose not to list the vintages. For some regions the vintage isn't especially important, but for Bordeaux, the year is vital.
I also appreciated that the wine list offered a range of offbeat selections, even including a couple of wines from India:
Should you ever have a chance to dine at Mumtaz Mahal, try the cubes of kingfish roasted in a clay pot with caraway, mustard oil and yogurt. Delicious! And heck, go for that Chenin Blanc from Nasik while you're at it.