We tasted about 25 different wines during our afternoon in Amador County in the Sierra Foothills. Fortunately I had perfected the use of the spit bucket at the Wine Bloggers Conference back in July.
Here are some quick reviews of my favorites. You may not see these on the shelf of your local wine shop, but most of these can be ordered from the wineries' websites. If you live in Illinois, as I do, shipping wine to your home is no problem.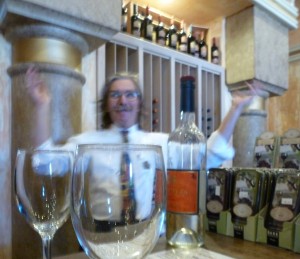 2010 Villa Toscano Shenandoah Pinot Grigio: I'm not usually a big Pinot Grigio fan, but I very much enjoyed the nose of honey and apples, the juicy mouthfeel and the flavors of citrus and lemongrass. ($18)
2008 Villa Toscano Tre Stellina: This blend of 50% Sangiovese, 32% Zinfandel and 18% Montepulciano tasted of chocolate and cherries, but it felt tight and dry, making me want a good steak. ($26)
2010 Villa Toscano Old Vine Zinfandel: Big flavor — spicy and lively, with a port-like aroma and a long finish. (Barrel Future)
2010 Villa Toscano Barbera: Though it had a chocolatey nose, there was also something green in there, piquing my interest. It turned out to be huge, spicy and chewy. In my notebook, I wrote, "Buy it!" (Barrel Future)
NV Nine Gables Almond-Flavored California Champagne: We stopped at Nine Gables specifically to try this almond "champagne," which had a pleasant amaretto aroma but rather large bubbles. Almonds grow in abundance around Sacramento, and I had hoped these almonds somehow made it into this sparkling wine. It's not clear if they did. The tasting room employee explained that the almond flavoring was added to the finished wine. "Almond extract?" I asked. "Beats me," she replied. Ah. ($15)
2009 Andis Grenache: Brick red in the glass, this wine, to paraphrase The World Atlas of Wine, tasted like it came from a gold miner's bucket, with iron, earth and then fruit. Very tasty. ($25)
2009 Andis Barbera: This Italian variety seems to do quite well in Amador County, and Andis' version is no exception. It was big, meaty, fruity and fun. ($24)
2010 Andis Petit Sirah: Served on tap ($24 per carafe, $15 per refill), this wine smelled of port and lilacs and tasted elegantly dry.
Then it was on to Placerville for dinner, where I discovered my personal favorites of the day… (to be continued)
California 9 Gables Winery, Amador County, Andis Wines, Shenandoah Valley, Villa Toscano