It wasn't until I traveled through Guatemala that I realized rum could be more than just a tasty component of a Cuba Libre or a Piña Colada. There, on my very first evening in the country, I encountered the supremely delicious Ron Zacapa Sistema Solera rum.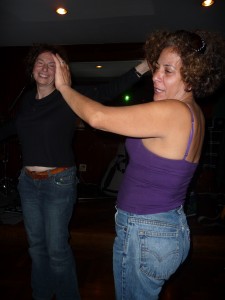 My traveling companion and I expected  a relatively low-key first evening in the bar of the Camino Real hotel, but before long we'd made friends with some rather tipsy locals. Our new, seemingly wealthy friends insisted on buying us round after round of Ron Zacapa, which we insisted they help us finish. They gladly obliged, and much ridiculous dancing ensued.
Later, when I had a chance to actually focus on the flavor of the Ron Zacapa, it floored me. I had no idea rum could rise to the level of a fine bourbon or even Cognac. As our time to return home drew nearer, I despaired that I had been unable to find a bottle to bring back with me. But Ron Zacapa, ever a step ahead of the game, thoughtfully provided a fully stocked shop in the airport.
I brought home a couple of bottles of the Sistema Solera 23, which blends rums aged between six and 23 years in "one of the highest aging facilities in the world," 2300 meters above sea level in Quetzaltenango. Here, "the thinner air and lower atmospheric pressure helps intensify the infusion of flavours from the barrels," according to the website.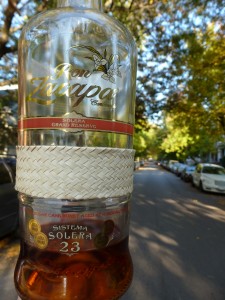 Perhaps I should have guessed that you can also purchase Ron Zacapa in the U.S. Binny's carries the 23-year rum for $43, not much more than what it costs at the Guatemala City airport. It's worth the investment.
The rum smells tantalizingly of vanilla and molasses, and it presents surprisingly complex flavors. When you sip it neat (the Ron Zacapa website suggests adding a cube of ice), a momentary burn of alcohol makes it seem as if it will be unpleasantly strong, but the rum instantly relaxes on the tongue, giving way to a sprightly, butterscotchy goodness and a long, warm finish. It's an ideal autumn digestif.
Fortunately, just as my bottle of Ron Zacapa is about to run out, the Wall Street Journal ran a column on October 8th recommending an array of fine sipping rums. That Santa Teresa 1796 from Venezuela sounds mighty tasty at $40…