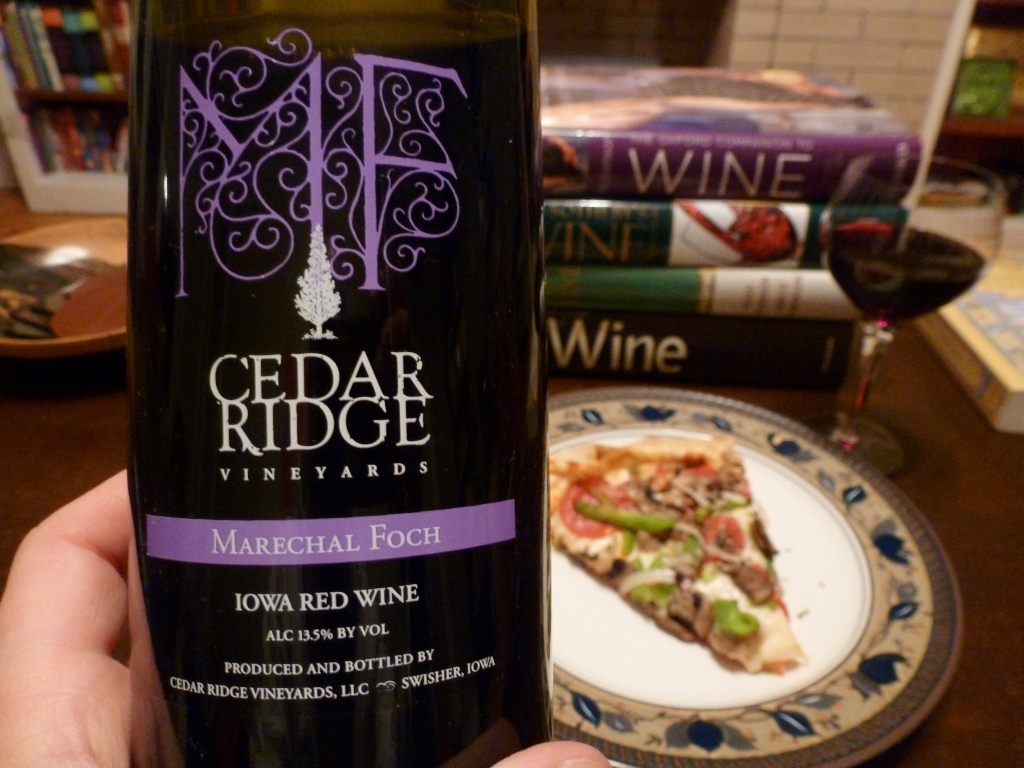 It came as a great shock to me, years ago when I was deciding which college to attend, that Iowa has much more to offer than just corn. Set on a hill over the Iowa River, pedestrian-friendly Iowa City has charm to spare and a palpable buzz from the University of Iowa's large student population. I still make a point of visiting every year or so, because some friends understandably simply didn't want to leave (despite the region's lack of creativity when it comes to place names).
On a recent visit, I discovered there's a well-regarded winery between Iowa City and Cedar Rapids. I didn't have a chance to take a tour this time around, but I found a full range of Cedar Ridge Vineyards wines at the New Pioneer Co-op, the apotheosis of granola-chic grocery stores.
In the mood for a light red to pair with some pizza, I cracked open the non-vintage Marechal Foch, made with estate-grown fruit. This variety, according to The Oxford Companion to Wine, is a French hybrid of Goldriesling (a cross of Riesling and Courtiller Musqué) and… something else. The Companion makes no guesses, but Wikipedia posits a Vitis riparia/Vitis rupestris cross or a variety known as Oberlin 595.
So there's a fun tidbit to trot out at your next cocktail party.
The Companion goes on to state that this hardy variety ripens very early and was once popular in the Loire Valley. Now Marechal Foch seems to be mostly confined to the U.S. and Canada, where it produces "fruity, non-foxy wines which can stand on their own two feet."
After drinking Cedar Ridge's version, I agreed, more or less. A dark, transparent red in the glass, their Marechal Foch tasted most markedly of black pepper and raspberry jam, and it wasn't half-bad with the pizza. Unfortunately, the wine felt flabby, with no tannins or structure to support it. But I tried it again after about an hour, and it tasted bigger and spicier, with more of a body and a longer finish.
I certainly didn't dislike this easy-to-drink wine, but Cedar Ridge's claim that it's "the highest rated Iowa wine in history" would seem to support The Sotheby's Wine Encyclopedia when it argues, "of the 27 wineries in this state, none has stood out so far."
SUMMARY
NV Cedar Ridge Marechal Foch: Fruity, fun and not too serious, it worked just fine with some pizza. It's novel to drink an Iowa wine, but for $17, I expected a little more.
Grade: C
Find It: According to the winery's website, the Marechal Foch is sold out, but you might find a bottle at local shops like The New Pioneer Co-op.