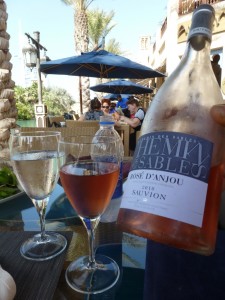 Although Allah frowns on the consumption of alcohol, so I hear, I did manage to sneak a few glasses during my trip to Dubai and Oman. In that hot, dry climate, I found myself regularly drawn to juicy rosés.
One afternoon, I sat down to a light Persian lunch of lentil-studded meatballs with pomegranate sauce and herb salad at a restaurant called Anar, set in the Souk Madinat Jumeirah. I ordered the one rosé on the menu, a 2010 Sauvion "Chemin des Sables" Rosé d'Anjou from France's Loire Valley.
Rosé d'Anjou sounded vaguely familiar, but I couldn't remember ever trying one. The color of a watermelon Jolly Rancher, it tasted fruity and fun, taking on an extra tang with the meatballs. I didn't feel moved to deep contemplation, but it was a satisfying choice for a sunny al fresco lunch.
I later went to Jancis Robinson's Oxford Companion to Wine to research Rosé d'Anjou. She doesn't pull any punches, calling it "sickly." Tom Stevenson's Sotheby's Wine Encyclopedia takes a more gracious tone, tepidly arguing that "There is nothing intrinsically wrong with a wine that happens to be pink with some sweetness." It seems Rosé d'Anjou is the White Zinfandel of the Loire Valley!
The Grolleau variety usually makes up the largest part of this blend, and herein lies the problem. According to Robinson, "It produces extremely high yields of relatively thin, acid wine and it is to the benefit of wine drinkers that it is so systematically being replaced with Gamay and, more recently, Cabernet Franc." Ouch. Even the winery seems anxious to downplay Grolleau's role in the blend; it comes dead last in the website's list of varieties.
Well, it may not exactly be Tavel, but I had no problem cooling off with a glass over lunch. The key, according to Stevenson, is to drink it as young as possible. "An alarming number [of Rosé d'Anjou wines] quickly tire in the bottle," he warns.
If you like White Zinfandel and want to branch out a bit, give a Rosé d'Anjou a try. In the desert, anyway, it tasted pretty darn good.
Blends - Rosé, France - Loire Valley, Grolleau Anar, Rosé, Rose d'Anjou, Sauvion, Souk Madinat Jumeirah