During the dark, cold days around the winter solstice, it's a great comfort to drink rich, hearty red wines. They warm the soul and tend to pair well with the similarly rich, hearty foods served this time of year.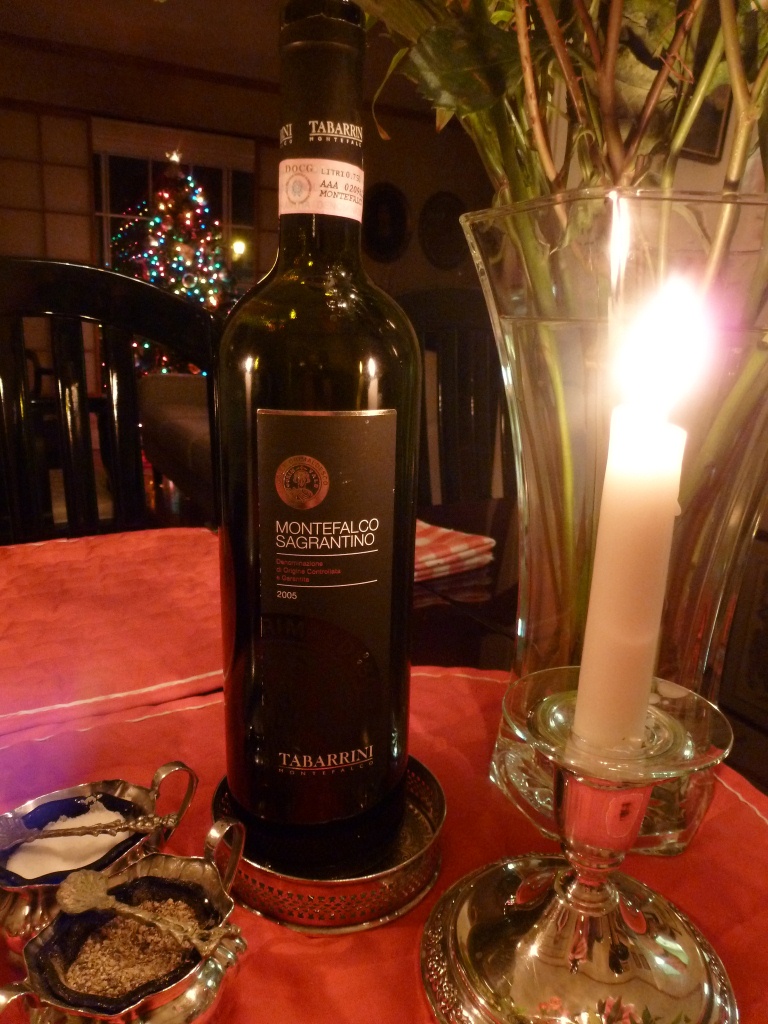 I'd been saving a bottle of 2005 Tabarrini Montefalco Sagrantino, received as a free sample at the Wine Blogger Conference, for just this season. Having already sampled this wine at the Conference, I knew I wanted to try it with some steak. A recent visit to my rather carnivorous parents provided the perfect opportunity.
The Tabarrini family has tended their 55 acres of vineyards just south of the Umbrian town of Montefalco for four generations, according to their website, but they have bottled their own wines only since the late 1990s. Half of their vineyards are dedicated to Sagrantino, a thick-skinned local variety which almost died out in the 20th century. The varietal really came into its own in 1992, when it lent its name to the Montefalco Sangrantino DOCG (as distinct from the Montefalco DOCG, which produces more "basic" wines, according to The Sotheby's Wine Encyclopedia).
I found conflicting opinions about the current state of Sagrantino-based wines, oddly in two books by the same author. In The Oxford Companion to Wine, Jancis Robinson argues that with some notable exceptions, "the overall level of viticultural and oenological sophistication in the production zone is not high…" But The World Atlas of Wine by Hugh Johnson and Jancis Robinson describes Sagrantino as "packed with flavor and potential longevity," and goes so far as to hail the varietal as one of Umbria's two "great gifts to the world of wine" (Grechetto is the other).
Certainly the Tabarrini Montefalco Sagrantino displayed oenological sophistication. When my father tasted it, he smiled and remarked, "Yep, that works." The wine's deep red color belied the flavors of ripe, dark-red fruits along with a touch of meaty bacon. The richly chewy tannins made this wine seem young, and they indicated a potential for long aging, as the Atlas noted. In between bites of steak, this wine cleaned my palate right off, readying me for the next piece.
If you're a fan of Cabernet Sauvignon but feel like trying something a little different, pick up a bottle of Montefalco Sagrantino. It's just the thing to warm the heart during the darkest days of winter. 
SUMMARY
2005 Tabarrini Montefalco Sagrantino: Rich, with dark fruit, a touch of meatiness and strong tannins. Not inexpensive, but a good value.
Grade: B+
Find It: People in certain states (not Illinois) can order this wine from the Tabarrini website for $34.29, but shipping costs are prohibitive unless you order three or more bottles.