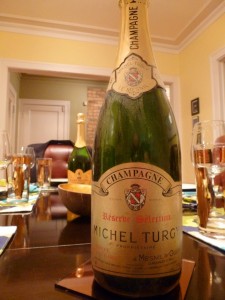 It's all too easy to let a special bottle languish in the wine rack, collecting dust for years, waiting for just the right special moment. And as that special bottle grows older, so too grows the amount of specialness a moment requires to justify opening it. It's a specialness feedback loop which frequently ends in the slow, quiet death of the wine.
This loop can be all the more deadly when you lack a reliably cool cellar, as I do, and your wine suffers significant temperature fluctuations. One of my personal New Year's resolutions, therefore, is to work my way through a substantial number of my "too special to open" wines.
I opened my first special bottle on New Year's Eve, a good time to start work on my recommended resolution of drinking more sparkling wine. A golden-labeled bottle of non-vintage (NV) Michel Turgy Réserve-Sélection Blanc-de-Blanc Brut Champagne had provided a frisson of grandeur to my wine rack for years, but the "Sam's Wines" sticker on the back indicated it had been too many (Sam's Wines was unfortunately bought out by Binny's in 2009). I hoped it wasn't already too late.
In a moment of rather extravagant optimism, I purchased this wine for about $50, wanting a memorable bubbly on hand in case I had something really fantastic to celebrate. Though people make delicious sparkling wine all over the world, I must admit Champagne still has the edge in my book. What attracted me most to this particular bottle was the the little "RM" in front of the serial number on the bottom of the label. These initials stand for récoltant-manipulant, meaning this Champagne was produced by the grower of the grapes (you can read my post about grower Champagnes here).
At the time, I didn't even realize that this grower, Michel Turgy, has vineyards in one of the most desirable areas of the Champagne region, around the grand cru village of Le Mesnil-Sur-Oger in the Côte de Blancs, just south of Epernay. The Côte de Blancs achieved grand cru status relatively recently in 1985, but the wines produced from its grapes "have become the most sought-after wines in the whole of Champagne," according to The Sotheby's Wine Encyclopedia. It goes on to note that Côte de Blancs wines "contribute finesse and delicacy yet they mature to an unequaled intensity of flavor."
Sensible Michel Turgy indicates the village of le Mesnil-sur-Oger as well as its grand cru status on the label, but it's rare to see the words "Grand Cru" or "Premier Cru" (the next-higest designation) on a bottle of Champagne. The World Atlas of Wine declares, with slight inaccuracy, that "it is never mentioned on the labels." Why would the French want to make it easy for us? If you seek a grower Champagne from a grand or premier cru vineyard, your best bet is to look for the name of a notable town. Cramant and Avize are the two other Côte de Blancs villages to watch out for.
I poured the Champagne into my friends' glasses with some trepidation, hoping my apartment's lack of central air conditioning hadn't given the wine a case of heat stroke. Its bright straw-yellow color lifted my spirits, and when I lifted the glass to my nose, I smelled the sweet smell of relief in the form of apples and little white flowers. The elegantly tiny bubbles felt delicate on the tongue, and the lively acids hinted at by the nose balanced the rich flavors of caramel corn and a bit of toast. The finish lasted almost until midnight.
What a joy to drink such a splendid wine. As charming as special wines like this look on the rack, they taste even better, and are best when shared with a few good friends.
Cheers to the beginning of the New Year, cheers to the ending of my "too special to drink" collection, and cheers to those wonderful moments of extravagant optimism.
SUMMARY
NV Michel Turgy Réserve-Sélection Blanc-de-Blanc Brut Champagne: This 100% Chardonnay sparkler featured beautiful bubbles and rich flavors balanced by lively acids. Not inexpensive, but a very good value nevertheless.
Grade: A
Find It: MacArthur Beverages in Washington D.C. currently has this Champagne on sale for $35 plus shipping.
Chardonnay, France - Champagne Cote de Blancs, Mesnil Sur Oger, Michel Turgy