There's a lot more to Chile, it turns out, than Maipo and Colchagua, two of Chile's most famous wine valleys. I recently ended up with a bottle of 2008 Tabali Reserva Especial Syrah from the Limarí Valley, a region I'd never heard of and certainly couldn't place on a map. I couldn't place Maipo or Colchagua on a map either, for that matter, so I knew it was time to reach for my trusty World Atlas of Wine.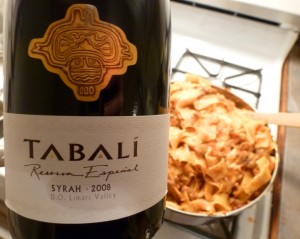 In such a long, thin country, I assumed that latitude determines the climate of a particular vineyard. Most growers held this opinion until quite recently, and indeed, the wine regions are organized from north to south. But according to the Atlas, the terroir varies "much more from west to east, according to a site's geology and proximity to the cooling influences of the Pacific and the Andes."
The cold Humboldt Current running up the coast and the snowy Andes Mountains allow high-quality vineyards at latitudes much closer to the tropics than in most other countries. The days get quite hot, but crisply cool evenings keep things under control. The Atlas notes that Chile's wide day-night temperature variation "is almost certainly a factor in the clarity of the fruit flavors."
Until oenologists realized the potential of Chile's other regions, most vineyards were planted around Santiago in areas like the Maipo and Colchagua Valleys. Unfortunately, this is "the wrong place," according to The Sotheby's Wine Encyclopedia. It argues that the Secano region harbors the most potential in Chile, but even today this "forgotten" region remains relatively inaccessible and underutilized.