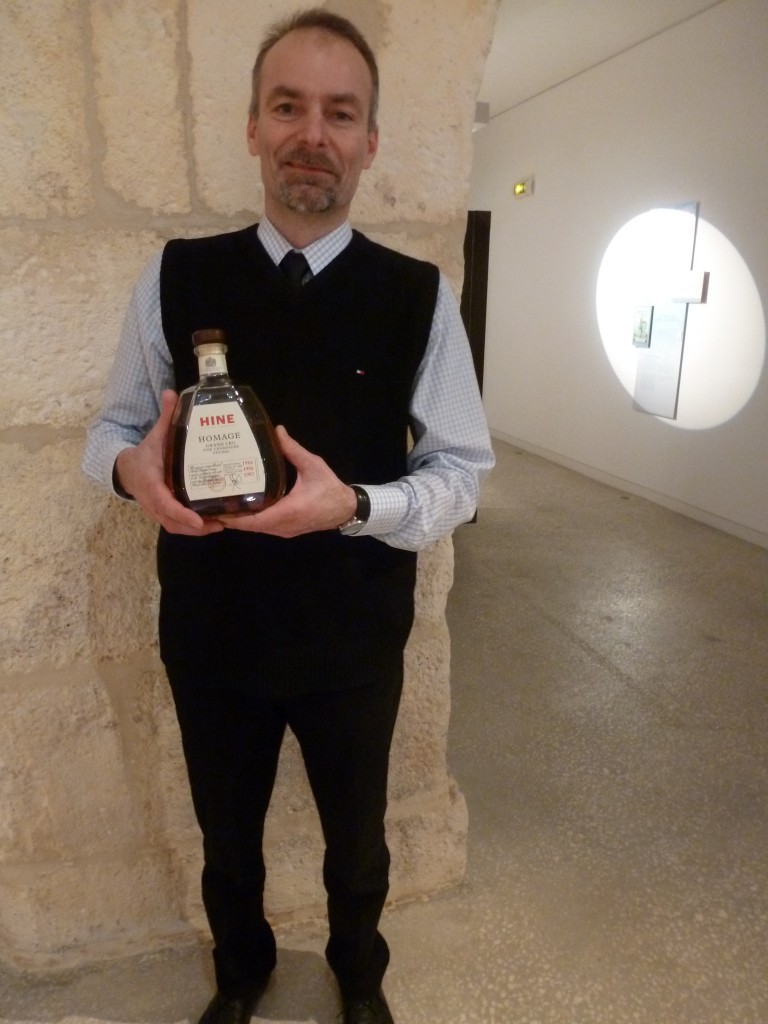 Taste is quite literally our most visceral sense, and tastes, like smells, can elicit surprisingly intense emotional reactions. I was reintroduced to the connection between tongue and emotions on my recent trip to Cognac, when I found myself startled by my own tears, standing before some equally startled French people.
During the grand tasting in the Museum of the Art of Cognac, I found my way to the Hine table, where I had the pleasure of meeting Cellar Master Eric Forget. He introduced me to their fresh, fruity and subtly spicy VSOP and their richer, more floral Rare VSOP, both of which were quite tasty.
Then we got to the Hine "Homage" Early Landed Fine Champagne Cognac, a blend of top-quality Cognacs from 1984, 1986 and 1987. For the Homage, Hine returned to a seldom-practiced centuries-old tradition of aging the Cognac in English caves, instead of in France. (English merchants used to purchase barrels of freshly distilled Cognac to age themselves.) Because of the different climate and cellar conditions, Early Landed Cognacs develop different flavor notes.
In this case, the heady floral aroma had me at first sniff. In my notebook, I wrote "so rich and smooth, but not heavy — absolutely delicious — yes!" That last word was a bit scribbled, because I had to quickly wipe the tears from my eyes so that my hosts didn't see them. The exquisite flavor and the connection with tradition stirred something deep inside.
I recovered over a taste of the elegant Hine XO, but I completely lost control of myself when I sampled the gorgeous Hine Triomphe, a blend of Grande Champagne Cognacs averaging around 50 years old. So beautiful was this Cognac, with velvety caramel and tobacco flavors, the emotions welled up within me yet again, even more strongly. There was simply no hiding it. Monsieur Forget, seeing my reaction, quietly remarked, "It's not a Cognac. It's just a pleasure."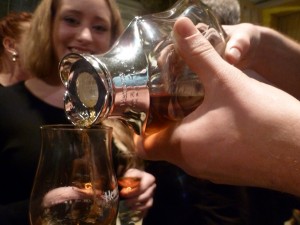 Later that evening, we dined in grand style at Hennessy's Château de Bagnolet, a lovely riverside mansion outside of town. With a mind-blowingly delicious dessert of "Entremets vanille, crémeux caramel aux noix de cajou biscuit brownie, sauce au Cognac Hennessy," we sipped glasses of Hennessy Paradis Impérial (not yet available in the U.S.). Before tasting it, I asked Marc Boissonnet, the "Ambassadeur de la Maison," the average age of the blend. He replied, "It's old enough."
Indeed it was. With a crème brûlée aroma, and a supremely lush mouthfeel, the Paradis Impérial expanded on the palate before retreating into a rich, seemingly endless finish. Paired with the dessert, the candlelight, the château (and, perhaps, the fact that I'd been tasting Cognac since 9:00 a.m.), the Paradis Impérial instilled within me a glorious sense of contentment and well-being.
I didn't cry at this point, when I could have done so somewhat discreetly. No, I waited until the cameraman came around. The bartender had just poured me a second glass, when the videographer found me and asked me to describe the Cognac for him. It went something like this: "[Smells] Ah — it's got a wonderful crème brûlée aroma, and [tastes]… Oh — it's just — there's this incredibly rich caramel, and maybe some candied orange, and oh — it's — oh my [wipes eyes]. It's just so beautiful. [Laughs] I'm sorry! Am I crying? I cried a little. Oh dear. Um. Thanks! OK. That's all."
As awkwardly emotional as I sounded, this was a sublime moment, tasting something so profoundly exquisite in so beautiful a setting. I learned later that the Paradis Impérial blend contains Cognacs from the 19th century. We drank liquid history! It's humbling, to think about all the work — and all the waiting — that went into producing that glass of Cognac I drank.
Just for fun, I looked up what the Paradis Impérial costs. I looks to be available only in Europe for the moment, and the going rate is about €1,400 per bottle ($1,850). Even for someone of my modest means, it's almost worth it.
Cognac Cognac Summit, Hennessy Paradis Imperial, Hine Homage, Hine Triomphe