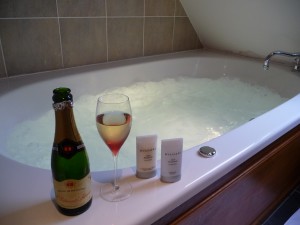 A few marketing companies have discovered that Odd Bacchus attracts literally dozens of readers, and in the past couple of weeks I've been inundated with e-mails recommending Valentine's Day cocktails or wines to feature on my blog.
Some of the recommendations are sound, but some are simply ridiculous. Who is going to make "Gypsy Rose Tea Punch," which requires two bottles of blood orange liqueur, among other ingredients, and why would they make it on Valentine's Day? How many people are they expecting to come over on this most romantic of holidays?
With these sorts of recommendations floating around the blogosphere, I felt compelled to make a list of my own. Here are some of my favorite romantic (and sensible) cocktails and wines, covering a range of tastes and budgets:
1. KIR ROYALE: This classic French aperitif gets my #1 vote because it's simple, elegant, delicious and inexpensive. And pink! Pour some dry sparkling wine into a champagne flute (a good Prosecco works well, or a Crémant), and add about a teaspoon of Crème de Cassis, a blackcurrant liqueur. Chambord can work in a pinch, but Crème de Cassis is better. Gently stir to incorporate, or simply present as-is for that layered look. Serve the rest of the sparkling wine with dinner.
2. FRENCH MARTINI: Keep that Crème de Cassis handy — you can use it after dinner in this martini. Add one part vodka (I like Sobieksi), one part pineapple juice, 1/2 part triple sec (or other orange liqueur) and 1/4 part Crème de Cassis to a cocktail shaker. Shake vigorously with ice, and strain into a martini glass. You might float a raspberry on top for a garnish. If you have sparkling wine left from making your Kir Royales, it's delicious to add a splash at the end, but it's not necessary.
3. PESSAC-LÉOGNAN: I was only recently introduced to this white Bordeaux, and I loved its voluptuous tropical fruit aromas and flavors. It's rich, complex and romantic — perfect for a cozy Valentine's Day at home, especially if you're making some lightly spicy Asian dishes.
4. SPARKLING ROSÉ: Perhaps an obvious choice, but an excellent choice nevertheless. Sparkling rosés not only look pretty in a flute, they typically taste round, fruity and delicious. For some strawberries in a glass, seek out Mionetto Sergio Rosé, described in this previous post. The Elyssia Pinot Noir Brut, a rosé Cava, offers impressive finesse for its $18 price tag, as I wrote in this post. If you feel like splurging a little, one of the most romantic sparklers I ever tasted was Pommery Wintertime, a sumptuous Blanc de Noir Champagne with just a hint of pink.
5. MERLOT: Well-made Merlots can be luxuriously velvety and opulently jammy. Talk to your trusted wine store clerk, give him or her your budget, and ask for a recommendation. Rutherford Hill makes a reliable version, but there are all sorts of good choices. In this case, it's worth spending more than $15.
6. COGNAC: A little glass at the end of a meal can be wonderfully elegant, and Cognac pairs beautifully with chocolate.
7. PORT: This fortified red from Portugal also tends to pair well with chocolaty desserts. I love Port's rich, deep, dark fruit and old oak flavors. A Late Bottle Vintage Port tends to offer the best bang for the buck — it's a much better deal than basic Ruby. Not all Late Bottle Vintage Ports are labeled as such — ask your wine store clerk for a recommendation.
8. BRANDY ALEXANDER: One of my grandfather's favorite cocktails, and a fantastic dessert on its own. Combine three parts vanilla ice cream and one part brandy (nothing too expensive in this case) in a blender, and blend until smooth. Serve in brandy snifters or large red wine glasses, and garnish with a dusting of cocoa powder, nutmeg, cinnamon or grated chocolate. If calories are a worry, this drink works quite well with vanilla frozen yogurt.
9. SOMETHING UNUSUAL: Going a little out of your comfort zone can be really sexy. Serve some silky Jović Vranac or sensual Axia. Who wouldn't want to be with someone confident enough to serve a Serbian or Greek wine on Valentine's Day?
10. IF YOU'RE SINGLE: You get to just drink whatever the hell you want.
Cocktails Blanc de Noir, Brandy Alexander, Cognac, French Martini, Kir Royale, Merlot, Pessac-Leognan, Port, Romantic Drinks, Sparkling Rose, Valentine's Day