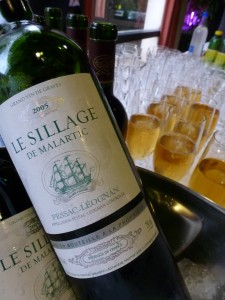 The great red wines of Bordeaux arguably set the standard for reds around the world, making it easy to forget that the area produces some excellent whites as well. I've written before about the value-priced whites of Entre-Deux-Mers, but on my recent visit to France, I was introduced to a rather more exciting appellation: Pessac-Léognan. Essentially, the suburbs of Bordeaux.
This appellation came into existence just 25 years ago, carved out from the much larger (and less distinguished) Graves. The name may be a little hard to pronounce (peh-sahk lay-oh-nyahn), but it's worth remembering. Some of Bordeaux's best wines — red or white — come from this appellation. It used to produce more wine, but suburban sprawl has claimed no fewer than 214 wine châteaux in Graves and Pessac-Léognan in the last century, according to The Sotheby's Wine Encyclopedia. Even the region's most famous château, Haut-Brion, is now completely surrounded by housing and commercial developments.
Pessac-Léognan devotes only about 650 acres to the cultivation of white grapes, according to The Oxford Companion to Wine, but if what I tasted is any indication, the whites it produces are well worth seeking out. I sampled two Pessac-Léognan wines during my trip: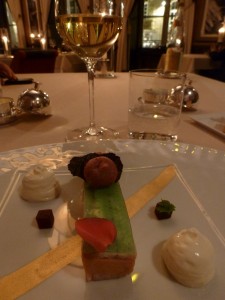 2005 Château Malartic-Lagravière "Le Sillage de Malartic": This family-owned property comprises just 50 acres surrounding its château. Sotheby's notes that it's hard to believe this wine is 100% Sauvignon Blanc, and I must agree. On the nose were voluptuously ripe peaches, and tropical fruit worked its way into the palate. Some stone kept things grounded, as did a rather woody finish. A joy to drink. The 2009 pre-arrival is about $70 at K&L.
Château La Tour-Martillac: I'm afraid I have no idea what vintage I drank. My photo of the label offers no clue. But I can say that I loved this wine's rich, green aroma and the rather exotic flavors. There was something mysterious in there — almost an incense quality. The wine had some spiciness, but it was still subtle and juicy. It tasted delicious with an appetizer of foie gras and local lamprey eel (right) at Le Pressoir d'Argent. About $40 at K&L.
Whites from Pessac-Léognan may cost a little more, but these luscious food-friendly wines are worth the hunt and expense.
Blends - White, France - Bordeaux Chateau La Tour-Martillac, Chateau Malartic-Lagraviere, Graves, Pessac-Leognan