I routinely fail to take my own advice, and despite my previous exhortations, I still have a number of ancient, moldering bottles of wine and spirits crying out to be drunk. At this point, some bottles have been kept so long, it seems almost inconceivable to actually open them.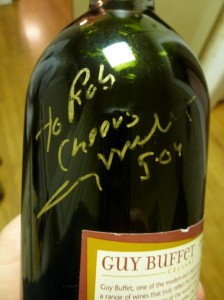 In a rare moment of willpower, I overcame my wine hoarding tendencies and brought a 2001 Guy Buffet Cabernet Sauvignon home to drink with my parents. I'd been holding on to this bottle since May of 2004, subjecting it to numerous non-air-conditioned summers. I know the exact month and year of purchase because this bottle was signed by Guy Buffet himself. Hence my inability to open the damn thing until now.
Signed bottles may be charming — even meaningful — but they are a curse as far as I'm concerned. In this case, I didn't even know Mr. Buffet. He signed the bottle to me, but his message of "Cheers" held little significance. Even so, this signature, a mere scribble with a gold marker, prevented me from opening the bottle. My heavens, what if the bottle was worth something? What if someone out there was dying to get their hands on a poorly stored bottle of Cabernet that said, "To Rob, Cheers, Guy Buffet"? How could I possibly consider opening it and enjoying it?
I gazed at the bottle, and in a flash of logic, I slapped myself on the cheek, snatched the bottle from the wine rack and high-tailed it up to Milwaukee before I could change my mind. Somehow, the wine still managed to be lively, with an aroma of dark fruit, red meat and black pepper, and a pleasantly supple mouthfeel with medium tannins. After about 15 minutes of breathing, the wine really opened up, tasting positively lush.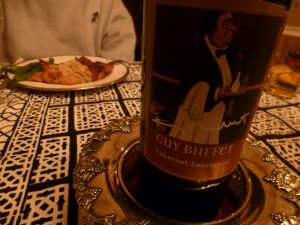 I looked up Guy Buffet, who is actually a painter, not a winemaker, and he stopped bottling Cabernet Sauvignon under his name in 2002. Fortunately, the vineyard and winery where it was made soldiers on. The EOS Estate in Paso Robles still bottles Cabernet Sauvignon, and you can even purchase it online for $20.
A handful of signed bottles still clutter my wine rack, wheezing under a thick layer of dust. Hopefully I've learned my lesson, and it won't take me another eight years to open them. Although… Rainbow Ridge Wines no longer even exists, and I have a signed bottle of their unique 2001 Alicante Bouschet. How could I possibly consider opening it and enjoying it? It might be worth something…
Urgh. Maybe the best lesson is to never let a winemaker (or an artist) sign a bottle in the first place.
Cabernet Sauvginon, California EOS Estate, Guy Buffet, Paso Robles, Rainbow Ridge, Signed Bottles