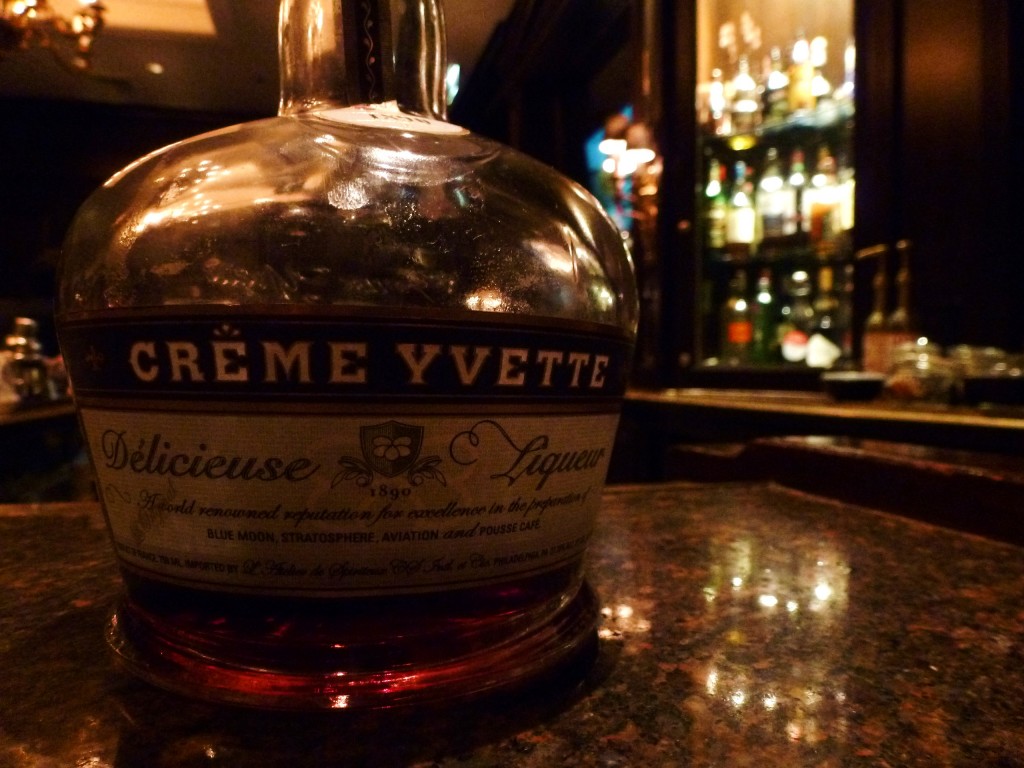 The first time I remember reading about Crème Yvette was in the now-defunct Wall Street Journal cocktail column, "How's Your Drink?", written by Eric Felten. In this 2006 article, he lamented that no one will ever have the opportunity to taste a proper Blue Moon cocktail, because Crème Yvette "long ago went the way of the Great Auk." He mentioned it again in 2007, taking the Yale Club in New York to task for using food coloring-rich blue curaçao in its Yale Cocktail (Crème Yvette used to provide a naturally purple color).
Unfortunately, all bartenders had to muddle through with Crème Yvette substitutes, because the Charles Jacquin et Cie liqueur company stopped making the liqueur in 1969. And that was that, for fifty years. I assumed it was lost forever, until I found it listed on the cocktail menu of the newly renovated Four Seasons Chicago. I couldn't believe my eyes! Crème Yvette was back?
According to a 2009 interview in Imbibe Magazine, Charles Jacquin et Cie's Robert Cooper had long been fascinated by the discontinued products of his family's company, including Crème Yvette. On the heels of his success introducing St. Germain Elderflower Liqueur and encouraged by a number of bartenders, Cooper decided to reintroduce this spirit made from dried violet petals, blackberries, raspberries, wild strawberries, blackcurrants, honey, orange peel and vanilla.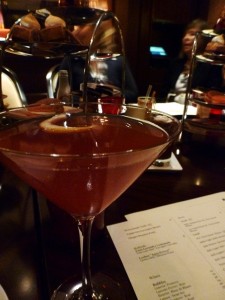 This resurrected liqueur doesn't come cheap, however. Binny's sells it for $50. Before you invest in an entire bottle, give Crème Yvette a try in a bar. The Four Seasons makes a fine cocktail with it called the A², a riff on the classic Aviation. Here, the mixologist replaces the Aviation's gin with Journeyman W.R. Whiskey, mixing it with Crème Yvette, Yuzu (a small grapefruit-like fruit) and Luxardo Maraschino Liqueur (not to be confused with fluorescent red "maraschino" cherry juice).
I can't deny that I felt I shiver of excitement as I tasted the A², my first ever chance to sample anything with Crème Yvette. The cocktail had an aroma of purple grapes, a strong, fruity flavor with some tangy citrus notes, and a dry, floral finish. A well-balanced and elegant drink, and well-priced at $14. Bars in many other five-star hotels wouldn't hesitate to charge twice as much.
You won't find an A² anywhere but the Four Seasons, but if a bar near you has Crème Yvette on the shelf, ask for a classic Blue Moon (2 parts gin, 1/2 part Crème Yvette, 1/2 part fresh-squeezed lemon juice; shaken with ice and strained).
It will be a taste of history.
Cocktails, Creme Yvette Aviation, Blue Moon, Charles Jacquin et Cie, Eric Felten, Four Seasons Chicago, Robert Cooper