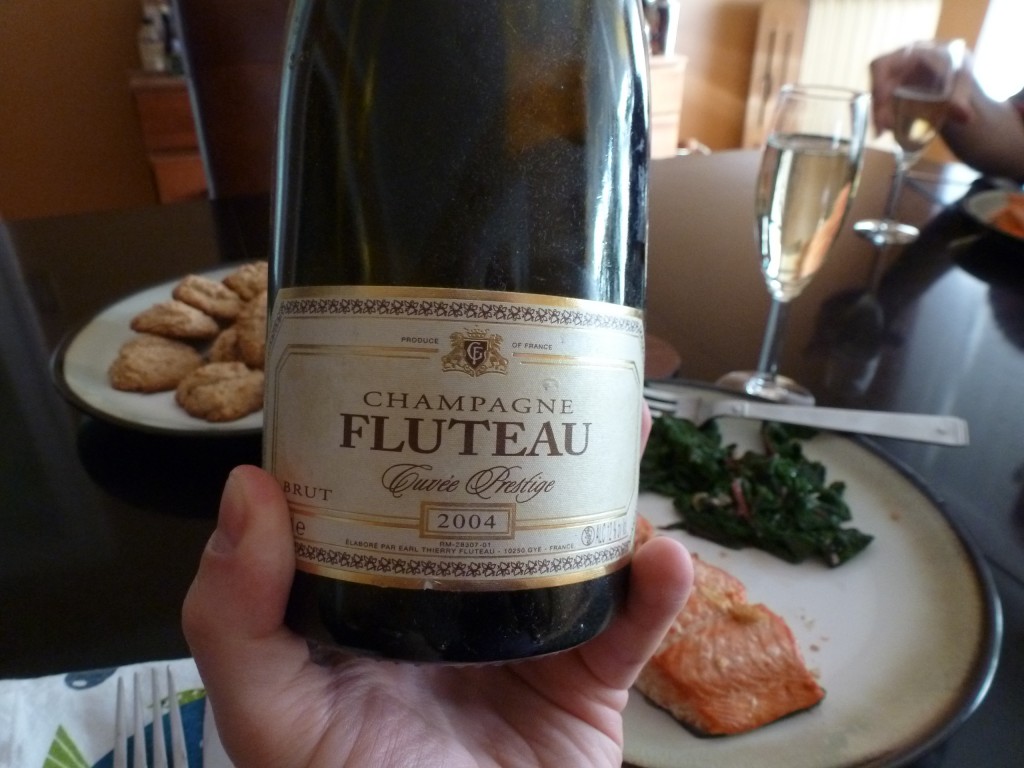 Although drinking Champagne (from France, with a capital "C") is all too unusual in my household, the beverage itself could hardly be considered obscure. Everyone has heard of it, and I'm pretty sure anyone reading these words likes to drink it. But even Champagne has its odd side.
Most Champagnes we encounter in the United States tend to be non-vintage, brut (dry but not austere), and Négociant Manipulant (basically, sourced from a range of different vineyards in the region). I always like to seek out the more terroir-influenced Récoltant Manipulant Champagnes, otherwise known as grower Champagnes. You can tell the difference by looking at the tiny serial number on the label, which will say NM or RM, or, rarely, any of five other letter combinations. It's France; they like their wine complicated.
In any case, while shopping at Binny's for a sparkling wine to use for our wedding toast last year, I came across a most tempting bottle of 2004 Château Fluteau Cuvée Prestige Blanc de Blancs. My Odd Bacchus sensors lit up like a Feuerzangenbowle — here was a vintage Champagne that was also grower. And that wasn't all: 2004 is the year my partner (now husband) and I met! It was too romantic and too unusual to pass up.
When I researched the wine, I learned that it had yet more wonderfully unusual qualities. The Fluteau house is in Gyé-sur-Seine, a village in the Aube Valley, quite some distance from the heart of Champagne country near Reims and Epernay. According to the Fluteau website, the Aube vineyards weren't even included in the 1911 Champagne classification. Aube growers revolted, finally getting their region appended to Champagne AOC in 1927. Even now, looking at a map of the region in The World Atlas of Wine, these vineyards seem like a little island unto themselves.
Founded shortly after the revolt, Château Fluteau made NM Champagnes for years. Only in 2001 did Thierry and Jennifer Fluteau, the grandson of the original owner and his wife, decide to make only RM Champagnes from their 22 acres of vineyards in Gyé-sur-Seine. Of these 22 acres, about 19 are devoted to Pinot Noir and only three to Chardonnay.
At first, I couldn't believe my luck that I found one of the few blanc de blancs (100% Chardonnay) Champagnes crafted by Fluteau. As I researched further though, I realized that luck had nothing to do with it. Chicago is one of the only places in the U.S. where you can find Fluteau, because Jennifer Fluteau is a native of the Windy City.
We opened the Fluteau in honor of my husband receiving his license to practice traditional Chinese medicine, a license it took four years of hard work to achieve. This pale straw-colored Champagne rose to the occasion admirably. I detected some lime, peach and yeast on the nose. On the palate, it moved from popcorn to tart apple to a whisper of limestone on the finish. The ample bubbles felt very fine, delicate and elegant. There was some real depth there as well.
As it breathed, the Fluteau mellowed, becoming richer. It paired beautifully with some ginger/soy marinated salmon, and almost as well with some lemon ricotta cookies. A delight.
SUMMARY
2004 Château Fluteau Cuvée Prestige Blanc de Blancs: Pleasantly yeasty, with tart, food-friendly acids and a touch of minerals. Elegantly delicate bubbles, and real depth. And it's made by a family company with a Chicago connection — what could be better?
Grade: A
Find It: The 2006 vintage is currently available at Binny's for $39.
Also be sure to look at Fluteau's fun blog. I particularly liked this post about the show "Cougar Town."
Chardonnay, France - Champagne Aube Valley, Blanc de Blancs, Champagne Fluteau, Grower Champagne, RM Champagne, Vintage Champagne