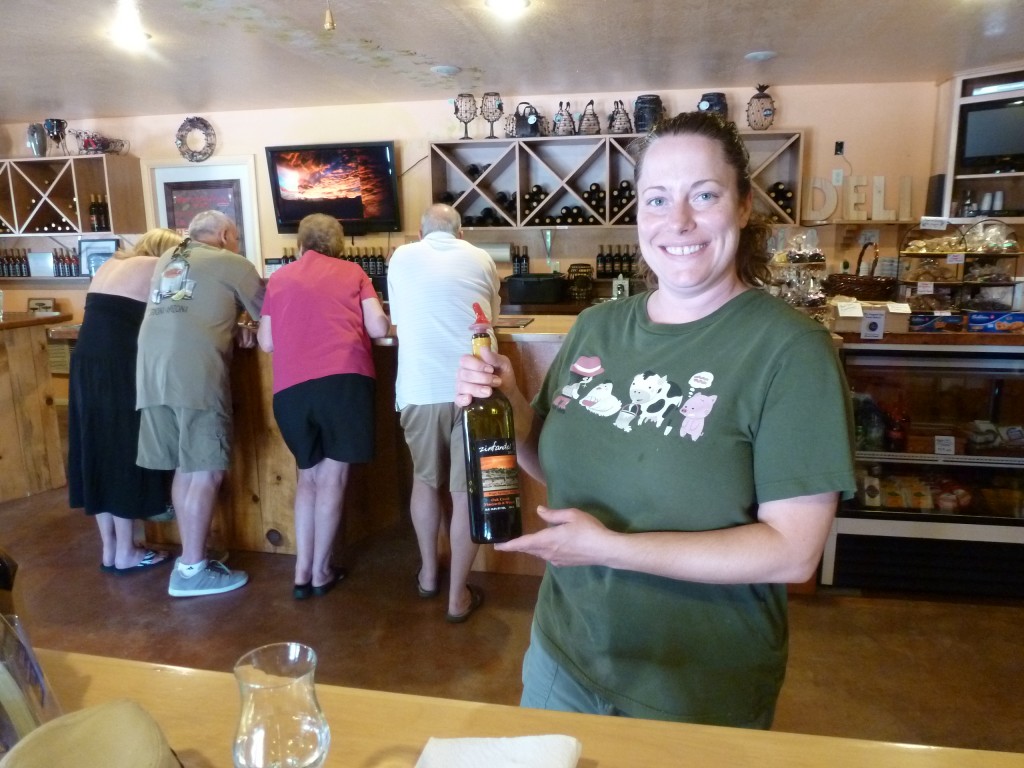 When I tell people about the quality of many Arizona wines, most respond by saying something like, "They make wine in Arizona?" Before I visited, I had my doubts as well. Surely it's too hot and too dry to make serious wine, I thought. The overblown wines I tasted at Tlaquepaque confirmed some of my fears, but a visit to Page Springs restored my confidence in the potential of Arizona to make delicious wine.
My first stop began inauspiciously. I asked to taste the entire range of wines on the menu at Oak Creek Vineyards (except the white zin), and requested a spit bucket. "We don't have spit buckets," the friendly but rather taken-aback employee replied. Spitting at the bar was actually expressly forbidden by the health department, because cheeses and charcuterie are served there. After wrapping my head around the idea of a tasting room without spit buckets (you can't walk to this tasting room, after all), I managed to negotiate a spit-friendly place at a different table.
The wines I tasted were all good, and some were excellent. Priced between $20 and $30, these wines aren't inexpensive, but if you can find them, they're worth it. Not only will you get a tasty bottle, you'll be investing in an up-and-coming wine region I feel is destined for greatness. Many of the wineries are less than 10 years old, but they are already producing impressive stuff.
Here's what I discovered at Oak Creek. All of these wines, unless otherwise noted, are made with fruit from Arizona's southeast, not Page Springs:
2010 Oak Creek Fumé Blanc: An almost limey aroma, with a little intriguing funk. Bracing, limey acids, and some stone on the finish. Very refreshing. $24
2010 Oak Creek Viognier: I loved this one. It had peaches and pineapples on the nose, but it wasn't a perfume bomb. I tasted lily of the valley and litchi, followed by some light acids. In spite of how it sounds, this well-made wine was definitely dry. I'm a sucker for these aromatic dry whites, and I wouldn't hesitate to buy it. $26
2010 Oak Creek Sunflower Chardonnay: This blend combines Chardonnay from the Page Springs estate with Roussane (a Rhône variety) grown in southeast Arizona. It may have been the power of suggestion, but I had to agree that this wine smelled like buttery roasted sunflower seeds. Or perhaps buttermilk? It felt creamy on the palate, but lemony acids kept things alive and balanced. $24
2010 Oak Creek Merlot: An appealingly opaque brick-red with an equally appealing aroma of ripe plums. This Merlot was big, almost overheated, with ripe fruit followed by a bit of alcoholic punch. Tannins took over from there, but the finish was a surprise. It ended, at least to my tongue, with a unique popcorny note. $26
2009 Oak Creek Syrah: A deep purple, this wine had a very fruity nose, rather like cherry pie. Big cherry flavor kicked things off on the palate, but the wine was a little too much for my taste. I'm not sure what the alcohol content is, but it left my palate feeling a little numb. Fun to drink, but unrestrained. $26
2010 Oak Creek Zinfandel: This wine seemed more balanced than the Syrah, with an aroma of raisins and jammy blackberry flavors. I liked the acids, and though this is also an alcoholic wine, it didn't feel overpowering. With its big fruit, this boozy flirt of a wine would surely be a hit at a party. $30
Oak Creak Arizona Cream Sherry: An orangey-salmon color, this fortified dessert wine smells sweet and tastes sweet as well, but zippy acids held my attention. It had a fascinating earthy, almost mushroomy finish. $20
Oak Creek Port: This Zinfandel-based port had enticing brandied cherries on the nose and palate. I detected some ripe banana in the middle before a satisfying finish of almonds. $20
So how is it that wines of this quality are coming out of somewhere as seemingly hostile as Arizona? An assistant winemaker at Page Spring Cellars, the next winery I visited, illuminated what was staring me right in the face…