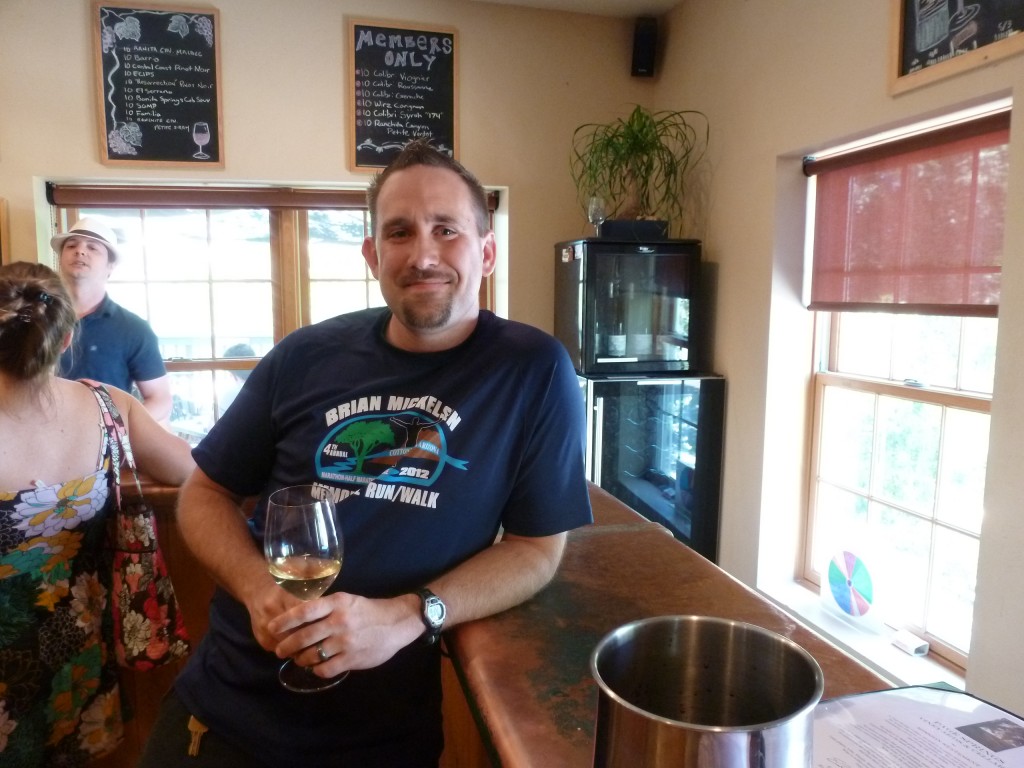 As I mentioned at the end of the previous post, I still hadn't quite put all the pieces together. How was it that Arizona, of all places, was coming up with these numerous high-quality wines?
In the professional and lively tasting room of Page Springs Cellars, an assistant winemaker named Matt pointed out the obvious: "We have ample water from the creek outside, and there's an aquifer below." He continued describing the terroir, how the rocky hillsides were well-drained with poor soil (the soil shouldn't be too fertile — you want the vines to struggle a bit). The weather was hot during the day, of course, but at night, the high-elevation vineyards stayed nice and cool. Indeed, I had cozied up to my fireplace the evening before.
In short, the Page Springs terroir is pretty darn great. Most of the fruit, however, still seems to come from Arizona's southeast, which is at a similar elevation.
Matt thought Malvasia might become one of Arizona's signature varieties, and my tasting at Page Springs Cellars certainly supported that theory. I sampled that along with a number of other excellent wines, mostly Rhône varietals and blends, the quality of which no longer came as a surprise. If you only have time to visit one winery while in the Sedona area, this should be it.
Here's a rundown of my tasting. Again, all the fruit from these wines comes from southeastern Arizona, not the Page Springs area, unless otherwise noted: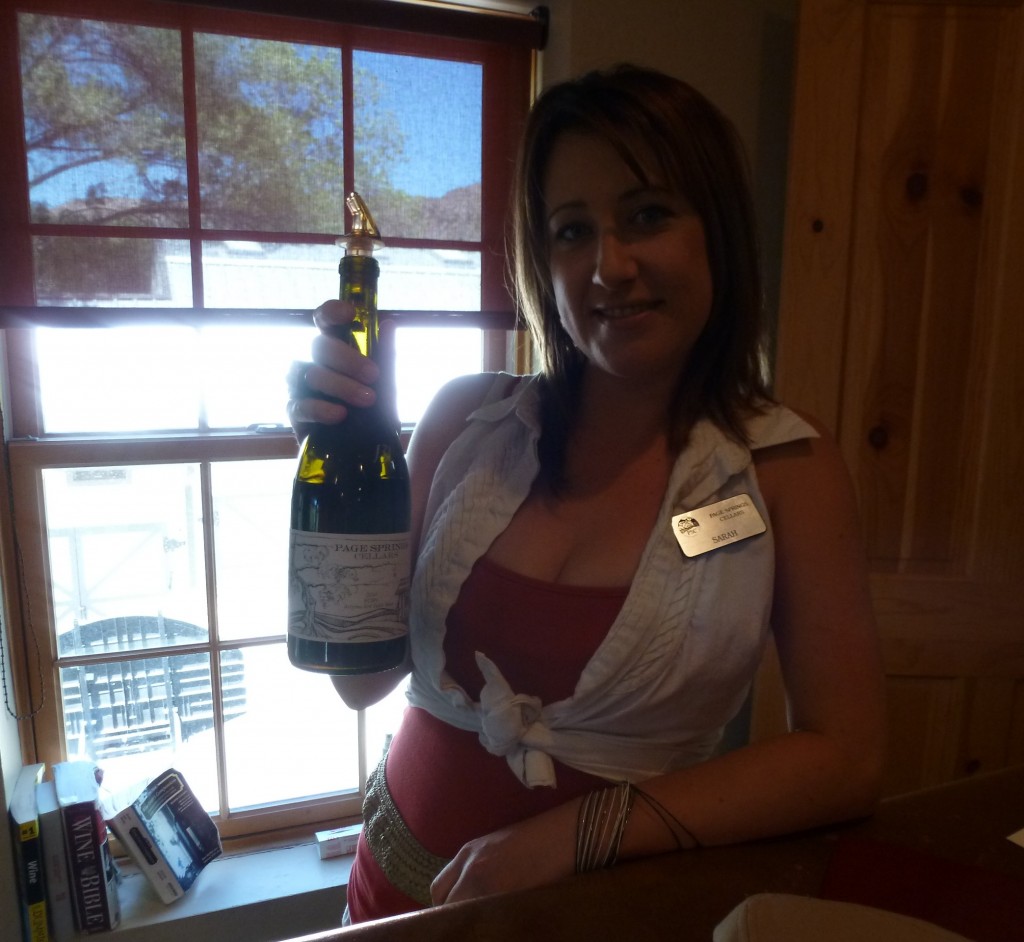 2010 Bonita Springs Malvasia: Like all the other wines I sampled at Page Springs Cellars, this one came with an eye-catching black and white label. The nose had big fruit and a touch of flowers, and juicy acids balanced subtle flavors of peach and pineapple. $28
2010 La Serrana: Try this blend of 50% Viognier from the Arizona Stronghold vineyard and 50% Rousanne from the Colibri vineyard as soon as you can. According to the Page Springs Cellars website, "A portion of the [Colibri] vineyard was burned to the ground. Thirty-foot high flames cooked the vineyard on three sides and damaged many other vines." The wine had a nutty, almost buttery aroma, and it certainly tasted rich and creamy. But it was fruity as well, and ample acids kept the wine light on its feet. $30
2010 Arizona Stronghold Vineyard Chardonnay: This varietal appeared in this tasting room because Page Springs Cellars owns Arizona Stronghold. The herbal, almost rubbery aroma intrigued me. On the palate, the wine began with some light buttery and woodsy notes, but lemony acids ensure that it's well-balanced and food-friendly. $35 (I tasted two other lovely Arizona Stronghold blends earlier in my trip.)
2010 Vino del Barrio: A real mutt of a wine, Page Springs Cellars' highest-production red combines 11 different grape varieties. It has a lovely nose of ripe raspberries, flavors of very ripe red fruit and a pleasantly medium body. At first I thought it might blow out of control, as did some other overripe Arizona wines I tasted, but it kept itself under control. This wine would surely be a hit at a party, and it has a party-friendly price as well. $16
2010 ECIPS: Also from the threatened Colibri vineyard, this wine combines 40% Mourvedre, 39% Syrah and 21% Grenache. Its name is "SPICE" spelled backwards, and ECIPS lives up to its name. The alcoholic aroma concerned me a bit, but I needn't have worried. This (yes) spicy wine took me on a delightful journey, developing and growing on the palate without becoming overheated. Customers are limited to only two bottles. $32
2010 El Serrano: The flagship red of Page Springs Cellars has a fruity, meaty aroma and flavors of strawberry jam and black pepper. Again, it could have easily become overblown, but this well-behaved blend of Syrah, Mourvedre and Petit Sirah maintained its balance. $30
2010 Vino de la Familia: I was initially disappointed to learn that this wine is made with fruit imported from California, but heck, it tastes really good, so I'll give Page Springs a pass. An enticing deep magenta in the glass, it moves from raisiny fruit to lively acids to lush tannins. A fine value, and great fun to drink. $21.
If you do happen to visit Page Springs Cellars, I also recommend having a flatbread pizza or some bruschetta on their terrace, which overlooks a hillside vineyard. Looking out at that idyllic scene after tasting so many fine wines, the idea of Arizona becoming famous for its wines didn't seem far-fetched at all.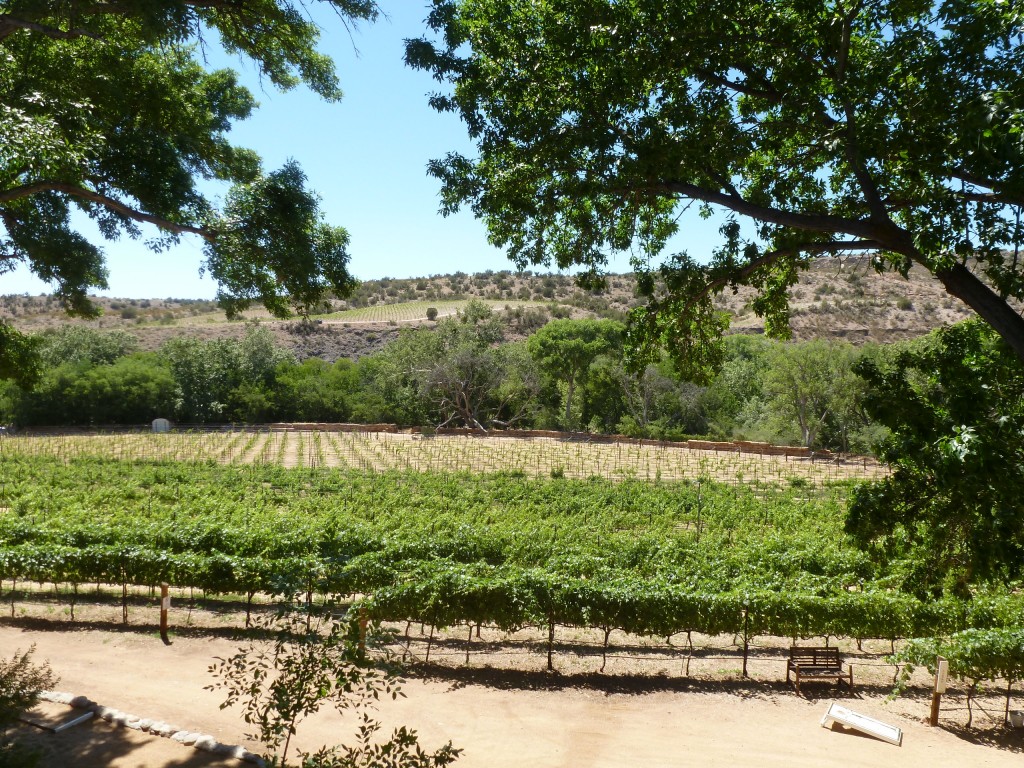 Arizona, Blends - Red, Blends - White, Chardonnay, Malvasia Page Springs Cellars, Rhone Blends, Sedona