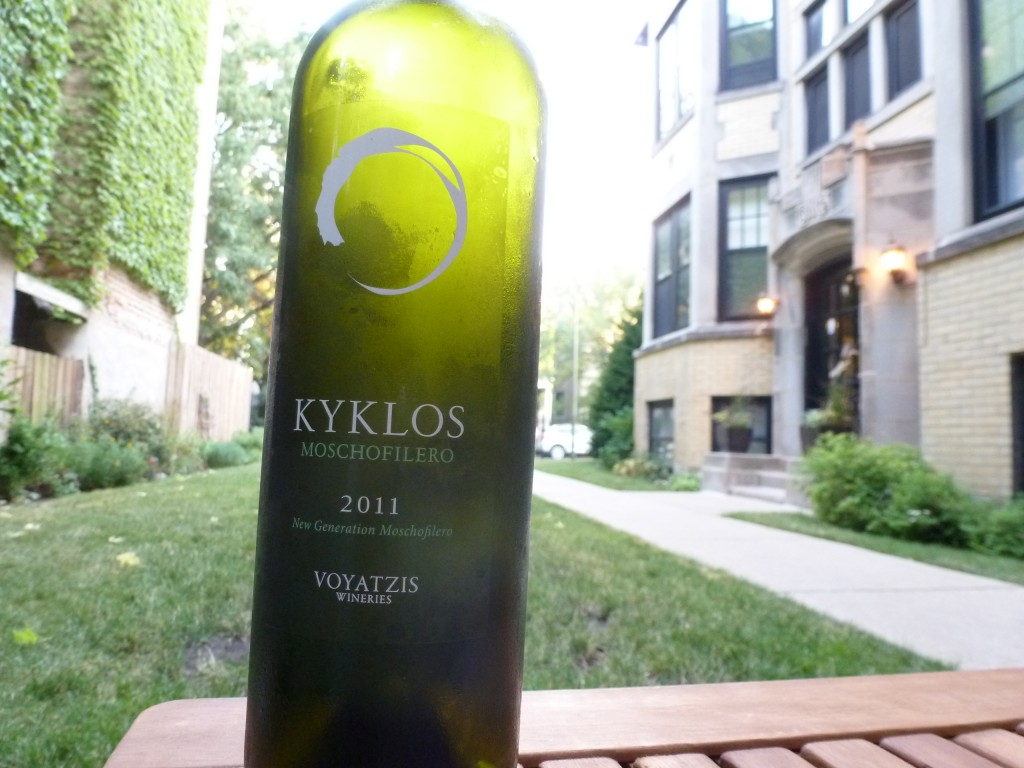 As I've mentioned before, I have a soft spot for dry, aromatic whites, and a $12 Greek wine I found at Whole Foods tickled that spot but good. The 2011 Kyklos Moschofilero crafted by Voyatzis Wineries has to be one of the best white wine values I've tasted this year.
Unfortunately, I'm having a devil of a time finding any information about it. The importer, Nestor Imports, does not list the Kyklos Moschofilero on its website, or any other wines by Voyatzis. I did find what appears to be the winery's website, but it also neglects to mention the Kyklos Moschofilero, or indeed any wine of Peloponnesian origin whatsoever.
Since neither the winery nor the importer seem to be particularly interested in promoting the Kyklos Moschofilero, I suppose it's up to me to bring this orphaned wine into the light.
After 15 years as Chief Oenologist at Boutari, a major Greek winery, Kyklos winemaker Yannis Voyatzis took over the family winery, a 7.5 acre lakeside estate in the village of Velvento in Macedonia (source: greekwinemakers.com). Other various sources indicate that he seeks to shine a spotlight on traditional Greek varieties, and also experiment with blending indigenous grapes with more common varieties such as Cabernet, Chardonnay and Merlot (these blends are the wines highlighted on the winery's website).
He now appears to have expanded out from the family's Macedonian vineyards, purchasing Moschofilero fruit from the Peloponnese (that big chunk of land to the west of Athens of Peloponnesian War fame). But what the heck is Moschofilero?
According to The Oxford Companion to Wine, this pink-skinned variety of unknown origin grows well on the Peloponnese's high plateau of Mantinía, the elevation of which keeps the vineyards cool enough to delay the harvest until October. That extra time is important for this late-ripening variety. The Companion also notes that Moschofilero has "strong flavor similarities with fine Muscat." The Sotheby's Wine Encyclopedia asserts that Mantinía Moschofilero produces "some very fresh, young wines with nice, lively fruit."
I would certainly agree. The 2011 Kyklos Moschofilero, produced "with a new vinification approach," according to the label, had an aroma redolent of lusciously ripe pears. It had me at first sniff. After a slight prickle on the tongue, flavors of ripe pears and apples led to limey acids, a brief pop of white pepper and just a touch of limestone. It was a summery delight, pairing beautifully with some salmon marinated in soy sauce and ginger.
You would be hard pressed to find too many other $12 wines packing such an enticing nose and lip-smacking flavors. Get to Whole Foods and buy this wine; it tastes wonderfully refreshing in this summer heat, and its ample acids ensure that it will pair well with food.
SUMMARY
2011 Voyatzis Wineries Kyklos Moschofilero: Love at first sniff, and addiction at first taste. Fruity, juicy and dry, this wine is a food-friendly, summery joy, and a smashing value as well.
Grade: A
Find It: I purchased this bottle on sale for $10 at the Whole Foods North Halsted.
Greece, Moschofilero Kyklos Moschofilero, Moschophilero, Moscofilero, Moscophilero Voyatzis, Voyatzi