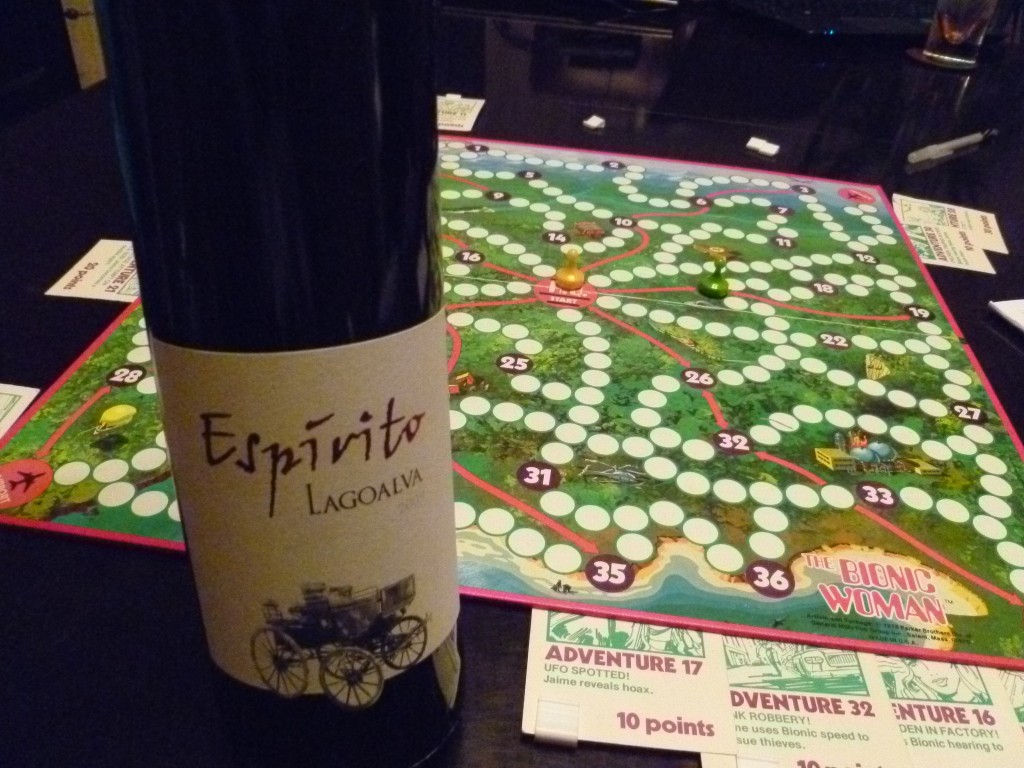 I needed something to pair with the game of Bionic Woman we were sitting down to play. For such an obscure board game, only an especially oddball wine would do; I uncorked a 2009 Espirito Lagoalva, a blend of 50% Touriga Nacional and 50% Castelão from Portugal's Tejo region. It proved to be delightful, fortifying us as we saved joggers from angry mountain lions and brought runaway hot air balloons under control.
Jaime, had she been a wine connoisseur as well as a superhero, would have been very surprised to find us drinking a dry Portuguese wine. Until relatively recently, Portugal was known only for Port and Madeira, both of which are sweet, fortified wines. But nowadays, "Portuguese winemakers have…woken up to the tremendous potential of the terroirs and native grape varieties that their country offers, making it a hotbed of innovation," according to The Sotheby's Wine Encyclopedia.
The Douro Valley (where most grapes for Port are grown) and the Dão region just to the south produce many of Portugal's best vintages, and I've rarely been disappointed by a dry red wine from either of these regions. They tend to be fantastic values for the money, probably because the grape varieties are unfamiliar to non-Portuguese. They are actually not all that hard to find anymore. Keep an eye out for them.
But this wine comes from Tejo, a region just northeast of Lisbon that I had a devil of a time finding anything about. The problem, I discovered thanks to Wikipedia, is that Tejo was called Ribatejo (translated as River Tagus) until 2009, when the name was changed to hopefully appeal more to the international market. I haven't seen much of an international rush to Tejo wines, but I suppose Mendoza used to be just as unknown.
Unfortunately for Tejo, the most of the grape varieties grown there don't come as trippingly off the tongue as Malbec. I mean, what the heck are Touriga Nacional and Castelão?
Touriga Nacional, according to The Oxford Companion to Wine, actually almost became extinct in the mid 20th century. This variety often produces as little as 10 ounces of fruit per vine, "making it very unpopular with growers." I should think so. Nevertheless, more productive clones of this variety have led to its resurgence, and it is now a major component in many dry reds as well as "the most revered vine variety for port." Its low yields ensure high concentration of flavor, making it a variety to watch out for.
I must admit that I can't remember hearing about Castelão before, but it's Portugal's most widely planted variety, according to the Companion. It thrives in sandy soil, according to Wikipedia, making it ideal for the alluvial terroir around the Tagus River. The "fruity, relatively fleshy" flavors it has, according to the Companion, should make a good blending partner with tannic Touriga Nacional.
In the 2009 Espirito Lagoalva, they certainly worked well together. This brick-red wine had a dusky, plummy aroma and a soft, supple texture. It started with tight plummy flavors before moving on to earth, a touch of pepper, and a finish of tobacco. Jaime's bionic palate would surely have approved.
Its dark fruit and dusky quality seemed to me to be typical of many Portuguese wines. If that sounds tasty to you, get to your local wine shop and pick up a Portuguese red tonight.
SUMMARY
2009 Espirito Lagoalva: This Portuguese blend has plenty of fruit leavened with earth and tobacco. Dusky and delicious. Chill for 20 minutes in the fridge before serving.
Grade: B+
Find It: I purchased this bottle for $10.50 at In Fine Spirits. What a deal!
Castelão, Portugal, Touriga Nacional Espirito Lagoalva, Ribatejo, Tejo