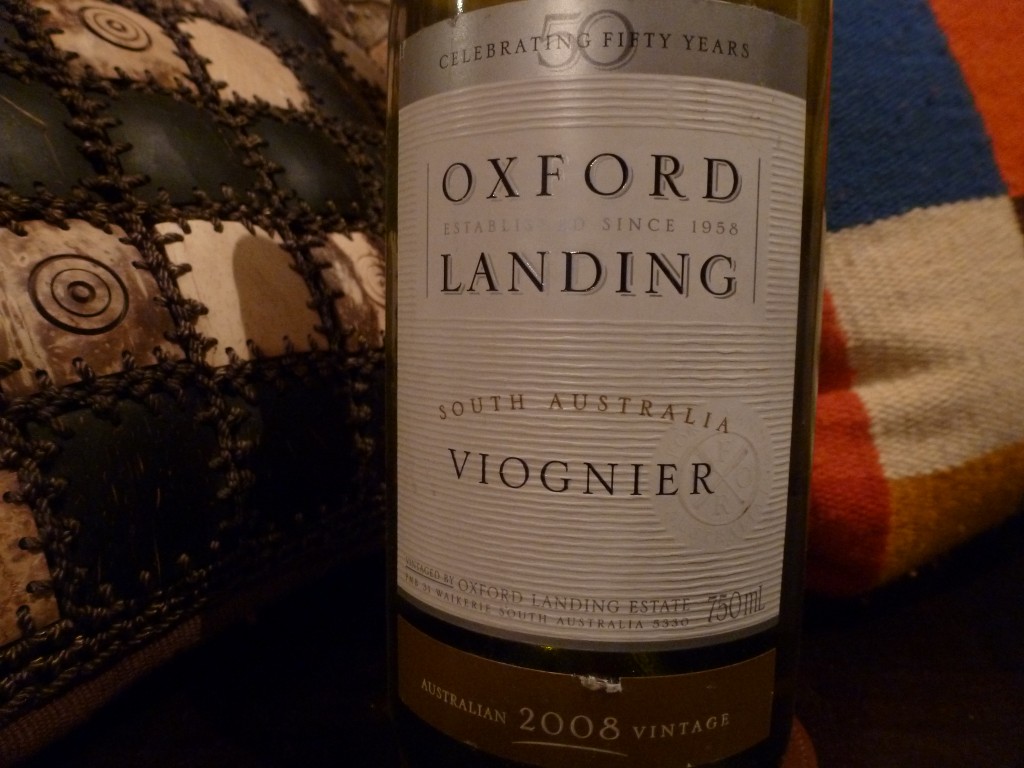 I find myself avoiding most Australian wines. Many are inexpensive, to be sure, but most cheap Australian wine turns out to be a poor value for the money. As I've said before, just because a bottle of wine costs $7 or $8 doesn't mean you'll get $7 or $8 worth of flavor out of it. Inexpensive Shiraz, Australia's most famous export, can frequently be quite crude and overblown, and a poor value at almost any price. I have no doubt that it's possible to find bargains, but I don't know enough about the Australian wine scene to ferret them out.
If you find yourself inexplicably in the mood for something Australian, go for one of the lesser-known grape varieties. You'll likely get more bang for your buck with something like a Semillon or a Sangiovese. It's just not safe to pick up a random bottle of Australian Shiraz or Chardonnay these days.
A bottle of 2008 Oxford Landing Viognier from South Australia had been languishing on my wine rack for years, I have no idea how it got there, and I must admit I'd been avoiding it. Even Viognier seems a little too fashionable to be trusted in Australian hands, and the fact that Oxford Landing is one of Australia's most famous wineries did not inspire confidence (although the Oxford Landing website reassuringly describes its Viognier as "suitable for vegans and vegetarians").
But I tend to prefer younger Viogniers, which have the best chance of retaining their trademark perfume intact. Already, this wine had likely passed its prime.
I decided to take my own advice and just open the stuff, and some Thai delivery provided the perfect opportunity: Low stakes, and numerous alternative bottles within easy reach, should the Viognier have to go down the drain. Fortunately, the wine still had a heady honeysuckle aroma, and my goodness, it was tasty and rich. A buttery start gave way to pears, flowers, some pointy acids and even a touch of flintiness at the end. The acids ensured balance, and its exotic flavors paired just fine with the Thai food.
I ended up quite enjoying this inexpensive Australian wine! I have no idea what I paid (perhaps it was a gift), but other Oxford Landing wines cost about $8 at Binny's. Quite a fine value indeed. I may have to reconsider my ban on wines from Down Under. I would love to hear if you've made any exciting Australian discoveries lately — feel free to write me an e-mail or post in the comments. In the meantime, I'll see if I can scare up some more unusual and inexpensive varietals from Australia. Who knows? Maybe I've been missing out!
SUMMARY
2008 Oxford Landing Viognier: Intact perfumy, honeysuckle aroma. Rich, fruity and flowery, with tart balancing acids and a touch of flint. A very good value. Pairs well with Asian dishes, and probably most pork recipes. Chill well in the refrigerator before serving.
Grade: B
Find It: I have no idea where I got it, but Oxford Landing is a major exporter, and it's likely a well-stocked wine shop will carry its wines, which run about $8 to $10.
Australia, Viognier Australian Shiraz, Oxford Landing, South Australia