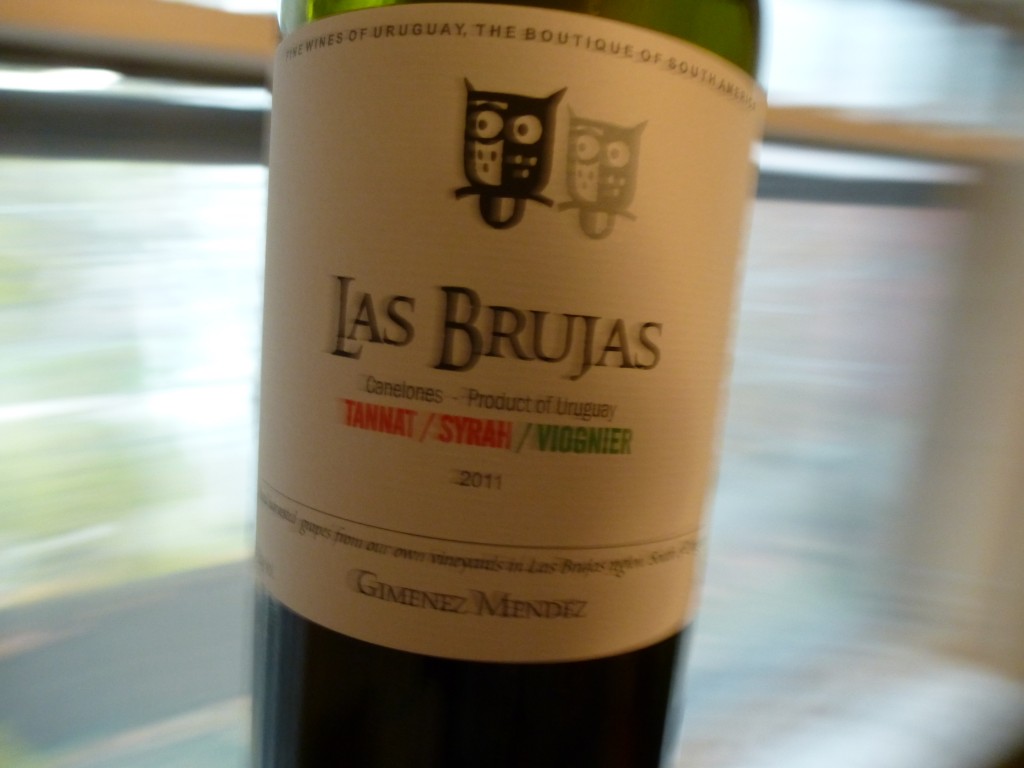 These days, almost everyone has tasted wines from Argentina at some point — its Malbec can be found almost anywhere — but that's hardly the case for its neighbor, Uruguay. Although this little country on the north side of the Rio de la Plata is South America's fourth-largest wine producer, you can't just walk into a wine store and head to the Uruguayan section. Most of its vineyards, which average just 12.5 acres in size, are family owned, and similarly small-scale wineries have inconsequential marketing budgets. If you can actually find the wines, you're paying more for what's actually in the bottle and less for splashy ad campaigns.
Nevertheless, I've had some bad experiences with Uruguayan wines. I've only had two or three, but I can't remember being excited about any of them. Now, after tasting a 2011 Giminez Mendez Las Brujas Tannat/Syrah/Viognier, I think I figured out what the problem. It's the very signature grape of Uruguay: Tannat.
This exceedingly dark variety originated in southwest France, where it serves as the most important component of Madiran. As is common in France, the wines of Madiran are not varietals, they're blends. But the Uruguayan wines I can recall trying were 100% Tannat, which meant that its tough and wooly tannins went unsoftened by any other grapes. In the unlikely event you happen upon a 100% Tannat, I recommend passing it by.
On the other hand, if you come across a Uruguayan blend, snap it up and give it a try. The southern part of the country, where Giminez Mendez and most other Uruguayan wineries make their homes, is well-suited to winemaking, with humid, sunny days mitigated by cool ocean currents from Antarctica.
Unfortunately, the humidity means party time for fungus and rot, making "organic viticulture virtually impossible," according to the Atlas. Nevertheless, many wineries such as Giminez Mendez work to respect the environment, using a minimum of chemicals in the vineyards. Mendez also harvests all its fruit by hand, which means, theoretically, that only the ripest and best grapes make it into the wine.
The Tannat/Syrah/Viognier blend I sampled certainly smelled enticingly ripe, with a jammy nose of dark currants. Made from fruit from vineyards in Las Brujas, which translates as "The Witches," this wine was only 60% Tannat, but the tannins came through loud and proud. The wine started innocently enough, with rich, dark, lush fruit. But it gets a little rough in the middle, and before you know it, hefty tannins give you a slap, drying the mouth right out. It's a bit of a wild ride! This is no Cary Grant of a wine; it's more of an Axl Rose.
The label says it's "ideal to drink in any occasion," but the wine didn't have great table manners either, becoming a little tart and overly spicy when paired with some pizza.
It's not a wine to bring home to the parents, but when you're in the mood to rebel a little and drink something rowdy, Giminez Mendez's Las Brujas blend from Uruguay is your bad boy (or girl).
SUMMARY
2011 Giminez Mendez Las Brujas Tannat/Syrah/Viognier: Big up-front fruit, rough and tumble in the middle, and bracingly tannic on the finish. Acids afforded some measure of balance, but I'm not sure what food this wine would play well with. Maybe a hearty duck dish? Chill for 15 minutes in the refrigerator before serving, and give it some time to breathe.
Grade: B
Find It: I purchased this wine at In Fine Spirits for $12.50, a fine value indeed.
Blends - Red, Tannat, Uruguay Canelones, Giminez Mendez, Las Brujas