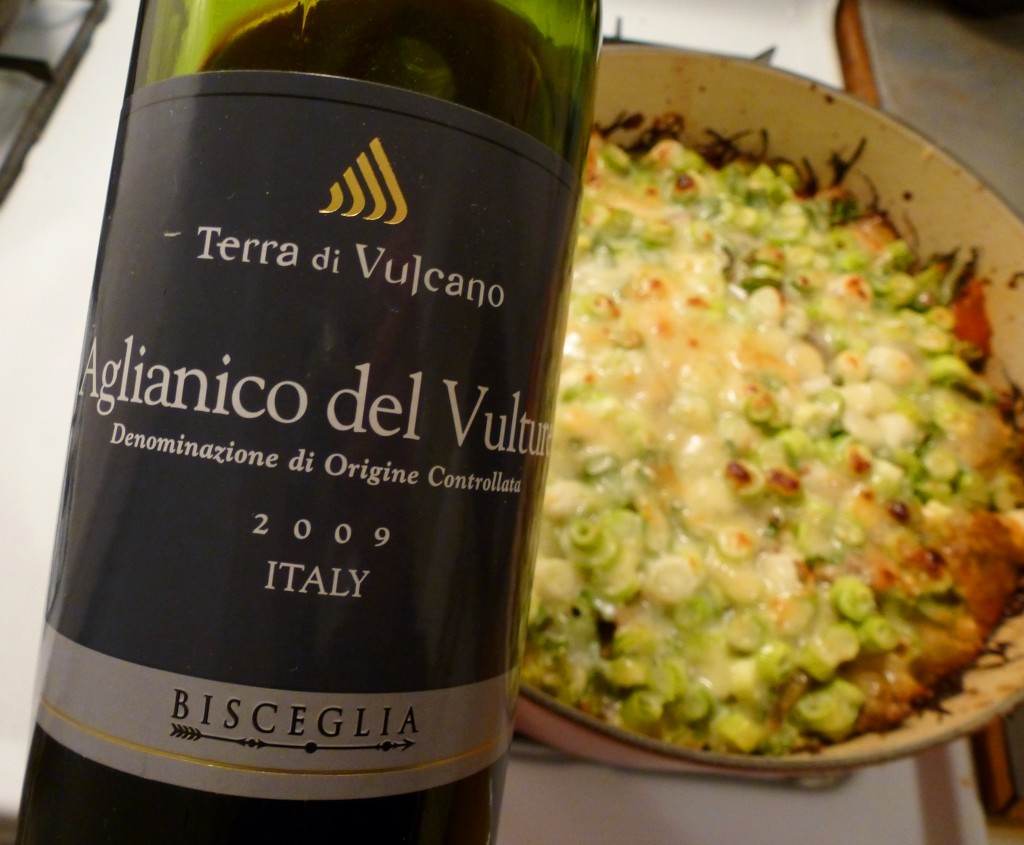 With winter's chill lingering unwholesomely into Holy Week, I found myself still yearning for hearty red wines and rich food. I started preparing a batch of ratatouille-like casserole and consulted my wine rack. Since it would just be me drinking wine this evening, I didn't want anything too expensive. (And despite what your mother may have told you, there's nothing wrong with drinking alone.) I reached for a 2009 Bisceglia "Terra di Vulcano" Aglianico del Vulture.
What a mouthful! Aglianico del Vulture (pronounced approximately "ah-lee-ah-nee-coh dell vool-too-ray") is one of Basilicata's few wine regions of any note. Basilicata, set in the arch of Italy's boot, doesn't get a lot of press. It produces, according to The Sotheby's Wine Encyclopedia, a minuscule 0.6 percent of total Italian production. Its neighbor Puglia accounts for a whopping 14%, and even unsung Calabria, the toe of Italy's boot, manages a respectable 1.6 percent.
Nevertheless, Aglianico del Vulture was granted DOCG status in 2011, the highest status an Italian wine region can achieve. Up until then, this land around the extinct Vulture volcano in the far north of Basilicata ranked only as a DOC, the qualification indicated on my 2009 bottle. The ancient variety of Aglianico was originally thought to be of Greek origin, as Wikipedia still asserts, but according to The Oxford Companion to Wine, DNA profiling work "in the early 2000s could find no relationship with any known Greek variety." My theory is that Greek colonists in southern Italy discovered Aglianico already growing there, and it became known as a Greek variety because they were the first to exploit its potential.
Today, Aglianico del Vulture is grown "with unusual skill for this part of the world," The World Atlas of Wine rather tartly notes, on the slopes of Mount Vulture up to 2,500 feet. The elevation keeps the vines cool at night, which is vital this far south in Italy. When it works, "The grape's best wines are deep in color with full chocolate and plum aromas, fine-grained tannins, and marked acidity on the palate," according to the Companion. Sotheby's agrees, calling Aglianico del Vulture a "big but balanced red wine of warm color, rich, chocolate-cherry fruit, and firm tannin structure."
I certainly enjoyed the Bisceglia "Terra di Vulcano" Aglianico del Vulture. It lived up to its name, offering plenty of earthy notes. The wine was very aromatic, smelling of dark red fruit and iron. It had a rustic texture, with ripe fruit, ample acids, some earth in the middle and a hint of something (not unpleasantly) bitter on the finish. And paired with the Parmigiano-laced ratatouille casserole, it grew even rounder and spicier. I found it to be rather addictive, I must admit.
If you relish rustic, earthy, fruity wines, I suspect you might find wines from Aglianico del Vulture to be rather addictive as well (in a non-abusive way, of course).
SUMMARY
2009 Bisceglia "Terra di Vulcano" Aglianico del Vulture: Rustic, earthy and ripely fruity. Pair with casual food like pizza, pasta in red sauce and pork roast. Chill for 20 minutes before serving.
Grade: B
Find It: I purchased this wine for $13 at Binny's. A fine value.
Italy Aglianico del Vulture, Basilicata, Bisceglia, Inexpensive Red Wines