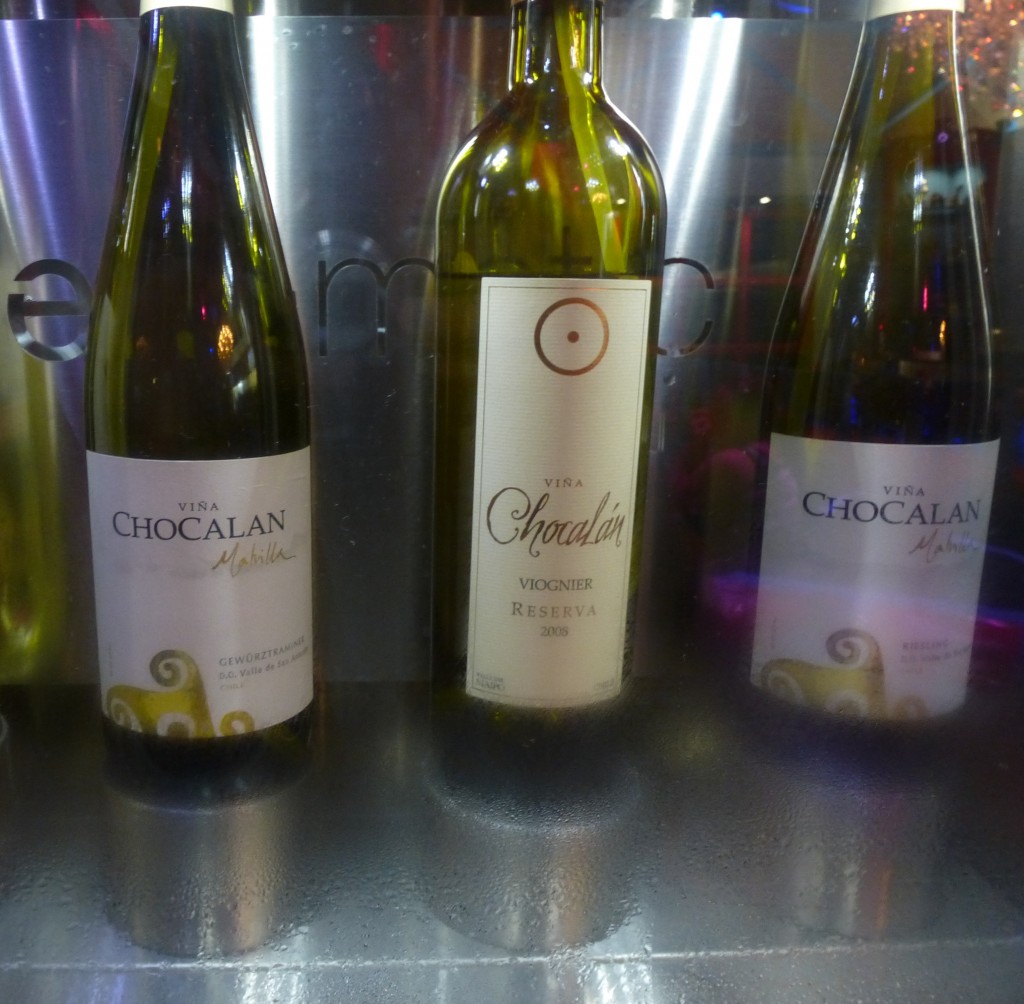 One of the eco-lodges where I stayed in Costa Rica veered much more towards "resort" than "lodge," with a swim-up bar, wine bar and even a small sushi restaurant. I felt, I must admit, a little silly supping on sushi in the middle of Central America, but then I suppose it's no more ridiculous in Costa Rica than it is in Chicago.
In any event, this sushi restaurant had two cases dispensing some surprisingly unusual wines by the glass, and I sampled several small pours along with my fish. The wines of Viña Chocalán turned out to be something of a revelation.
This winery dedicated to "sustainable and socially responsible" production methods is located in Chile's famous Maipo Valley, near the town of Melipilla just south of the capital, Santiago. Phylloxera-free Maipo is well-known for its Cabernet, Chardonnay and, to a lesser extent, its Carménère. But the sushi restaurant's wine case boasted some true Maipo oddballs: Viña Chocalán Gewürztraminer, Viognier and Riesling in the sushi restaurant's wine case.
I was initially confused to see these three varieties coming from one winery — Viognier traditionally thrives in France's warm Rhône Valley, far from much chillier Alsace and Germany, where Gewürztraminer and Riesling are happiest. But a closer inspection of the labels revealed that Viña Chocalán's Riesling and Gewürztraminer come from San Antonio, not Maipo. San Antonio, which Sotheby's Wine Encyclopedia calls "the fastest-rising new wine district in [the coastal viticultural] region," is closer to the Pacific Ocean than Maipo, making it more susceptible to the cooling influence of the Humboldt Current.
None of these grape varieties is grown in any significant amount in Maipo or San Antonio. None of my reference books mentions any of them, and even the Viña Chocalán website omits Riesling and Gewürztraminer from its roster of wines. These are pioneer varietals, and if these examples are any indication, I'd say they have a serious future:
Viña Chocalán Gewürztraminer (San Antonio): I loved the sweet, floral aroma, which reminded me of jasmine and honey. On the palate, this wine started with some slightly watery fruit, but it tightened up into some white pepper spice and a finish of tart acids.
Viña Chocalán Viognier Reserve (Maipo): A fine example of Viognier — dry, tight, focused, minerally and floral at the end.
Viña Chocalán Riesling (San Antonio): This was the one that really blew me away. Its dry, tart and woodsy flavors totally took me by surprise. This isn't a Riesling that will please everyone, but I found it racy, exciting and wonderfully unusual.
You may not see any of these specific wines in your local shop, but keep your eye out for Chilean varietals besides the usual Sauvignon Blanc, Cabernet, Chardonnay and Carménère. Winemakers are engaging in some fascinating experiments down there, and you might just stumble across a real gem.
Chile, Gewürztraminer, Riesling, Viognier Maipo, San Antonio, Vina Chocolan