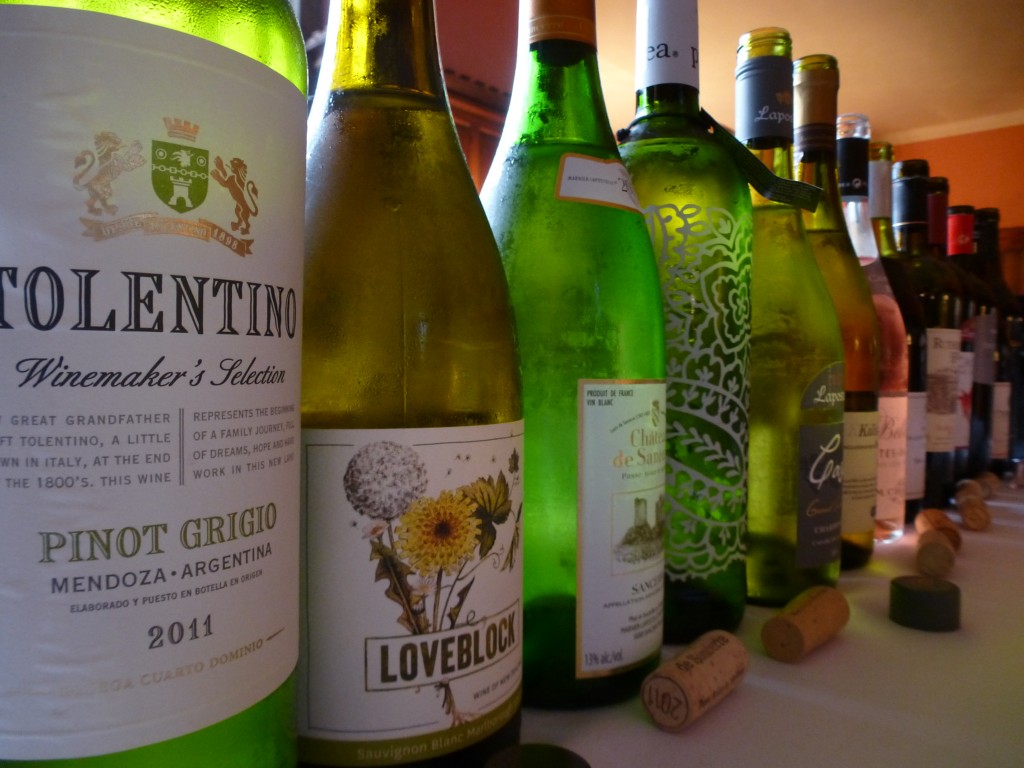 After a sparkling introduction to the mansion at Tangley Oaks, we moved on to tasting some delicious whites imported and/or distributed by Terlato Wines. I very much enjoyed the grassy but well-balanced Loveblock Sauvignon Blanc, the rich and minerally Chateau de Sancerre Sancerre and the flinty, creamy and spicy Lapostolle "Casa Grand Selection" Chardonnay, but of course what I really want to talk about are odd ducks of the tasting. And there were some mighty tasty odd ducks.
2011 Cuarto Dominio "Tolentino" Pinot Grigio: I tend to avoid Pinot Grigios unless they come from the far northern Italian provinces of Friuli or maybe Trentino-Alto Adige. Too often, Pinot Grigios from elsewhere can be insipid and wan. But how could I resist a Pinot Grigio from the Uco Valley in Argentina? The World Atlas of Wine calls the high-altitude vineyards in this valley "the most exciting part of Mendoza," and if the Tolentino is any indication, Pinot Grigio does just as well in the Uco Valley as Malbec. It had a rich but very fresh aroma, and a lush texture leavened with focused, almost pointy acids. Fruity, but with a dry finish. Delightfully refreshing.
2012 Protea Chenin Blanc: As Lettie Teague recently wrote in the Wall Street Journal, Chenin Blanc "may be the world's most noble yet most discredited grape." Chenin Blanc has been "responsible for a great deal of plonk," she rightly notes, but it also "can produce wines of depth and complexity." This Chenin Blanc from South Africa certainly fits the latter description — in fact, it's "made by a genius," remarked Anthony Terlato during the tasting. Crafted by winemaker Johann Rupert, the Chenin Blanc had an enticingly perfumed aroma with a bit of a grassy note. It tasted full and plump, but a dry backbone and some zesty spice kept it well-balanced and thoroughly charming.
2007 Boutari Kallisti Reserve Assyrtiko: This remarkable wine comes from Santorini, which The World Atlas of Wine calls "the most original and compelling" of the Greek islands. On this unusually scenic speck in the Aegean, most vines are trained in little bushy balls close to the ground, to protect them from the wind. Assyrtiko originated on Santorini, according to The Oxford Companion to Wine, which calls it a "top-quality white grape variety" with a "severe mineral profile." This particular Assyrtiko certainly struck me as top quality. It had a sweet and smokey aroma which reminded fellow taster Liz Barrett (Terlato's Vice President of Corporate Communications and PR) of toasted oak. It felt rich and almost buttery, but quite taut and fruity as well. There was something exotic about it too — a certain spicy, aromatic quality which I loved. Delicious.
2008 Chimney Rock "Elevage Blanc": I don't often write about wines from Napa Valley, but this blend of Sauvignon Blanc and Sauvignon Gris blew me away. I can't remember ever tasting a Sauvignon Gris, so I looked it up in my trusty Oxford Companion. This relatively rare variety is a pink-skinned mutation of Sauvignon Blanc, and "it can produce more substantial wines than many a Sauvignon Blanc," the Companion asserts. Sauvignon Gris has a following in Bordeaux, the Companion goes on to note, which perhaps explains why the Elevage Blanc reminded me a bit of Pessac-Léognan, one of my favorite whites from Bordeaux (or from anywhere, for that matter). This beautiful wine practically glowed with elegance, its creamy fruit focusing into some carefully restrained white-pepper spice. Voluptuous but perfectly balanced — a joy to drink.
Note: These wines were provided free of charge as part of a wine tasting at the Tangley Oaks estate.
Up next: The Reds.
Argentina, Assyrtiko, California, Chenin Blanc, Greece, Pinot Grigio, Sauvignon Gris, South Africa