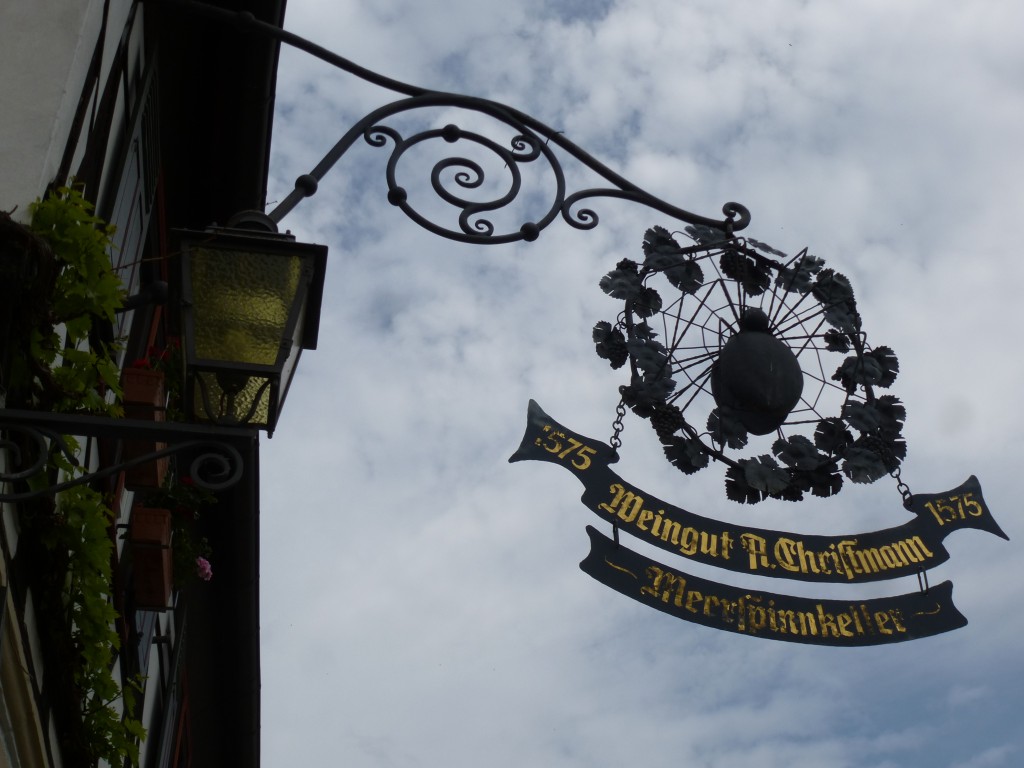 German Riesling isn't anything all that obscure or unusual, but it is all too rare that we buy the really exciting stuff. Frequently, stores are larded with candy wines like Schwarze Katz and Blue Nun. Many people therefore dismiss German wines the way Putin dismisses Obama — as sweet and simple.
This misconception is easily dispelled, at least in the first case, by trying one or two high-quality German Rieslings. At their best, German Rieslings display lush fruit, zesty acids, laser focus and perhaps a dry breath of minerality. They come in quite a range of styles as well, ranging from voluptuous to positively austere, meaning that there's a German Riesling for every white-wine drinker.
It would take decades to learn the nuances of German vineyards, even in a single region like the Pfalz, even if the vineyards didn't have intimidating names like Königsbacher Ölberg. But do remember the name "Pfalz" (pronounced "pfahlts"). This mild wine region east of the Rhein is, political boundaries aside, really a northerly extension of the Alsace. The Pfalz is Germany's "most exciting wine region," according to The World Atlas of Wine, and its single-vineyard wines are worth seeking out.
A single-vineyard wine will usually be indicated by an semi-unpronounceable word ending in -er, followed by another semi-unpronounceable word. Seeing a word ending in "-garten" or "-berg" can be another telltale sign of a single-vineyard wine.
The different vineyards of the Pfalz produce a range of different wines, but on a recent visit to the region, I found every one I tried to be delightful. Here are some examples of what you can expect.
Rieslings from WEINGUT A. CHRISTMANN, tasted at its winery in Gimmeldingen:
2012 Deidesheimer Paradisgarten — Garden of paradise indeed. This wine smelled of candy, citrus and flowers. Despite its lush texture, this wine kept itself tightly wound, finishing with firmly controlled spice.
2012 Gimmeldinger Biengarten — This vineyard's name translates as "Garden of Bees," and its wine knocked me flat. The aroma was surprisingly dark, with a note of wood in it. The extravagantly rich texture of the wine was leavened by stone, lime peel and white pepper spice, and the finish went on for ages. Absolutely delicious.
2012 Gimmeldinger Kapellenberg — I couldn't find this vineyard on the winery's website, but it must have a privileged location. The wine had a more honeyed quality, but long-lasting gingery acids kept it admirably balanced, as did a floral lift on the finish.
2012 Königsbacher Ölberg — This focused wine tasted more austere than those above, with appealing notes of white flowers and lime. Tightly controlled acids kept it carefully balanced.
Rieslings from WEINGUT DR. VON BASSERMAN-JORDAN, tasted at its winery in Deidesheim:
2012 Kieselberg — The full name of the vineyard is "Deidesheimer Kieselberg," but the label omits the "Deidesheimer," making it a bit harder to quickly identify it as a single vineyard wine. It had a clean, crisp aroma and lively, almost prickly acids keeping the floral fruit in balance. Some focused spice on the finish.
2012 Ungeheuer — Again, it would be easier to identify this wine as a single-vineyard Riesling if the label used the full vineyard name, "Forster Ungeheuer."  This Riesling is smashingly good. The aromas of melon and citrus sucked me right in, and the wine delivered complex, lively flavors. Sprightly, limey acids balanced the rich fruit, followed by green peppercorn spice and an aromatic finish. A dewy spring morning in a bottle.
2012 Ölberg — This wine is a Grosses Gewächs, a "Great Growth," indicated by the "GG" on the label. Find those GGs if you can — they designate a vineyard of top quality, and grapes of at least Spätlese ripeness. "Spätlese" often connotes a sweet wine, but GG wines are classified as "trocken" (dry). This remarkable wine had a green, honeyed aroma, rather like a light Sauternes. I loved the rich, peachy fruit; the dry, white-peppercorn spice; and the forcefully driving acids keeping everything in taught balance. (Note that GGs appear only on labels of recent vintages.)
2011 Jesuitengarten — This Grosses Gewächs had another richly green, enticing aroma. A laser focus cut right through the fruit, leading to a finish that seemed almost endless. Sebastian Wandt (pictured above), who conducted this tasting, told me to seek out wines from vineyards with religious names (Jesuitengarten translates as "Garden of the Jesuits"). The church, he alerted me, used to own all the best vineyards.
Skimming over the tasting notes, you'll see a pattern — rich fruit balanced by lively acids and focused spice. These single-vineyard Rieslings from the Pfalz are beautiful on their own, and even better paired with autumnal dishes like roast pork and roast chicken, or pasta with cream sauce. Pfalz's single-vineyard Rieslings cost a little more, but those willing to spend a few extra dollars will be amply rewarded.