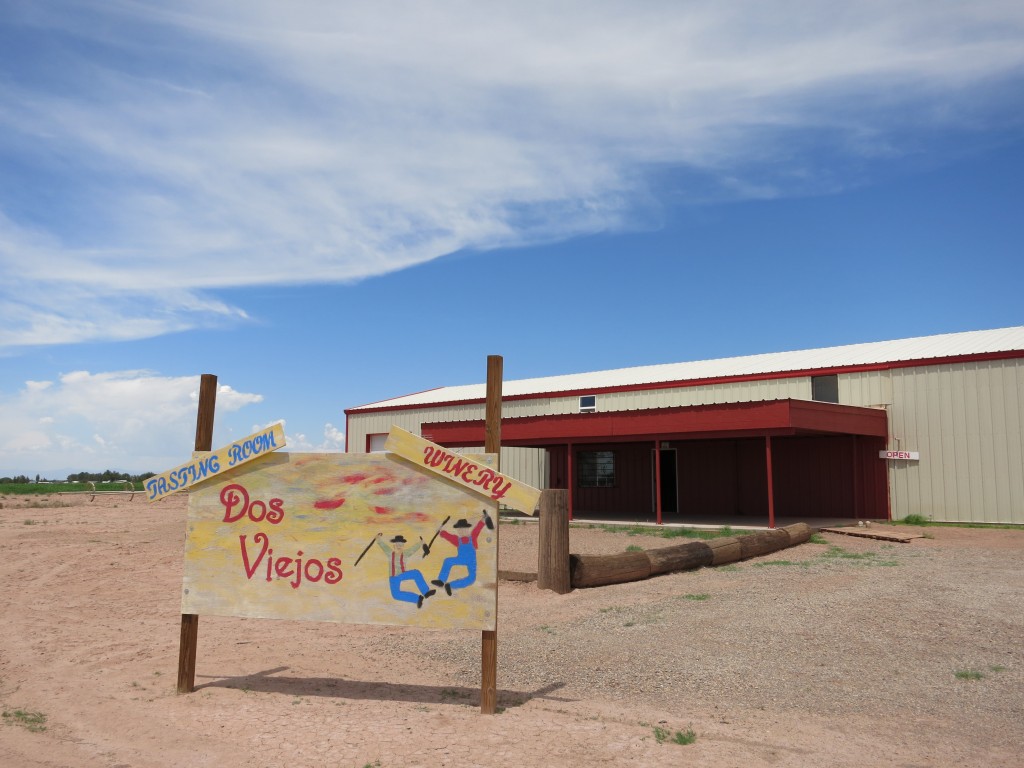 Some people have the impression that wine is a fancy beverage mostly just for snobs. A tasting at Dos Viejos, hidden away in the countryside just outside Tularosa, New Mexico, will quickly dispel any such notions. Jim Dann, the owner and the staff member you're likeliest to encounter in the unassuming tasting room, is as down to earth as they come. He didn't initially plan on being a winemaker. He worked at a nearby winery for a decade, and all the grapes he grew himself he sold.
"Then I got screwed," he explained. A grape deal went badly, and he realized he could make a more consistent income and have more control if he made wine himself. Unfortunately, the New Mexico state government "discourages" new wineries, according to Dann. Because of bureaucratic hurdles, it took two years to get the proper permit, and another two years just to get a septic tank (there was some confusion regarding which inspector had jurisdiction).
In any case, Dos Viejos is finally a reality, and Dann is crafting some tasty wines. Many of the current vintages in the tasting room are much older than you might expect — I tasted nothing less than four years old — perhaps because of the winery's long slog through the New Mexican bureaucracy.
The tasting went from red to white, as is often the case in New Mexico tasting rooms. Since sweet wines are so popular, they serve them last, in order not to emphasize the dryness of the reds any more than necessary.
NV Dos Viejos Cabernet Sauvignon/Merlot: "I don't really care for this wine," Dann disarmingly confided, "but lots of other people do." I certainly didn't mind it — it smelled of iron and red fruit, and tasted earthy and tannic, with plenty of cherries and broad acids.
2005 Dos Viejos Cabernet Sauvignon: Big, fruity and tannic, with aromas of old wood and earthy fruit.
2007 Dos Viejos Merlot: Another big and bold wine, but not tannic. The rich, dark fruit appeared both in the nose and on the palate, followed by fun, peppery spice.
NV Dos Viejos Pinot Noir: Before I sampled this wine, Dann made a rather distressing admission: "I don't really know what Pinot Noir is supposed to taste like. I've haven't found one that I've liked." All things considered, I'd say this Pinot Noir turned out quite well! It had a beautifully fruity, almost jammy aroma, and a delightfully fruity and spicy character on the palate.
2006 Dos Viejos Sangiovese: Finally, a wine Dann could really get behind. "I drink this 99% of the time, and anywhere I go I bring it with me, because I feel safe," he explained. Dann convinced some local air force men to try it, and they have been promoting the wine on a nearby base, making it Dos Viejos's top seller. I can see why; the Sangiovese was fruity and earthy, but light on its feet and very well-balanced.
2007 Dos Viejos Tempranillo: Dann noted that his Tempranillo has a "wet hay" note, and indeed it did smell like earthy, wet hay and cherries. On the palate, this tannic wine started with creamy fruit, moved through some spice and finished on a non-trivial wet hay note. Probably not a wine for everyone, but fascinating nevertheless.
2005 Dos Viejos Rosé: I was very surprised to see the age of this rosé, a style of wine traditionally consumed as young as possible. A rosé of Grenache, this dusky orange-colored wine looked a little oxidized, but it retained some surprisingly sunny acids. The fruit had a Kool-Aid quality, but overall this was a dry rosé. Were I lounging by the side of a pool, I certainly wouldn't turn down a glass.
2009 Dos Viejos "Cinco": This wine blends Muscat Canelli, Gewürtztraminer, Symphony, Chardonnay and Colombard for an exceedingly unorthodox blend. It tasted of surprisingly spicy grapefruit and wood, with a rather smokey character as well. Very unusual and very intriguing.
2008 Dos Viejos Symphony: Dann claimed to be the first wine grower to grow the Symphony variety in New Mexico, but alas, he doesn't like this wine either. In fact, he didn't even intend to produce it; he ordered some other variety of grapes, but a shipment of Symphony arrived instead. With all that going against it, this aromatic wine turned out amazingly well, with dusky, green notes of honey and some distinct spice. It would surely pair well with many Chinese and Thai dishes.
NV Dos Viejos "Valiente": This "port-like" wine is fortified with 192-proof brandy, bringing it to an 18% alcohol level. It indeed smelled like a late bottle vintage port, and I very much enjoyed its rich, jammy fruit and sharp spice.
NV Dos Viejos "Elegante": Dann saved his best story for last. This "fake sherry" was a total accident. Dann originally intended to make Chardonnay, but one morning, he arrived at the winery to discover that the tank of wine had been improperly stored for the night. The lid hadn't even been closed on the tank, and the Chardonnay had oxidized. He was going to simply throw it out, but a friend recommended turning it into sherry by fortifying it, and so we have the Elegante. It had an aroma of vanilla and oak, and a very pleasant smooth, round and woodsy character. I quite enjoyed it — no small compliment for a wine originally destined for the drain!
To learn more about the wines of New Mexico, check out my posts about my Favorite New Mexican Whites and Favorite New Mexican Reds.