When wine drinkers see the word "Bordeaux," most think of great reds, and very expensive ones at that. Especially in the wake of the widely heralded 2009 and 2010 vintages, demand for top red Bordeaux has never been higher. But sweet white wines are hardly as fashionable, especially in the United States, where we like our steaks beefy and our wines even beefier.
The softer demand for sweet white wines results in softer prices, which means that some of the greatest wines of Bordeaux are affordable for you and me. Instead of St-Estèphe and Paulliac, we need to look for Sauternes and Barsac. These wines need not be relegated to foie gras and dessert pairings — many have the acids and freshness to pair well with Thai and Indian dishes, which can be difficult to match with something drier.
But really, you may wonder, are the sweet wines of Sauternes and Barsac actually all that special? At the recent Grands Crus de Bordeaux tasting in Chicago, I tried several remarkable Sauternes, including one with a laser-like beam of acids and minerals shooting through a gloriously rich nectar of honeyed fruit. That's the 2011 Château Bastor-Lamontagne. It startled me, this wine, with its sumptuous flavor and pristine clarity, and I became even more startled when I learned the price: $30-$40 a bottle. Quite a difference from the stratospheric sums red Bordeaux wines fetch nowadays.
The price seems even more shocking when one takes into consideration the incredible amount of work and luck that goes into a Sauternes or a Barsac (or a Preignac or a Fargues, all of which can be classified as Sauternes, the term I will henceforth use to refer to the entire area).
The vineyards of Sauternes grow near the junction of two rivers, the key to their success. The Oxford Companion to Wine explains:
When, in autumn, the cool spring-fed Ciron waters flow into the warmer tidal Garonne, evening mists envelop the vineyards until late morning the following day, when the sun, if it shines, burns the mist away. This moist atmosphere encourages Botrytis cinerea, a fungus that attacks the grapes and causes them to shrivel and rot.
Shriveled, rotted grapes sound pretty terrible, but this "Noble Rot" reduces the water content of the grapes, concentrating the sugars. The fungus also chemically alters the grapes in many favorable ways, increasing aromas and complexity in a manner impossible to replicate by simply letting water evaporate from the grapes or pressed juice.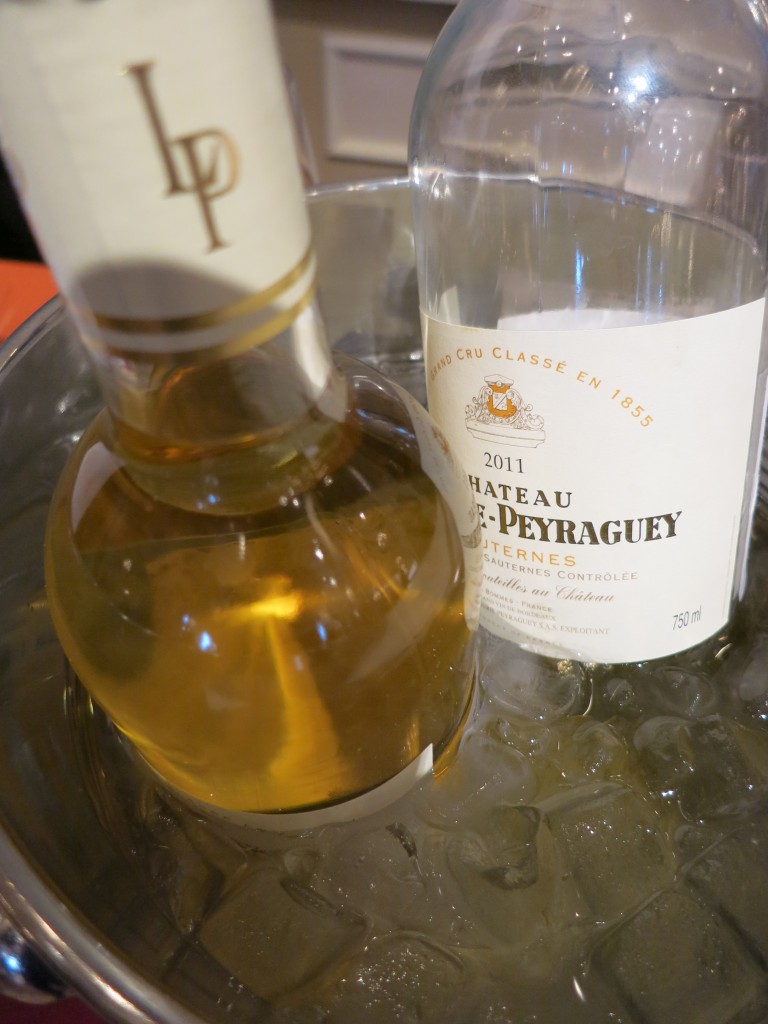 Noble Rot does not usually affect a vineyard evenly, however, which means the châteaux most dedicated to quality must pick grapes by hand, picking only the bunches — or indeed only the individual grapes — that have rotted enough. In some unfortunate years, there can be so little Noble Rot that some châteaux simply skip the vintage altogether and hope for better conditions next time. As you might imagine, yields even in the best years tend to be quite low.
Fortunately, 2011 happened to be a particularly good year for Sauternes, as well as dry white Bordeaux wines (it was uneven for reds). This assertion was strongly supported by the tasting I attended, where the Sauternes ranged from memorable to absolutely astounding. There wasn't a single dud, and believe me, I tried them all.
Even so, it pays to not go for the least-expensive Sauternes you can find. Some châteaux are more painstaking in their harvesting and winemaking than others. Ask your wine shop for a recommendation, or consider one of the Sauternes below:
2011 Château Suduiraut: This Preignac-based château ranks as a Premier Cru Classé, and no wonder — its vineyard adjoins that of the legendary Château d'Yquem. According to Directeur Technique Pierre Montégut, Suduiraut's blend of 92% Sémillon and 8% Sauvignon Blanc has more freshness than Yquem, because whereas Yquem has some clay in its soil, Suduiraut has only gravel. And indeed, underneath the classic honeyed aroma, I detected a shaft of stone. The wine tasted very rich at first, but tightly focused gingery spice and broad orangey acids gave it admirable balance.
2011 Château La Tour Blanche: State-owned La Tour Blanche is one of Sauternes' most important châteaux, not only because it produces excellent wines but because it serves as a school for the next generation of Sauternes' vintners. But Sales Manager Didier Fréchinet assured me that the wine was crafted by experts, not students, and I have no reason to doubt his claim. La Tour Blanche's honeyed white-fruit aroma had an appealingly intriguing undertone of something burnt. There was that wonderfully lush richness, but this lithe wine moved across the palate with impressive lightness, finishing fresh and focused with white-pepper spice. La Tour Blanche exemplified what I love about Sauternes — it manages the seemingly impossible feat of tasting deeply rich and fresh and lively all at once.
2011 Château Coutet: Aline Baly, who manages this Premier Cru Classé estate in Barsac with her uncle, related that Coutet's first recorded vintage dates back to 1643, and that until the 1920's, M. Lur-Saluces had his horse barn on the property (a connection with Yquem's Lur-Saluces family is gold in Sauternes). The classic honeyed fruit Sauternes aroma had enticing orange notes and a pleasing waft of salinity. The wine tasted wonderfully lush, its richness leavened with some herbaceousness, notes of bitter orange and eye-poppingly zesty acids. Delicious. The charming Baly remarked, "As Anthony Giglio says, acids are the Zamboni of the palate," and indeed they are!
2011 Château de Rayne-Vigneau: Situated between La Tour Blanche and Lafaurie-Peyraguey (see below), this Sauternes tasted as fresh as a dewy spring morning. It had a surprisingly green aroma, and hovering over the rich, spicy flavors was something aromatic and exotic, a whisper of something like frankincense. 
2011 Château de Fargues: The ancestral home of the Lur-Saluces family, Château de Fargues uses "essentially the same fastidious methods as Yquem," according to The Sotheby's Wine Encyclopedia, an assertion confirmed by Directeur Général Eudes d'Orleans. This barrel sample (it won't be bottled until June) felt incredibly plump, with notes of roasted peaches and minerals. It developed very slowly and deliberately on the palate, the sumptuous texture balanced by big, orangey acids.
2011 Château Lafaurie-Peyraguey: This château mixes in 1% of Muscadet in with the traditional Sauternes blend of Sémillon and Sauvignon Blanc. It must make a difference; a delightful freshness was overlayed on top of the dark honey aroma, and the wine positively sparkled on the tongue. The zestiest acids I'd experienced so far made this wine feel incredibly lively and bright, in spite of its deep, deep richness.
2011 Château Bastor-Lamontagne: As I described above, this Sauternes was dazzling. It had a fresh and fruity honeysuckle aroma with nothing heavy about it. There was the rich and opulent character one expects from a fine Sauternes, but here, a rocket of minerality and acids shot right through the middle with electrifying focus. It rang like a bell; it was a taut violin string plucked in a clear pool of nectar. I took notes on this exquisite wine, but it was unnecessary — there is no chance I'll ever forget the 2011 Bastor-Lamontagne. This château may not be Sauternes' most famous or highly classed, but in 2011 at least, Bastor-Lamontagne crafted a thing of invigorating beauty.