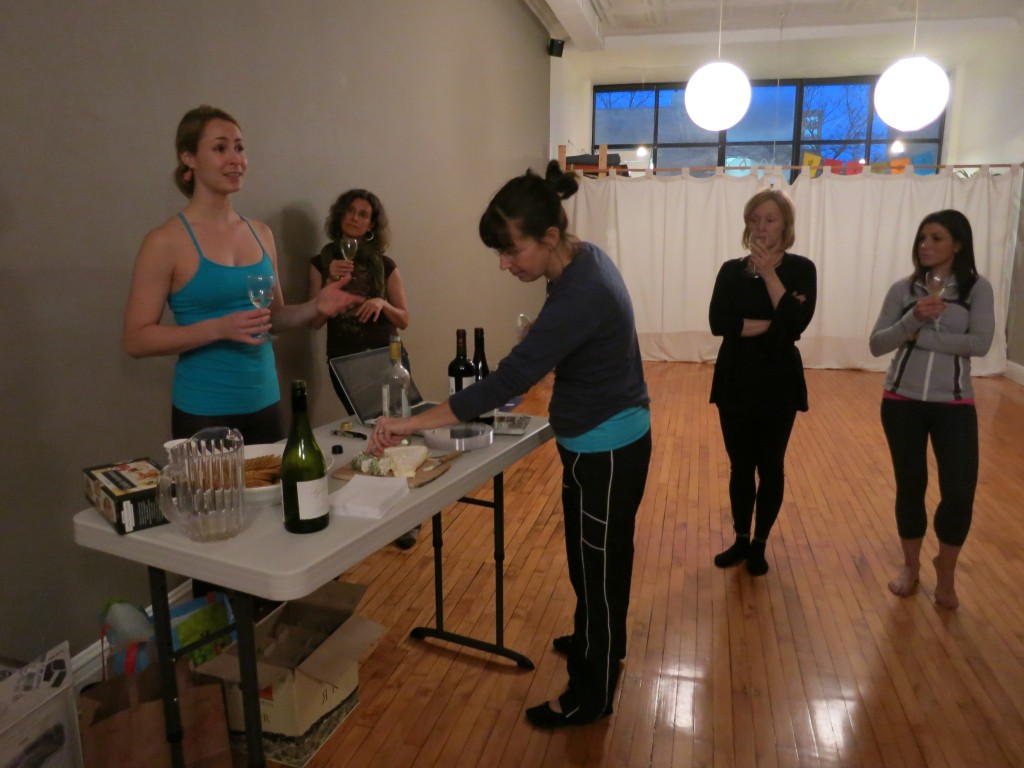 Over the years, I've tasted wine in a lot of different places, including obvious places such as tasting rooms, restaurants and cellars, as well as more unusual places such as ghost towns, national landmarks and buses. But I had a completely new and unusual wine tasting experience a few days ago, thanks to my favorite yoga teacher.
Rebecca Delott organizes periodic yoga and wine tasting events. That might strike you as gimmicky, and perhaps in less expert hands it would be. Rebecca, however, leads yoga classes as well as wine tastings professionally. The wine tasting isn't just a way to get people to come to yoga. It's an integral part of the class.
About 16 or 18 of us gathered at Namaskar Yoga Studio on Chicago's north side, and participants ranged in age from late 20s to mid 50s or so. We did some vinyasa flow yoga for 75 minutes, with several opportunities to do relatively advanced poses. After the class, the couple across from me remarked, "We usually do the beginners class here, but we're in the big leagues now!" Like any good yoga teacher, Rebecca frequently illustrates several ways to do a pose, ranging from the gentle to the truly challenging, which makes the class suitable for yoga neophytes and experts alike.
I must admit I just expected to get a workout and a wine tasting, which wouldn't have been at all a bad thing. But the yoga class left me feeling centered, grounded and relaxed — not necessarily my usual state of mind. It actually changed the wine-tasting experience. My nose and palate felt more open and receptive. Just as drinking from the right glass can enhance a wine, it seems doing some sun salutations in advance of a tasting can as well!
The four Chilean wines we sampled weren't especially unusual — a Chardonnay, Sauvignon Blanc, Pinot Noir and Cabernet Sauvignon — but each was well-balanced and quite tasty. Rebecca gracefully fielded an array of questions about the wines, ranging from "What does 'unoaked' mean?" to more technical questions about vinification. She managed to hold her audience's attention even as she discussed carbonic maceration, an achievement I wouldn't have thought possible.
If you have a chance to attend one of Rebecca's classes ($40), it's well worth it to experience how yoga affects the wine tasting experience (check the "Workshops" page of the Namaskar Yoga website for upcoming dates). Some exercise and meditation turns out to be an excellent warm-up for the palate.
Cheers and Namaste!