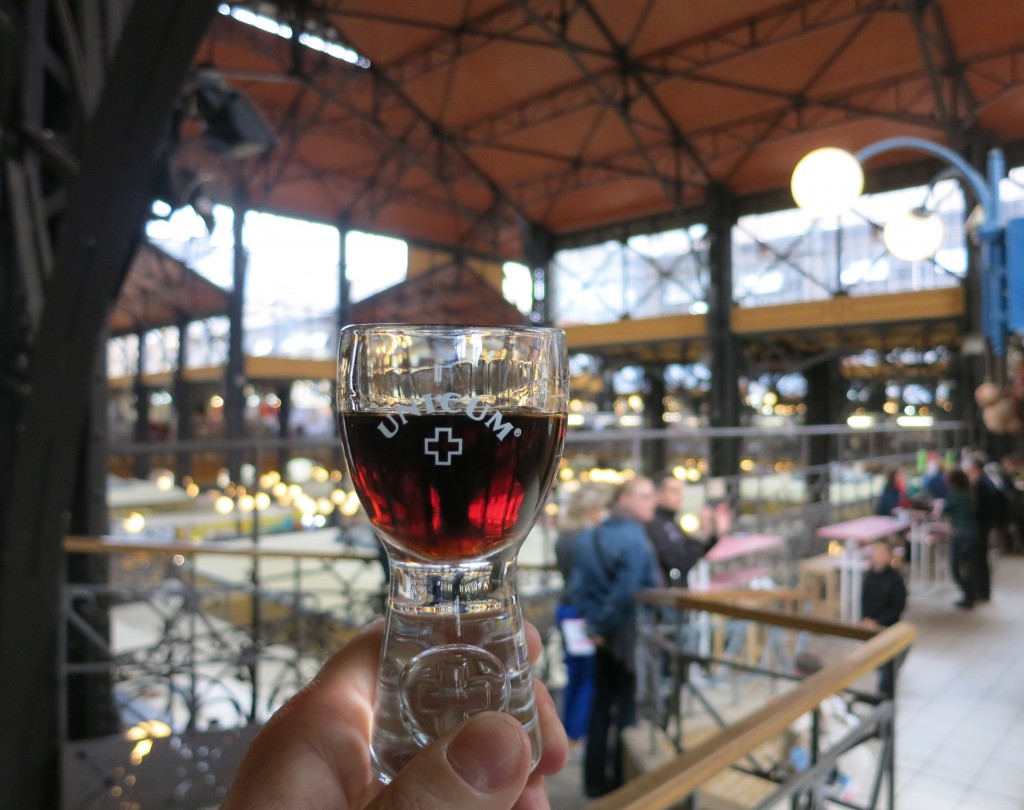 I figured at some point during my stay in Hungary it would rear its head, but I was quite taken aback to be offered a shot of Unicum Zwack at 10:00 a.m., right at the beginning of my food tour of Budapest. Unicum is not my preferred morning beverage. I held the glass with equal measures of trepidation and resignation.
I first encountered Unicum in Budapest in February of 1999, where I bought a bottle having no idea of the nature of its contents. Even then, unusual wines and spirits interested me. I brought the distinctively spherical bottle home and tried a glass after dinner with my parents. It reminded me too much of bitter, cloying Jägermeister for me to drink more than half a shot. My mother quite enjoyed it, however, and I recall she kept the bottle on her nightstand for a time, taking a medicinal sip before bed.
And indeed, Unicum started out as a health tonic, created by Dr. Zwack, physician to the Habsburg Imperial Court, "to alleviate the royal family's digestion problems," according to Food, Wine, Budapest by Carolyn Bánfalvi. It increased in popularity until World War II, when the factory was destroyed. The Zwack family rebuilt it, just in time to have it expropriated by the communists in 1948. "Péter Zwack returned to Hungary in 1989 to rebuild the family business," Food, Wine, Budapest goes on to say, "and he was among the first in Hungary to buy back a business from the government."
Since then, Unicum once again has been produced with the true recipe (the communists had a fake), which involves a secret (of course) blend of some 40 herbs and spices. Or maybe more.
Which brings us to the present, with me holding a glass of the stuff at 10:00 a.m., having eaten nothing but some runny scrambled eggs and a paprika-spiked breakfast link. I hoped that the rumors of digestive benefits were true, and gingerly took a sip. And hey, it wasn't so bad after all! Yes, it tasted bitter and felt syrupy, just like Jäger, but it tasted spicier and more citrusy. Indeed, it almost felt balanced. Despite the early hour and the dubious contents of my stomach, I happily downed the rest of the shot.
Aware that its flavor won't appeal to everyone, Unicum has recently come up with two alternative versions of the spirit which don't taste as bitter. I didn't try either one on its own, but I did discover that a daring mixologist at the Four Seasons Gresham Palace had created a cocktail showcasing Unicum Szilva (Plum). How could I resist?
A mix of Unicum Szilva, plum pálinka (a plum brandy with a grappa-like mouthfeel) and lime, the Sza-Szi cocktail tasted very purple and dusky, but citrusy notes from the lime somehow managed to keep things balanced. It's not a cocktail that will appeal to die-hard Manhattan or dry Martini drinkers, but I had no qualms about finishing it off. If you find yourself in Budapest, by all means order one. The bar is spectacular, and you'll be drinking something you won't find on any other cocktail menu in the world.
In the meantime, you can find Unicum Zwack at certain large wine and spirits stores in the United States, like Binny's, where it's labeled simply "Zwack." I wouldn't be surprised to see a bottle on my own nightstand sometime soon — for medicinal purposes only, of course.