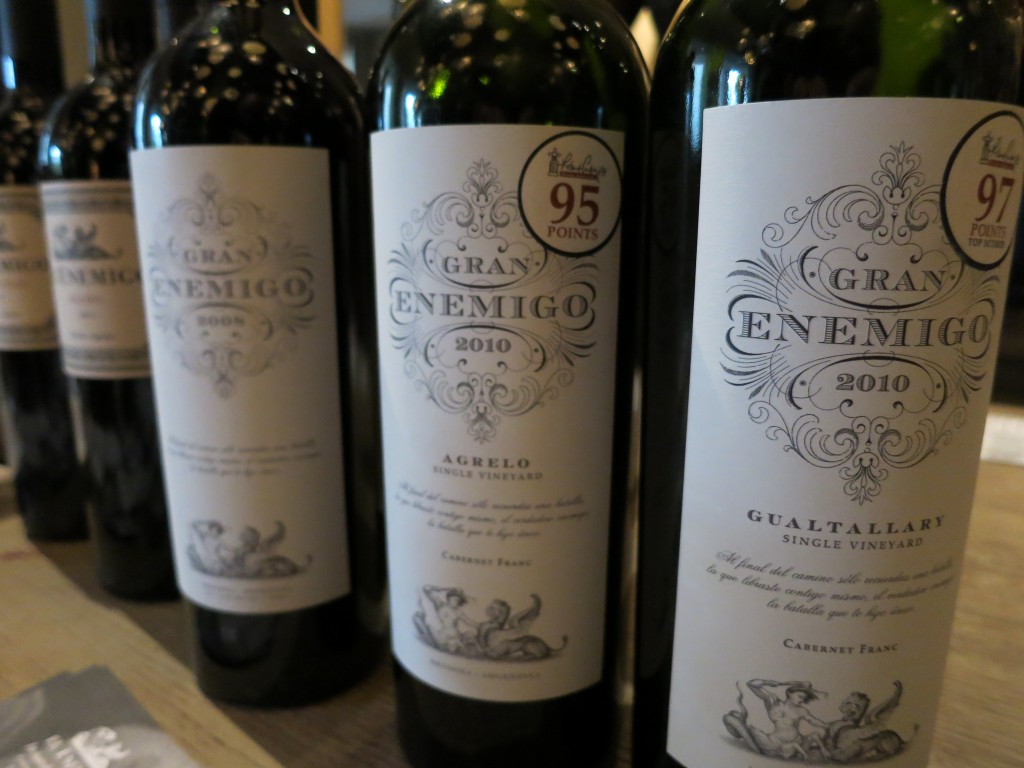 Twenty years ago, the wines of Argentina barely made a ripple on the vinous seismograph. Now that quality has dramatically improved, wine store shelves heave with bottles from this South American nation, and Malbec, formerly just an obscure Bordeaux blending grape, reigns as its signature variety.
But Malbec, as you might expect, is not the whole story. Lettie Teague recently praised the Cabernet Sauvignons of Mendoza in this Wall Street Journal article, and indeed, I sampled several beautifully fruity and focused Argentinean Cabernets at a recent tasting at Chicago's Public Hotel. A well-balanced 2013 Tilia tasted fresh, ripe and spicy, and Catena Zapata, Argentina's most storied winery, presented two big and lush Cabernet varietals and two wonderfully elegant Cabernet-based blends.
The winemaker of Catena Zapata, Alejandro Vigil, started his own project together with Adrianna Catena, focusing on "smaller varietals in Mendoza," according to the press materials I received. They named this side label "El Enemigo," which refers to "the enemy in ourselves, the one stopping us from trying something different — something extraordinary," explained Enemigo representative Constanza Hartung, who manned the tasting table. The wines she presented, with one exception, did not rely heavily on Malbec or even Cabernet Sauvignon. Instead, these blends showcased Cabernet Franc.
Cabernet Franc is another variety frequently used in Bordeaux blends, and it is the dominant grape in the Loire's red Chinon wines. I've also tried it from all sorts of other regions around the world, and Cabernet Franc makes a mean varietal in New Mexico and Virginia, oddly enough. But as far as I can remember, I'd never tried any Cabernet Franc-based blends from South America. The trouble with this grape is that it can sometimes take on some vegetal character, with potentially off-putting notes of green pepper. But that wasn't a problem here. El Enemigo's wines proved to be thoroughly ripe and vegetable-free:
2011 Cabernet Franc: This blend of 92% Cabernet Franc and 8% Malbec takes on a beautiful magenta hue, because the high altitude and cool climate of the Gualtallary vineyard from which it's sourced cause the grapes to develop especially thick skins. A big and cheerful wine, with ripe fruit, bright acids and supple tannins.
2010 Gran Enemigo: Vigil seeks to emulate "the old Pomerol style," according to the Enemigo website, with this blend of Cabernet Franc, Cabernet Sauvignon, Petit Verdot and Malbec. I can't afford to drink Pomerol with any frequency, so I can't compare this effort to its French inspiration. But if this wine is any indication of the character of Pomerol, I might have to splurge once in a while. It had a fresh, raisiny aroma and loads of red fruit, with big and focused white pepper spice. The finish went on and on. A delight.
 2010 Gran Enemigo Gualtallary Single Vineyard: Here Vigil forgoes Cabernet Sauvignon, blending 85% Cabernet Franc with 15% Malbec. Again, there was a freshness to the aroma, but it had notable undertones of earth and dark fruit. When I tasted it, I just thought, "Wow." It was lush and rich, but simultaneously focused and clean. Quite a balancing act.
2010 Gran Enemigo Agrelo Single Vineyard: This wine combines Cabernet Franc and Malbec in the same proportions as the Gualtallary Single Vineyard, but because of the Agrelo vineyard's lower altitude, it has a noticeably different character. It had notes of creamy red fruit, and it displayed impressively elegant restraint despite its obvious power. Very classy.
2011 Malbec: I did succumb to a traditional Malbec as well, and I'm glad I did. A gorgeous violet color, it smelled of perfumed dark fruit. It tasted big and beautiful, with the traditional dark cassis (currant) flavor, black pepper spice and some soft tannins on the finish. This Malbec, blended with 6% Cabernet Franc and 5% Petit Verdot, served as a reminder of what makes Argentina's signature grape so wildly popular.
These wines aren't especially inexpensive, nor are they all that easy to find (online retailers are the best bet). But if you're looking for a nice gift for a creative wine lover in your life — someone who just needs to vanquish those enemies within in order to do something amazing — any of the above would be a fine choice.