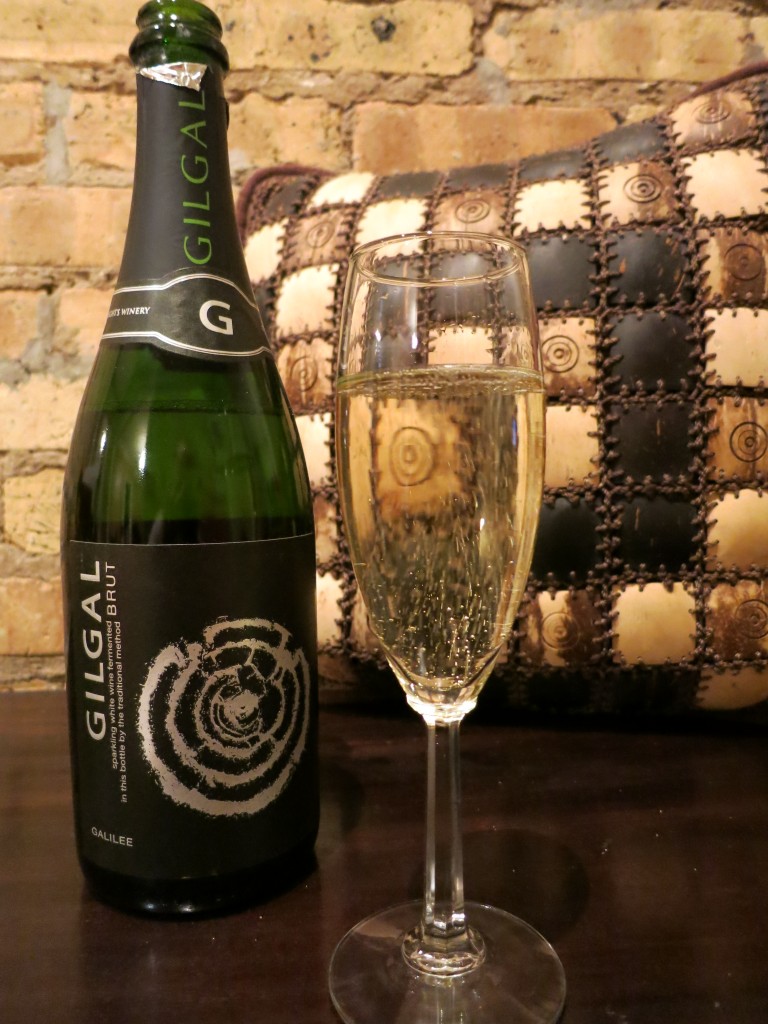 Today marks the midpoint of Hanukkah, and Christmas is just days away. What better time, then, to celebrate with a bottle of sparkling wine from Israel?
Many people still associate sickly sweet Maneschewitz-like wines with Israel, but in recent decades, the country has quietly undergone a quality revolution. "It was the late-1970s planting on the volcanic soils of the Golan Heights, from 1,300 feet above the Sea of Galilee up to 4,000 feet towards Mount Hermon," The World Atlas of Wine explains, "that signaled a new direction." The Oxford Companion to Wine concurs, noting that "Planting vineyards with noble varieties in cooler, high-altitude areas, combined with internationally trained winemakers and expertise… had dramatic effects."
But winemaking in Israel dates back thousands of years, and wine appears frequently in the Bible's Old and New Testaments. That tradition continued under Roman and Byzantine rule until AD 636, the Oxford Companion relates, "when the spread of Islam brought about the destruction of the vineyards." Crusaders started wine production again in about AD 1100, but maintained it for only about 200 years: "With the exile of the Jews, vine-growing ceased."
As Jewish people returned from the Diaspora centuries later, winemaking began once again. Galilee in northern Israel is the best-quality region, according to every resource I've consulted, its high-altitude vineyards offering a beneficially cooler climate than the coast. Jesus grew up in this region, in Nazareth, and it makes sense: If you're the son of God, of course you would choose to live in the best wine region you could.
The Golan Heights Winery is the third largest in Israel, and it helped lead the quality revolution by planting vineyards of noble international varieties in the Golan Heights in 1976. The winery's 28 vineyards "range in altitude from 400 meters (1,300 feet) at Geshur, up to almost 1,200 meters (3,900 feet) at Odem," according to its website, and these vineyards are further divided into 400 separate blocks. The grapes from each are stored and handled separately throughout the winemaking process, allowing Golan Heights to get a real feel for each parcel's terroir and determine which varieties grow best where. I was also excited to see that Golan Heights was the first winery in Israel to grow its grapes organically.
I picked up a bottle of its NV Gilgal Brut, a 50% Pinot Noir and 50% Chardonnay blend named after the Gilgal Refaim, an enigmatic 5,000-year-old assemblage of some 42,000 basalt rocks arranged in concentric circles located near the winery. This light straw-colored wine proved to be delightful, with aromas of red berries, yeast and round, orangey citrus. It felt full and ripe in the mouth. The berries and yeast were there, along with zesty acids and a froth of prickly bubbles. The finish was quite tart, with pronounced notes of green apple. I tried it again after it sat open in the refrigerator for two hours, which gave it time to develop a rounder note of vanilla.
What a fun, cheerful sparkler, and food-friendly, too. Its racy acids paired especially well with some crab Rangoon, cutting right through the richness. The Gilgal Brut would surely do well with just about any cheese or cream-based dish, making it ideal as an apéritif with cheese and crackers. I really want to try it with cheese fondue.
Making a sparkling wine in the Champagne method with traditional grapes requires great effort and significant investment in infrastructure. But it makes sense that Golan Heights would want to dive into such an elaborate project. The head winemaker, Victor Schoenfeld, worked at Jacquesson, a 200-year-old Champagne house in France, before he joined Golan Heights. His Gilgal Brut clearly reflects that experience.
I purchased the Gilgal Brut at Binny's for about $14, which is quite a value for the money. If your wine shop has a Kosher section, you might also find it there (it's Kosher for Passover).
There are any number of wonderful wines you can serve during Hanukkah and Christmas, but I found it particularly satisfying to sip the Gilgal Brut, which has a direct connection to the Holy Land. It's a very fun and festive wine, but it offers an opportunity for reflection as well.