I'm afraid that until I was in my mid-20s, I thought of "Chablis" as a low-quality California wine, not far removed from "Blush." I must have realized Chablis was a French word, but that was as close as I got to the truth. It wasn't until I was laid off from a luxury travel company that real Chablis revealed itself to me.
My boss felt guilty about having to let me go, it seems, and he offered to arrange a free week on a canal barge in Burgundy. I had nothing better to do, certainly, and I was more than happy to help assuage his guilt by taking a mostly free trip to France. It was early in 2003, and I was able to find airfare for just $385 to Paris. That was just one unemployment check, so I figured, why not?
The barge arrived one morning in Tonnerre, and we made an excursion to the town of Chablis for a tasting in a cellar. It was eye-opening, to say the least. How had I never tried this wonderful wine, I remember thinking. It was nothing at all like the wan "Chablis" of California. Later we took in views of the grey-stone village from the Grand Cru vineyards rising directly above it. The ground was littered with fossilized clumps of oyster shells, making it clear why Chablis has such wonderful minerality and why it pairs so well with oysters. The vines' roots suck up microscopic oyster bits every day.
I went through a bit of a Chablis phase after that visit, but since starting this blog, I must admit I've been ignoring them in favor of less famous wines. But just because Chablis is famous doesn't mean it's especially popular or well-understood.
It may be part of Burgundy, but its vineyards are actually closer to the southern part of Champagne than they are to Beaune, the heart of the Côte d'Or. The wines of Chablis are completely different from those of the Côte d'Or, even though both are Chardonnay. The best rank among the world's top whites. In spite of this high quality, "Grand Cru Chablis, largely ignored by the world's fine-wine traders, remains even now half the price of Corton-Charlemagne," according to The World Atlas of Wine, which goes on to argue that "Parity would be closer to justice."
And therein lies the beauty of Chablis, and why it belongs in this blog devoted to the unusual. Top Burgundies, now unfortunately popular with status-conscious millionaires in China and oligarchs in Russia, have skyrocketed in price, putting them out of reach for most of us. But top Chablis regularly sells for $70 to $90. A splurge, certainly, but not out of the realm of reason for a special occasion.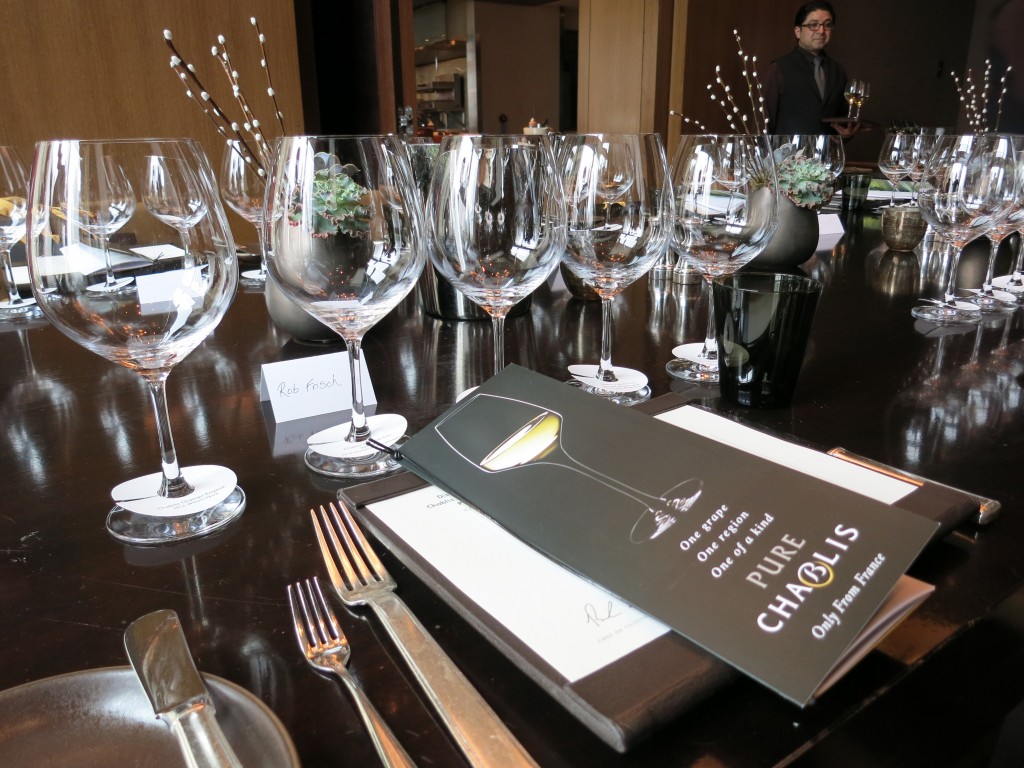 At a recent lunch promoting Chablis, I was reminded what a startling value this wine can be. We tasted the full range of styles, from the much-maligned Petit Chablis all the way up to a Grand Cru. The wines brought me right back to that revelatory tasting in 2003.
I can't deny I felt skeptical about the Petit Chablis, because in doing some research before the tasting, I read in The Sotheby's Wine Encyclopedia that "…this appellation should be downgraded to VDQS or uprooted." Harsh words, even for ever-curmudgeonly Sotheby's.
But the 2012 Domaine Millet "La Perle" Petit Chablis tasted quite good, in fact: fresh, bright, cheerful and juicy. It made for an excellent aperitif. I wouldn't recommend picking any old Petit Chablis off the shelf, but as this example illustrates, even grapes from the region's lowliest vineyards can be crafted into something quite pleasant.
Because of Chablis' northern location, its vineyards tend to be classified according to sun exposure as much as anything. Southern-facing slopes are the most prized, because grapes there will ripen most fully. Petit Chablis vines occupy land with the least favorable aspect. But that is less of a problem than it used to be, according to vintner Louis Moreau, one of our gracious hosts at the lunch. "We achieve ripeness every year now thanks to global warming," he asserted, "and there is no greenness as we used to get in some vintages." He went on to explain that 30 years ago, they harvested the grapes in October, but now, the harvest has moved as much as three weeks earlier, well into September.
What does this mean for the consumer? Vintages in Chablis are as inconsistent as ever, Moreau admitted, because of stormier weather and unpredictable temperature fluctuations. Nevertheless, ripeness, which is so important in northern regions like Chablis, is less of a concern. That means that even grapes in vineyards classified as Petit Chablis, which are the least likely to ripen fully, will tend to produce rounder and more balanced wines than in decades past.
Of course, Chablis is more than just a pleasant aperitif, as amply demonstrated by the wines paired with our lunch. But they deserve a post all their own.
Up Next: Delving into the most exciting wines of Chablis, and defending the sophistication of the Chicago wine consumer.