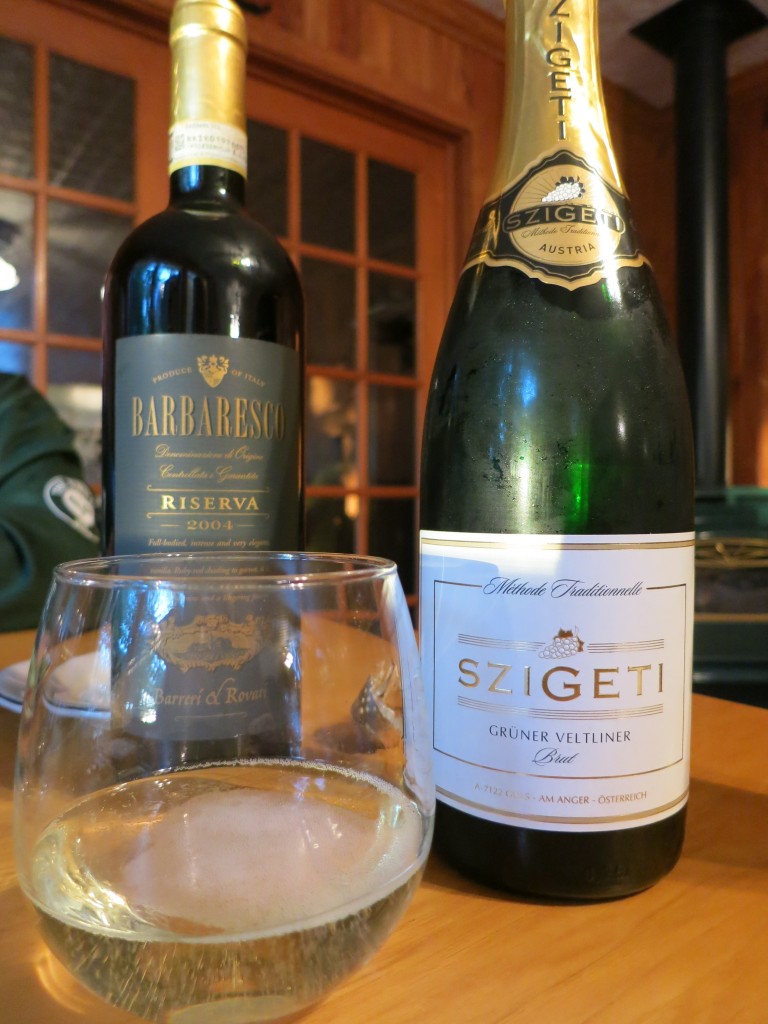 That Austria makes delightful Grüner Veltliner is no secret — Grüner varietals appear on many a wine list these days, because they tend to be not only delicious but food-friendly, with plenty of acid and spice. I love them. Last year when I visited Vienna, I had the fortune to sample a number of Grüner Veltliner Smaragd wines, which blew me away with their rich fruit, focus and power. But until a recent vacation in the Northwoods of Wisconsin, I'd never tasted a Grüner with bubbles.
You don't have to go to Austria (or Northwoods Wisconsin) to find a sparkling Grüner Veltliner, however. Szigeti may be a family company, but it's not a small operation. The winery corks 100,000 bottles of non-vintage Grüner Veltliner Brut each year alone, out of a total production of some 600,000 bottles of various sparkling wines, according to U.S. importer Winebow. That means, in contrast to many of the other wines described on this website, you actually have a fighting chance of finding this one.
At first glance, Szigeti's location near the Neusiedlersee, a shallow lake on the Austrian/Hungarian border surrounded by plains, seems unpromising. The lack of beneficial hills is worrisome, and then there's the fact that the Neusiedlersee region isn't one of Austria's best for Grüner, according to The Oxford Companion to Wine (it argues that Grüner is at its best in the Wachau, Kamptal, Kremstal, Weinviertel and Donauland). The World Atlas of Wine isn't reassuring either, focusing on how the Neusiedlersee region produces appealing sweet wines, because mists from the lake encourage the growth of botrytis (noble rot). Neither book mentions anything about quality Grüner Veltliner coming out of Neusiedlersee.
But then, you don't hear anything about quality Chardonnay coming out of Champagne. As the Oxford Companion explains, "Wines that are good raw material for the sparkling wine-making process are not usually much fun to drink in their still state. They are typically high in acidity and unobtrusively flavored." Still wines made from Neusiedlersee Grüner Veltliner may not be much to talk about, but the grapes work beautifully in bubbly.
I brought a bottle of NV Szigeti Grüner Veltliner Brut up to Boyd's Mason Lake Resort, where the family gathered to celebrate my father's 70th birthday. One night, the charmingly old-fashioned resort served a Thanksgiving-style turkey dinner, and it seemed like an ideal moment to try this unusual sparkler. Under the gaze of the fish and deer heads mounted on the lodge's wall, I popped the cork.
I hadn't planned on taking any tasting notes — I was on vacation, after all — but the wine proved to be so delicious I couldn't resist. I loved its creamy, citrusy aroma, reminiscent of a dreamsicle. The elegantly fine, foamy bubbles were a testament to Szigeti's use of the most time-consuming and expensive means of producing sparkling wine, méthode traditionelle, in which the second fermentation — the fermentation which causes the bubbles — takes place in the bottle as opposed to a large steel tank. It had ample fruit and a pleasant powdered candy note, all balanced by soft limey acids. It stood up well to the turkey, but it also would make a fine aperitif all on its own.
The Szigeti Grüner Veltliner Brut isn't inexpensive — it costs $17-$20 a bottle — but in this case, that's money well spent. The obvious quality of the wine along with its unique character and versatility make it a value at that price. I wouldn't hesitate to buy it again, and I'm going to keep my eye out for other Szigeti sparklers as well.