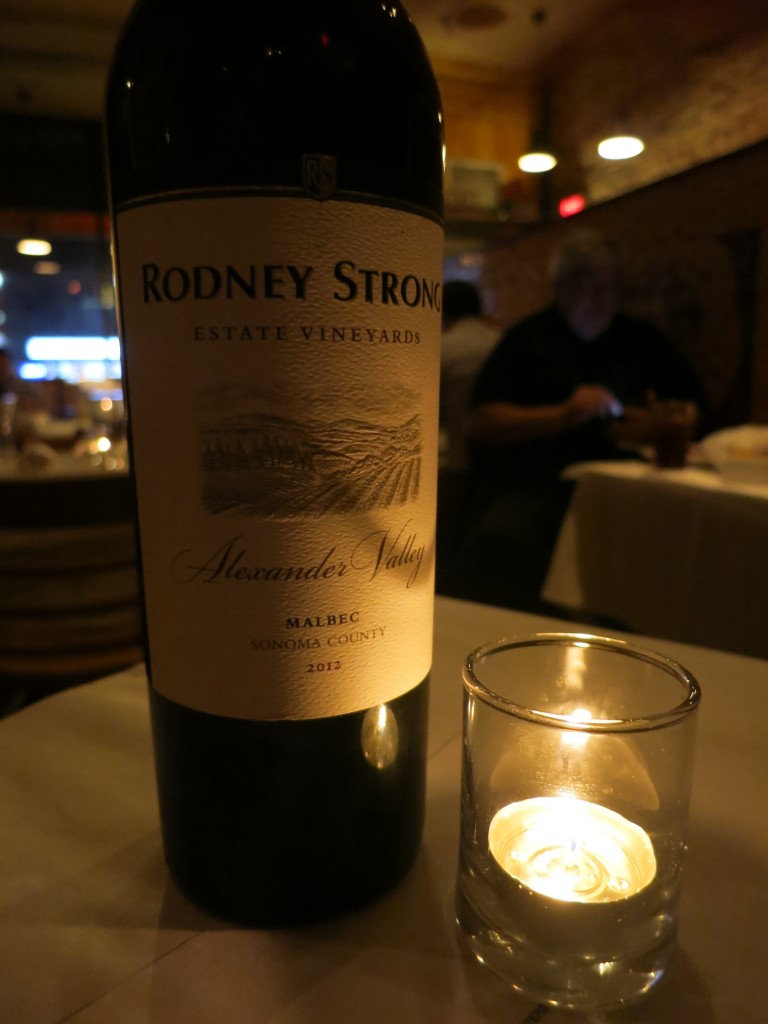 On the last evening of the annual Wine Bloggers Conference, it's not uncommon to encounter winery representatives lightening their luggage loads by giving away their last remaining sample bottles of wine. I always pack extra socks in the hope that I'll benefit from their generosity (I've never lost a bottle packed in three or four medium-thick socks, knock on wood). And so it was that I happened to be chatting with Robert Larsen, Director of Communications of Rodney Strong, who offered me a bottle of a very unusual Malbec from the Alexander Valley in Sonoma.
As we parted to attend different after-parties, he asked me to share the bottle with other bloggers at the conference. I declined his request, much to his surprise. But selfishness was only one part of the reason. I knew that if I opened the bottle then, it would end up like so many other fine wines that evening: probably served in a cheap plastic cup, briefly enjoyed by semi-intoxicated conference attendees, and, after perhaps a tweet or two, promptly forgotten. A wine like this deserved a better fate.
And so it was that I slipped the Sonoma Malbec into some socks, let it rest a while in my wine rack and finally took it to dinner at HB, a cozy BYOB restaurant in Chicago's Boystown neighborhood. I met up with one of my favorite wine-tasting friends, Liz Barrett of Terlato Wines, and over plates of pork loin with mustard sauce and lamb tagine, we tasted the 2012 Rodney Strong Alexander Valley Malbec.
"Oh my lord," Liz exclaimed. "That is sexy." It really was. It had an aroma of old wood, vanilla and dark fruit, and it felt rich and voluptuous on the tongue. Ample, ripe fruit mixed with oak and vanilla, which could have been a rather flabby combination in lesser hands. But in spite of its lush richness, this wine kept itself together, with a shaft of focused spice. Indeed, it felt almost taut, and it had no trouble standing up to the pork loin.
This Malbec was an absolute delight, but what on earth was it doing in Sonoma? According to The Oxford Companion to Wine, Malbec's "usual fate in California" is to appear as an ingredient in Bordeaux-style blends (sometimes called Meritage, which rhymes with "heritage"). Since at least 1996, Rodney Strong has been doing exactly that, incorporating Malbec into its "Symmetry" Meritage blend. The winery released Malbec as a varietal wine for the first time because "…the exceptional quality of the 2012 vintage provided [it] with an amount of Malbec suited for this special bottling," according to its website.
Perhaps it should come as no surprise that Malbec does well in the Alexander Valley, which lies not far from the Pacific coast. In France, the Companion explains, Malbec "is rarely found… far from Atlantic influence." Although Malbec may have originated in Burgundy, it made its first mark on the wine world in Bordeaux, known for its Cabernet, Merlot and Sauvignon Blanc. Sonoma, on the other hand, tends to be associated with cool-climate grapes like Pinot Noir. Malbec likely works in the Alexander Valley because the region ranks as one of Sonoma's warmest AVAs, "thanks to some low hills that shelter it," according to The World Atlas of Wine. It also helps that the valley is in the north of Sonoma, which becomes paradoxically cooler as you move south.
Whatever the reason, Malbec works beautifully in the Alexander Valley, if the 2012 vintage is any evidence, and I'm glad to read that Rodney Strong has planted an additional 60 acres of the variety over the last four years. I'd love to try this wine again; it strikes me as an excellent value for $35. Sonoma wines of this quality often fetch far more.
If you are still looking for a gift for that insufferable wine snob on your list, or if you're in search of a high-quality crowd-pleasing red to serve over the holidays, Rodney Strong's Malbec would be an excellent choice.