Tasting Pinot Noirs side by side never fails to be revealing. That's why when my friend Liz told me she planned on bringing a California Pinot to the BYOB restaurant where we were meeting, I knew exactly which wine I wanted to taste next to it. The last bottle of Burgundy on my wine rack.
I've had the fortune to visit Burgundy three times now, and though I've toured numerous other top wine regions in both Europe and the Americas, Burgundy remains my favorite. It combines picturesque vineyards and exquisite architecture with a grace found in only a handful of places around the globe. And despite its fame, it doesn't feel especially touristy, especially if you get a bit off the beaten track. There's more to Burgundy than just the three- and four-figure Grands Crus of the Côte d'Or.
On my last visit, which took place far too long ago in 2008, a colleague and I found ourselves in Rully, the northernmost village of the Côte Chalonnaise. The dollar was quite weak then, and Chinese demand had already begun to drive the price of famous Burgundy names through the roof. But in the Côte Chalonnaise, just south of the Côte d'Or, regular folks like us could still afford to buy a bottle of wine or two.
As The Sotheby's Wine Encyclopedia notes, "Despite the fact that many [Côte Chalonnaise] wines are little known, their quality in all appellations is very good, and the value for money even better." I've always had good luck with this region. In fact, it was a Pinot Noir from Givry that first clarified my understanding of structure in a wine. When I tasted it, I could feel the layers of flavor building themselves on my palate, as sure as if they were being assembled by a construction crew. I remember when my father took a sip, he let out a laugh because it was so good. Not bad for an $18 bottle I found in Beaune's Marché aux Vins!
We paid a visit to the Marché in 2008 — it is, after all, perhaps my favorite place to taste wine in the world — but it was our visit to Rully that I most remember from that trip. The words "Wine Tasting in Burgundy" likely conjure images of palatial tasting rooms presided over by some comte or other, and I'm sure you can find that. But we found the thoroughly unpretentious Domaine Michel Briday, a winery Sotheby's Wine Encyclopedia cites as one of Rully's best.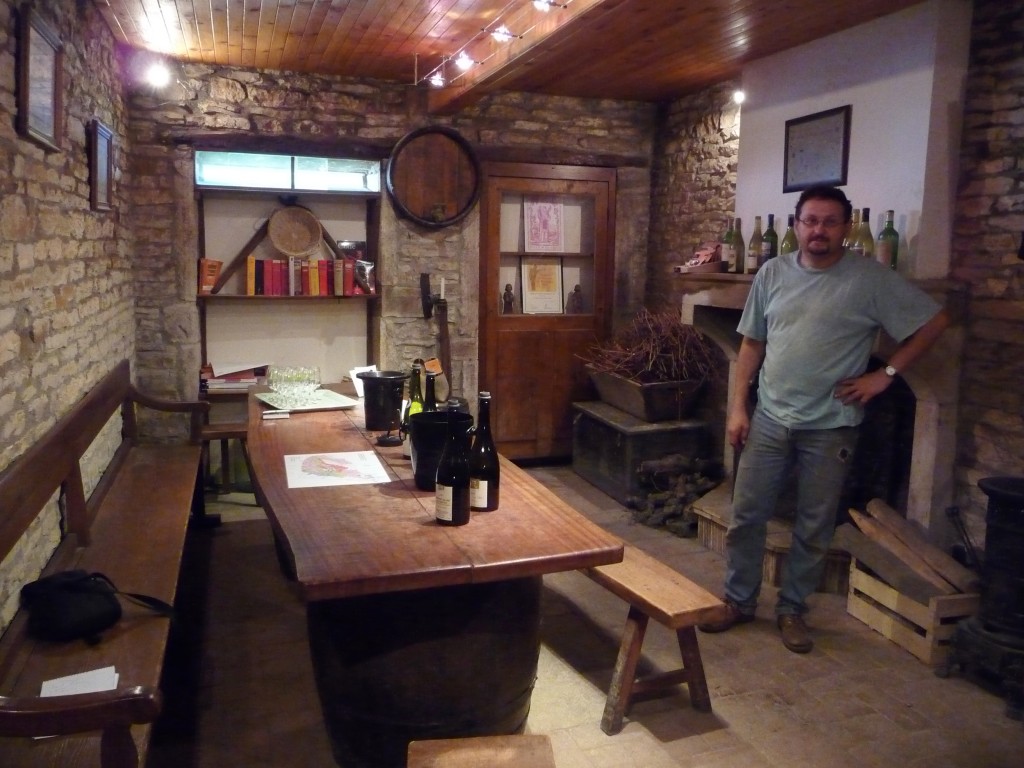 The tasting room was little more than a cozy dining room in an old house, as you can see from the photo on the right. Pictured is Stéphan Briday, who looks less like a Burgundian scion and more like a farmer in his torn jeans and t-shirt. It was clear he knew his way around a vineyard, which, in Burgundy of all places, is of paramount importance. He is a winemaker connected to the land. His passion for the wine was obvious and his hospitality was gracious, even though it was equally obvious that my colleague and I didn't exactly qualify as wine experts. But I knew exciting wine when I tasted it.
I came home with two bottles of 2006 Domaine Michel Briday Rully Premier Cru Les Pierres, one of which collected dust on my wine rack until Thursday night. It aged surprisingly well, considering the many temperature swings the bottle had endured. Liz took a sniff and remarked, "It's temptation in a glass." I agreed, loving the aroma of dusky red fruit and old wood.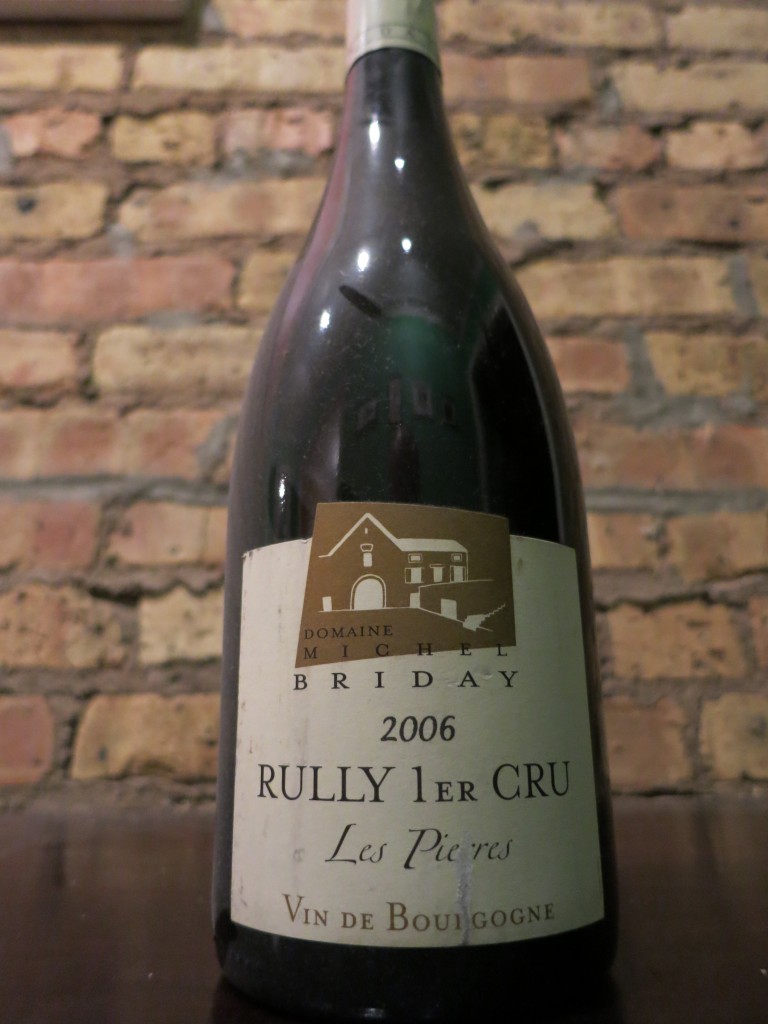 After a splash of dark fruit, the wine moved to white pepper spice, some serious earthiness and some surprisingly hefty tannins. Wood dominated the almost rasping finish. It was a bit of a wild thing, this wine! Paired with some beef, it felt suddenly in perfect balance. As Liz noted, "That bitch was tamed by the steak." The tannins of the wine and fat of the steak were an equal and powerful match.
The Pinot Noir Liz brought came not from Sonoma, where so many fashionable Pinots originate these days, but the Santa Cruz Mountains just south of San Francisco. Despite its proximity to the city, the area is still apparently quite rugged. "No one told me I would be driving 2,600 feet up into the Santa Cruz Mountains," Liz exclaimed, relating her drive to the David Bruce Winery. "And those falling rock signs? They weren't kidding."
David Bruce was an early pioneer of Pinot Noir in the region, and he merits praise in all three of my major wine reference books, The World Atlas of Wine, The Oxford Companion to Wine and The Sotheby's Wine Encyclopedia. And a Chardonnay of his competed in the famed "Judgment of Paris" in 1976.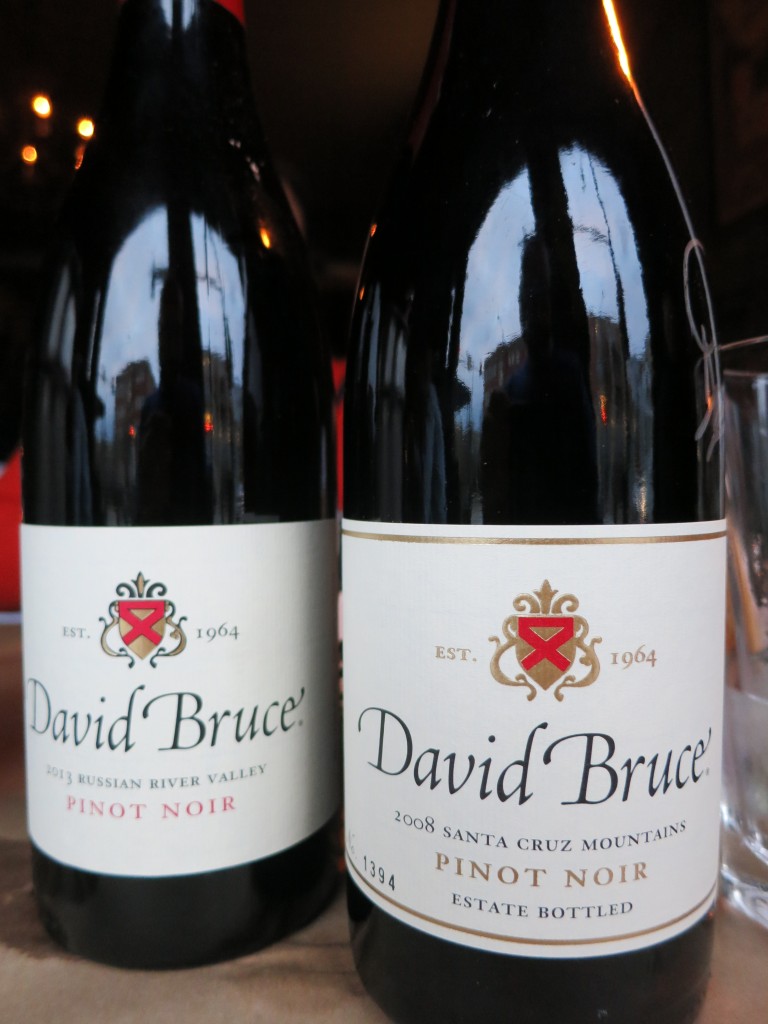 In a rather passive-aggressive entry, Sotheby's says that "Having gone through a learning curve, David Bruce now produces far more elegant wines than he used to." I can't speak about any previous vintages, but the 2008 David Bruce Santa Cruz Mountains Pinot Noir that Liz shared with me positively exuded elegance. It had a gorgeously rich aroma — Liz noted chocolate-covered blueberries — and a sensationally seamless mouthfeel. The wine moved with impressive grace from ripe dark-red and purple fruits to some focused spice, overtones of vanilla and violets, and a finish of plush tannins. What a delight.
The two wines tasted completely different from one another: hearty and earthy versus rich and graceful. It still amazes me how much Pinot Noir absorbs the influence of its terroir and the hand of its winemaker.
I love that a grape can do that.