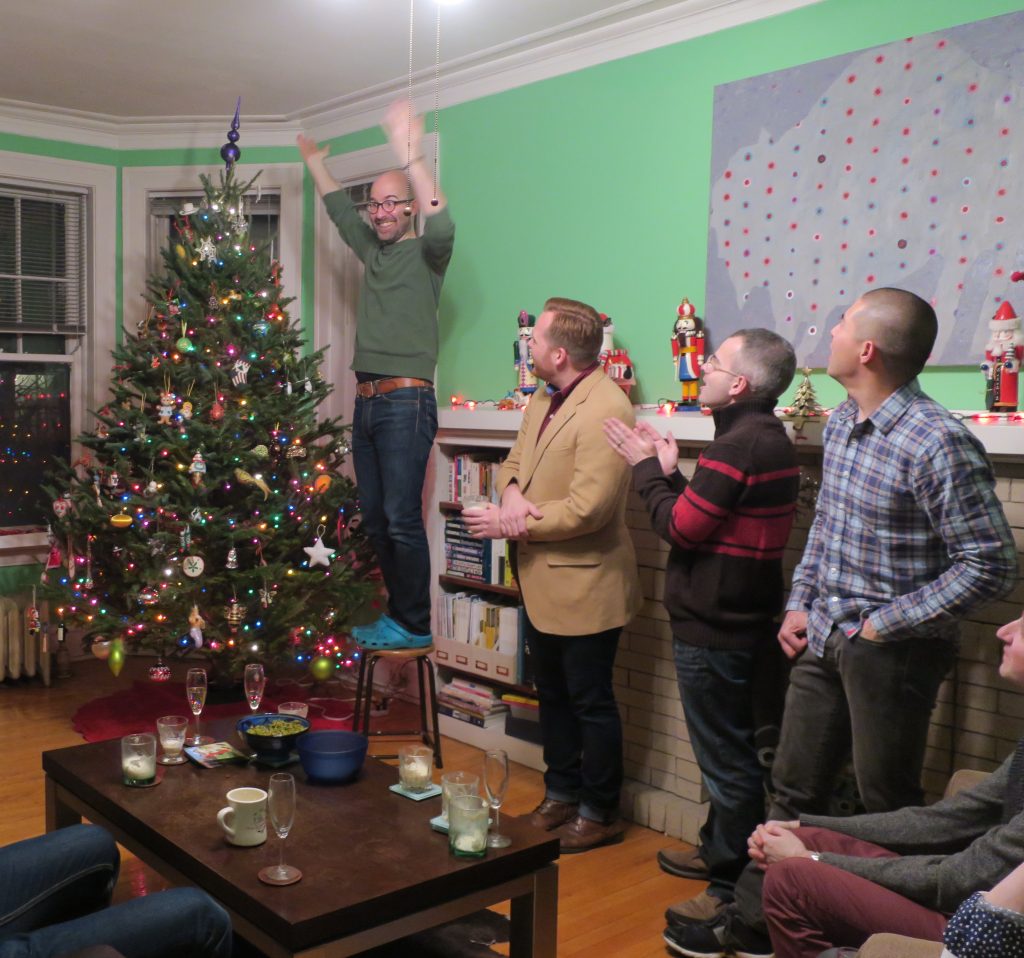 'Tis the season for holiday parties, my most favorite season of all. A good friend of mine recently threw one, and conversation turned, as it inevitably does at such events, to whether we had finished our Christmas shopping. My friend hadn't, and he confessed that he found me especially difficult to shop for.
"Why?" I asked, more than a little incredulous. I can't think of anyone with desires less complicated than mine.
"Well," he responded, "I know you like wine, but you've got your wine blog and everything, so I always feel nervous picking a bottle out for you."
"What??" I didn't bother trying to understand his feelings, and chose instead to act like he was an idiot. "Just go in a decent wine shop, tell the clerk that you have a wine snob friend, tell him your budget, and have the clerk pick something out," I said, a little too loudly. I wasn't even drunk. All I'd had was two chocolate/peppermint scones and a cup of decaf.
That is really all you need to do to come up with perfectly wonderful gift for the wine geek in your life. Find a good wine shop, go into it, and ask an employee for a recommendation for a wine snob that costs between $___ and $___.
I would end my gift-guide post right here, but I know that lots of people out there would rather have Trump fact-check their foreign policy thesis paper than ask a wine shop clerk for advice. For a birthday one year, I remember that I asked party guests to bring me an unusual wine. I made it very clear that it need not be expensive, and that if people had doubts, that they should ask a wine store clerk for advice. Precisely one of my guests asked a clerk for advice (she brought me a beautiful white from Santorini).
I'm not entirely sure why there is this aversion to talking with wine store clerks. Perhaps it's a worry that the clerk will hard-sell an expensive wine, or even worse, that the clerk will judge a person who doesn't have a lot of wine knowledge.
Judgmental wine clerks do exist, I can't deny it. I wrote about one at Binny's that I encountered a while back, for example. Fortunately, he is much more the exception than the rule. Most wine shop employees are great fun to chat with and are more than happy to recommend something in whatever price range you set.
That said, if you're determined not to talk to a wine clerk, here are a few gift ideas guaranteed to impress your wine geek friend without breaking the bank:
—Grower Champagne. Most Champagne is a blend of grapes grown by different vineyard owners. Grower Champagne, however, is produced by the person who grew the grapes. To tell the difference, you'll need your reading glasses. Look for a number on the bottom of the label (it might be on the front or back). If it starts with "RM," you've got a grower Champagne. If it starts with "NM" or the less-common "CM," you don't. Grower Champagnes start at about $30 or so.
—Something from Jura. Pronounced approximately "zhoo-rah," this region, located just east of Burgundy in France, has become a darling of wine geeks everywhere.  Expect to pay around $18 to $25.
—Something from Sicily. Sicily, too, has surged in popularity, but don't just grab any old Sicilian off the shelf. Go for something that costs more than $15. Bonus points if you can find something by Frank Cornelissen.
—High-end red from Argentina or Chile. People tend to regard wines from Argentina and Chile as bargains, not splurges, and indeed, there are plenty of wonderfully drinkable inexpensive wines from these two countries. But many winemakers have upped their game, and it has become easier and easier to find Argentine and Chilean wines with true elegance and force. In general, look for something that costs $20 or more, and it's bound to taste more expensive than it is.
—Single-Vineyard Riesling. Any wine geek worth his or her brix will appreciate a high-quality Riesling. Look for one from the Mosel or Pfalz with a vineyard designation. A German vineyard name often consists of two words, the first ending in "-er," as in Ürziger Würzgarten. Look to spend between $20 and $30.
—Toro. This Spanish wine can vary in quality, but the region is small and exclusive enough that you're likely to find a big, fruity and spicy red, whichever Toro you choose. It's a a less obvious choice than Rioja, and it's one of my personal favorites. Toros start at around $16, but buy one over $20 if you can.
—A Magnum of anything. A Magnum is a large-format bottle containing the equivalent of two standard bottles of wine. No wine snob can resist a Magnum. If you can find and afford a Double Magnum or a Jeroboam, the recipient will be your devoted friend for life.
And remember folks, it's just wine. It's supposed to be fun. Shopping for wine should be fun, giving wine should be fun, and drinking wine should certainly be fun. Don't let anyone else, be it a judgmental shop clerk or an overly picky wine snob friend, tell you otherwise.
Argentina, Chile, France - Champagne, France - Jura, Germany, Spain