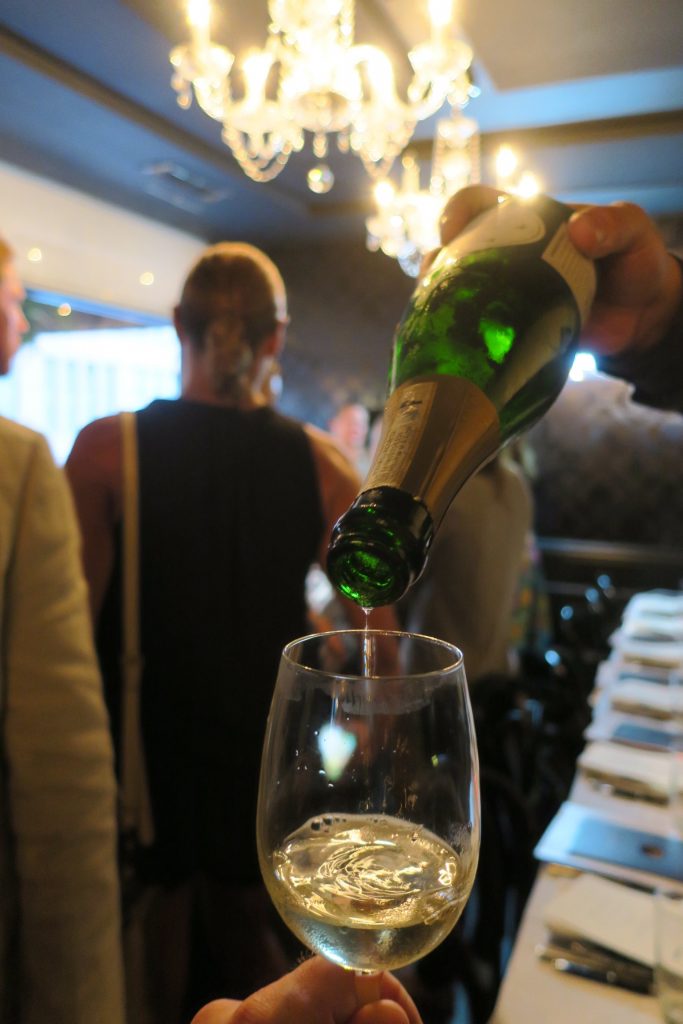 Like most European countries, Italy has a wine classification system that, in theory, gives the potential drinker a guarantee of quality. But Italians are stereotypically poor at organization, and so perhaps it shouldn't be surprising that the system doesn't always work. Hence the rise of "Super Tuscans," for example, that transcended their essentially worthless (at the time) regional regulations.
Italy has made headway in fixing lax wine rules, but it still has a ways to go. I mean, how many beautiful examples of  Barbera d'Asti have I had, classified as DOC (Denominazione di Origine Controllata), and how many examples of boring Moscato d'Asti, classified in the ostensibly superior DOCG (Denominazione di Origine Controllata e Garantita)? Yes, they're completely different wines, but is there some way that Moscato d'Asti is superior to Barbera d'Asti? I don't know it.
But at least one region of Italy is getting things right. Franciacorta "is an object lesson for the rest of the Italian wine industry," according to The Sotheby's Wine Encyclopedia. The region's still wines remain classed as DOC, and only the sparkling wines, the region's true glory, have been elevated to DOCG. Other regions could "restrict production to the original classico area and a reduced yield," Sotheby's suggests. "This would result in both a DOC and a DOCG for the same region and… it would ensure that the 'G' did guarantee an elevated quality…" Sounds sensible to me.
Although the same cannot be said for all Italian wines, at least when you buy a bottle that says Franciacorta DOCG, you know you're getting something of real quality. Franciacorta produces "Italy's best metodo classico wine," according to The World Atlas of Wine, and I'm not one to disagree. Like Champagne, Franciacorta has exacting production requirements, and mostly like Champagne, it's made with Chardonnay and/or Pinot Noir (sorry, Pinot Meunier). Franciacorta is therefore consistently delicious.
But it's been a while since I've indulged in a bottle. A recent Franciacorta-focused dinner reminded me of how exciting the region's sparklers can be.
The Windy City Wine Guy, Michael Bottigliero, invited me to attend a dinner at a fine Italian restaurant in Chicago called Nonnina, free of charge, in order to show off Franciacorta. We sampled — sampled? We drank four contrasting Franciacortas, and each was delightful in its own way.
The 2013 Ricci Curbastro Satèn Brut felt lean and wonderfully classy, like a slender Italian guy in a perfectly tailored suit. It certainly started the evening off on the right foot. "Satèn" indicates a Franciacorta that's 100% Chardonnay, a Blanc de Blancs in Champagne terminology, aged on the lees for at least 24 months. Non-vintage Champagne, incidentally, need age only 12 months on the lees before its release, although many are aged much longer.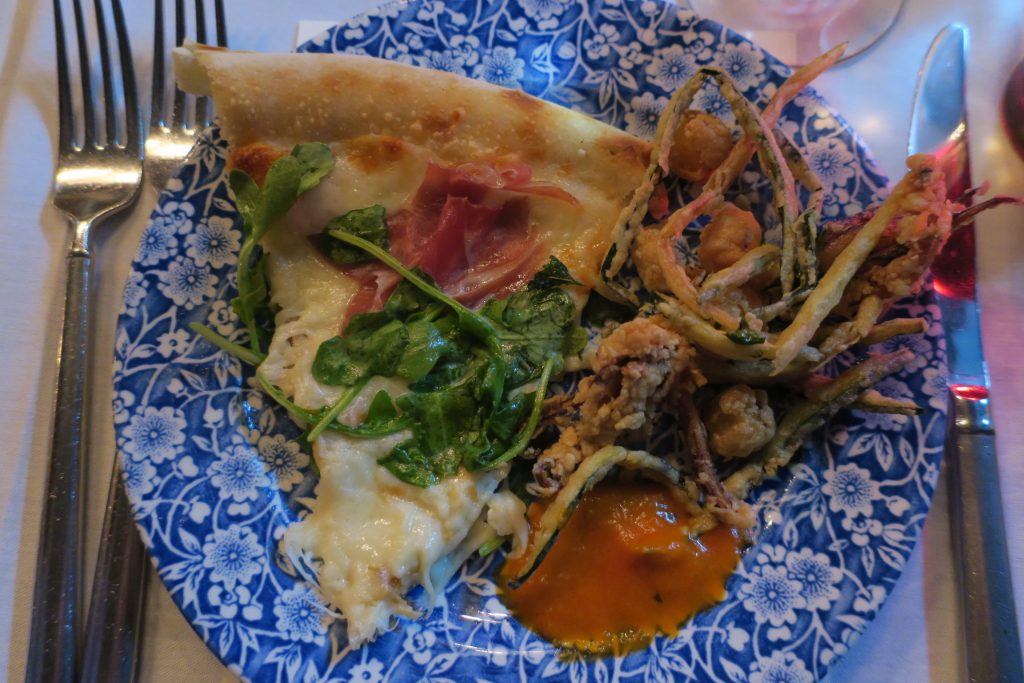 But the all-around favorite, as indicated by the room's applause when Michael mentioned the wine's name, was the Corte Bianca Extra Brut. "Zowie," I wrote in my little book, taking my customarily thorough tasting notes. I don't need notes to remember this wine, however. It had palpable richness in addition to lively lemony acids, along with a hint of white flowers. And there was that yeasty, bready note I covet in a sparkling wine. Zowie indeed. It worked wonderfully with some vegetable fritto misto as well as pizza topped with prosciutto and arugula.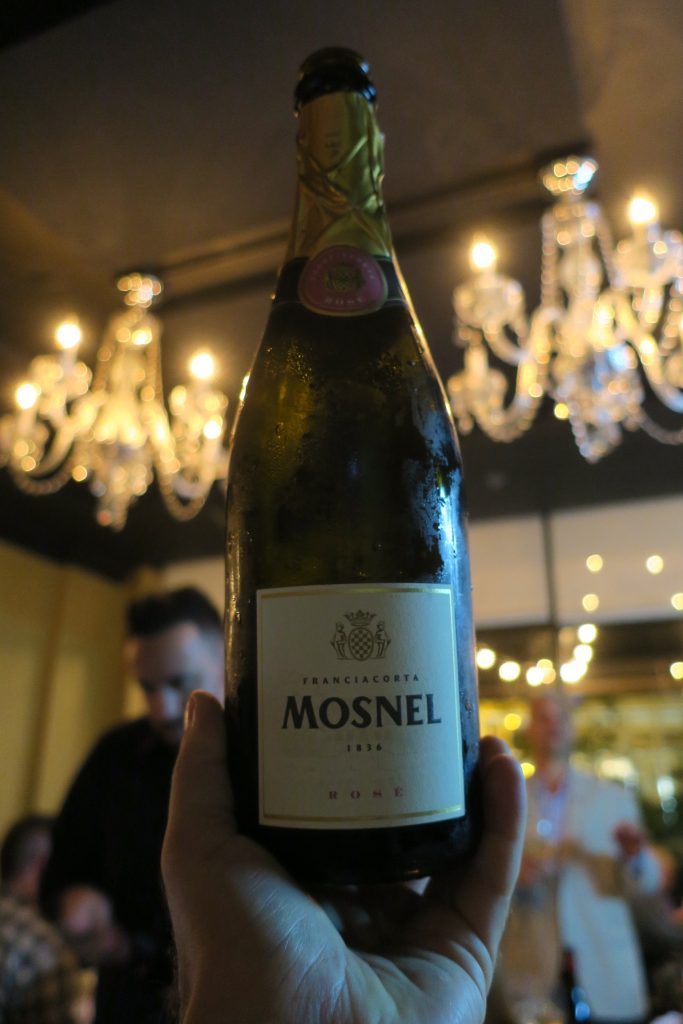 I also deeply enjoyed the 2012 Monte Rossa Cabochon Vintage Brut, which smelled of Granny Smith apples and jasmine. Its zesty juiciness and minerality helped it stand up to some decadent bucatini alla carbonara. I could eat that carbonara and drink that Cabochon every day and be very happy.
We finished with a pale Mosnel Rosé, composed of Chardonnay, Pinot Noir and Pinot Blanc. It had tight bubbles and plenty of strawberry fruit, but it was the juicy acids that leavened an otherwise bone-dry wine. With the salmon, it was an ideal match.
I've praised the virtues of Franciacorta before, here and here, but it never hurts to be reminded just how delicious Franciacorta can be. It's not necessarily inexpensive, but if you want to celebrate something with someone you want to impress, Franciacorta is a great choice. Champagne is a delight but it's predictable. Celebrating with Champagne is something of a cliché. But if you open up a bottle of Franciacorta, it shows you've got sophistication, as well as the confidence to stand behind something a little out of the ordinary.
I wouldn't stake your reputation on any old random Italian DOCG, but with Franciacorta, you can feel sure that the "G" in "DOCG" is indeed a guarantee of quality.
Note: The dinner at Nonnina and the glasses of wine that accompanied it were provided free of charge.