After meeting with Ivo Jeremaz of Grgich Hills winery in Napa, I resolved to give the famous valley more of a fair shake on this blog. I've mostly ignored Napa for the entirety of Odd Bacchus's eight years of existence, and it's time I gave one of the world's most important wine regions a bit of attention. It didn't take long for an opportunity to present itself.
Along with two other writers, I sat down to (a complimentary) lunch with Zak Miller, one of the few winemakers I've met whose name appears nowhere on his winery's website. That's no reflection on the quality of his work, however, as my dining companions and I were about to discover.
Miller doesn't make Cabernet Sauvignon or Chardonnay, as one might expect from a Napa winemaker. Instead, he crafts superlative sparkling wines, wines that could compete with top Champagne any day. I wouldn't be surprised if, in a blind tasting, the bottlings he makes for Domaine Carneros might even top those of Taittinger, the Champagne house that founded the winery in 1987.
If you've ever driven between Napa and San Francisco, you've almost certainly seen Domaine Carneros. It stands at the southern end of the valley, marked by an imposing chateau that looks transplanted straight from the Loire (in fact, the building dates from 1989). The Napa Valley is climatically a bit counterintuitive; it's cooler at its southern end, where breezes from the Pacific have more of an influence. Cooler weather makes for better sparkling wine, because it's important for the Chardonnay and Pinot Noir grapes to retain ample acidity. If they ripen too much, the resulting bubbly will be unbalanced.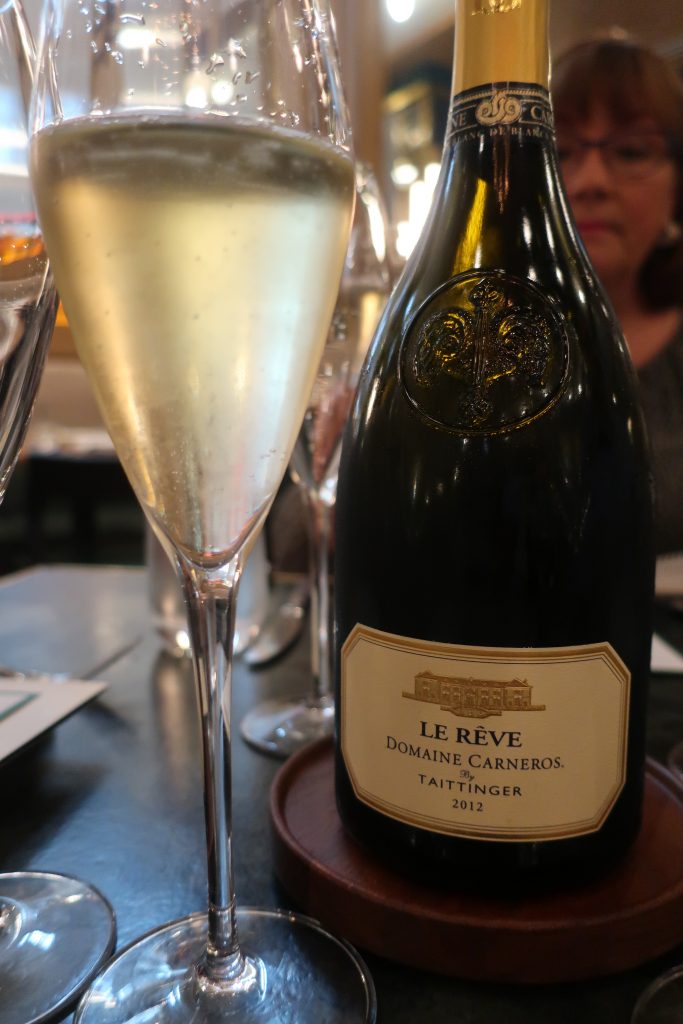 The Champagne region, in north-central France, famously uses Chardonnay and Pinot Noir in its sparkling wines, just as Domaine Carneros does. Pinot Meunier is also allowed in Champagne blends, but Miller uses none of it. "We don't need insurance in Carneros," he explained. In the less-predictable climate of Champagne, Pinot Meunier ends up in the wine when Chardonnay and/or Pinot Noir fail to ripen properly. "Something like 50 percent of the Champagne region is planted with Pinot Meunier," Miller said, "and yet you'll almost never see it listed on the label!" Domaine Carneros uses only Chardonnay and Pinot Noir because they tend to make higher-quality sparkling wines.
I knew California was capable of producing very good sparkling wine — reasonably priced Chandon regularly finds its way into my glass — but I hadn't tasted very many truly great California sparklers. That changed with the first wine Miller poured, a 2012 Domaine Carneros "Le Rêve" Blanc de Blancs. The 2012 is the current release of this 100-percent Chardonnay, the "tête du cuvée" (top wine) of Domaine Carneros.
All that time aging on the lees (yeast) gives it a sensational richness. One whiff, and I immediately knew I was about to drink something special. It had an enticingly toasty aroma, but it smelled lively as well. "This sees no oak," Miller told us. "All the toastiness comes from the bottle-aging." Lengthy bottle-aging is expensive — it costs a lot of money to wait for seven years to sell your wine — but the payoff in this case is huge. I loved the focused green-apple acids, the round fruit, the rich undergirding of toast… And the pin-prick bubbles felt thoroughly elegant. Le Rêve is expensive at $115 a bottle, but its flavor and texture live up to its price tag. What a gorgeous pairing with some tangy sourdough bread topped with fresh, creamy butter.
If you're looking to impress someone, this bubbly is an ideal choice. On the other hand, if I happened to have a bottle of Le Rêve on hand, I wouldn't be surprised to find myself drinking the entire thing alone. I'm an only child. Sharing is hard.
The less-expensive 2015 Domaine Carneros Brut Vintage Cuvée would be something that I might consider sharing, but only with someone I really, really like. At about $36 a bottle, this sparkler overdelivers in terms of flavor. I'll take this wine over a $47 bottle of Veuve any day. "This has immediate sex appeal," my friend Liz Barrett rightly noted. It smelled brighter than Le Rêve, but it still had some toastiness. It tasted juicy and clean, with some minerality on the finish (and some lime curd, as Liz detected). Another food-friendly wine, this bubbly blends 51 percent Chardonnay, 47 percent Pinot Noir and 2 percent Pinot Gris, which "lifts the aroma," Miller explained.
Domaine Carneros also makes some excellent still wines. I thoroughly enjoyed the 2016 Domaine Carneros Estate Pinot Noir, fragrant with black cherry and fresh herbs, like sage and bay. When I took a sip, it first felt rather ethereal, hovering over the palate before grounding itself with some focused baking spice and a touch of earth. It was an ideal pairing with some roast chicken breast. Good Pinot is expensive, and at $44, this wine isn't cheap. But compared to Burgundy of similar quality, it's an excellent value.
We finished lunch with a sparkling rosé, a style of wine I don't ordinarily seek out. Rosé Champagne is terrifically expensive, and other sparkling rosés tend to leave me underwhelmed. The NV Domaine Carneros Cuvée de la Pompadour, however, was racy and exciting. It smelled of lemon, red currant and rose, and it had zesty, sharply focused flavors of juicy lemons and pink apples. This bubbly was superb with our lemon tart dessert, which made the wine feel creamier. Madame de Pompadour introduced Champagne to the French court, and I'm sure she would have been very pleased with this selection.
Over the course of our lunch, Miller explained the effort that goes into making wines like these, but it really wasn't necessary. The work was obvious as soon as I took a sip (or really, even as soon as I gave the wine a sniff). Champagne and Franciacorta arguably have the best reputations for bubbly, but as these bottlings by Domaine Carneros show, Europe does not have a monopoly on top-quality sparkling wine.
For more on Domaine Carneros, check out Liz Barrett's article about these wines here.
Note: These wines and the lunch were provided free of charge.
Chardonnay, Pinot Meunier/Schwarzriesling, Pinot Noir, Sparkling