4 February 2016
Comments Off

on What To Drink In Hawaii
Hawaii does not immediately spring to mind when one thinks of craft distilling, beer brewing or (for heaven's sake) winemaking. But this remote little archipelago in the middle of the Pacific can hold its own on all counts, though, admittedly, Maui doesn't have much chance of becoming the next Napa.
In between snorkeling and hikes in the jungle on my recent Hawaiian sojourn, I managed to find time for a drink or two as well, and I discovered more than one delightful tipple. Here are my favorites:
I knew I couldn't leave Hawaii without at least trying some pineapple wine, and when I spotted a bottle on sale for $14 at a shop in Lahaina, I snapped it up. The wine has no vintage because MauiWine crushes Maui Gold pineapples monthly. The fruit varies in ripeness each month, which requires the winemakers to blend juice from different harvests in order to maintain a consistent product.
But consistent or not, is the product worth drinking? The words "pineapple wine" don't likely inspire confidence in most readers of this blog. I opened the bottle as our little cruise boat floated just off the Maui coast, with the expectation that the wine would be too syrupy-sweet to drink more than a few sips.
The aroma, not surprisingly, was redolent of pineapple, but there was also something a little tart in there, like lime. It tasted, of course, like pineapple, but that wasn't the end of the story. Some orangey acids lent the wine some balance, and the finish felt dry. At the back of my throat, I could feel some ginger/white-pepper spice. The wine was quite drinkable indeed! I finished my glass with no trouble.
It's true that the wine does not qualify as "complex," and I would have preferred some more acidity. Nevertheless, I enjoyed my glass of pineapple wine, and it certainly felt fun to drink it as the moon began to rise over Maui.
I don't usually write about beer, but not because I don't like it. I love beer, in fact. It almost never appears on this blog because I want at least one beverage in my life that's always just fun — a beverage which I can drink without worrying about whether I should be taking notes.
And though I didn't take notes on my Maui Brewing Co. Coconut Porter, I remember it quite clearly. This dark beer tasted rich and meaty, with more coffee flavor than coconut. The coconut appeared just as a whisper at the end.
I felt surprised that coconut didn't come more to the fore, but I realized that it made perfect sense. Really, I had no interest in a coconut beer. A porter with a reminder of coconut on the finish, however, proved to be quite delicious and more than a gimmick. I wouldn't hesitate to order it again.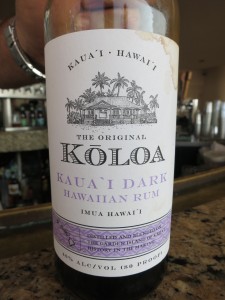 It only makes sense for Hawaii to make rum, considering the state's success growing sugar cane. According to the Koloa distillery's website, "Koloa Plantation and Mill's first harvest in 1837 produced two tons of raw sugar. Talking story with old timers reveals that rum production began around this time." Based on the island of Kaua'i, the distillery started operation in its current incarnation in 2008, bottling its first rum in 2009.
In addition to sugar cane juice, the distillery makes use of "Pure mountain rainwater from Mt. Wai'ale'ale and the nearby mountain peaks," which is "slowly filtered through volcanic strata before finally reaching vast underground aquifers."
I certainly liked how the dark rum turned out. I tried it on the rocks with no mixers. It had an aroma of vanilla and molasses, and it felt quite smooth on the palate, with no alcoholic burn. I detected flavors of vanilla, maple and some wood, and underneath it all was an unexpected sense of dryness. Some spice hit the back of my throat at the end.
Hawaiian bars surely use this rum most often in cocktails, but it tasted delightful over ice, and it would make a fine tropical digestif.
The Mauna Kea Beach Hotel's Copper Bar struck me as the perfect place to try a Mauna Kea Mule, served in a traditional copper mug. Hawaiian Pau Vodka, distilled from Maui pineapples, served as the base of this superlative cocktail, which also included house-made ginger beer, fresh lime juice, soda water and a dash of bitters, garnished with lime wedges and a massive chunk of candied ginger.
It tasted floral, as home-brewed ginger beer often does, and spicy and just a little tart, with the flavors balancing each other admirably. I loved it, and good gracious, the setting — overlooking an unspoiled palm-lined beach on the Big Island — could hardly have been lovelier.