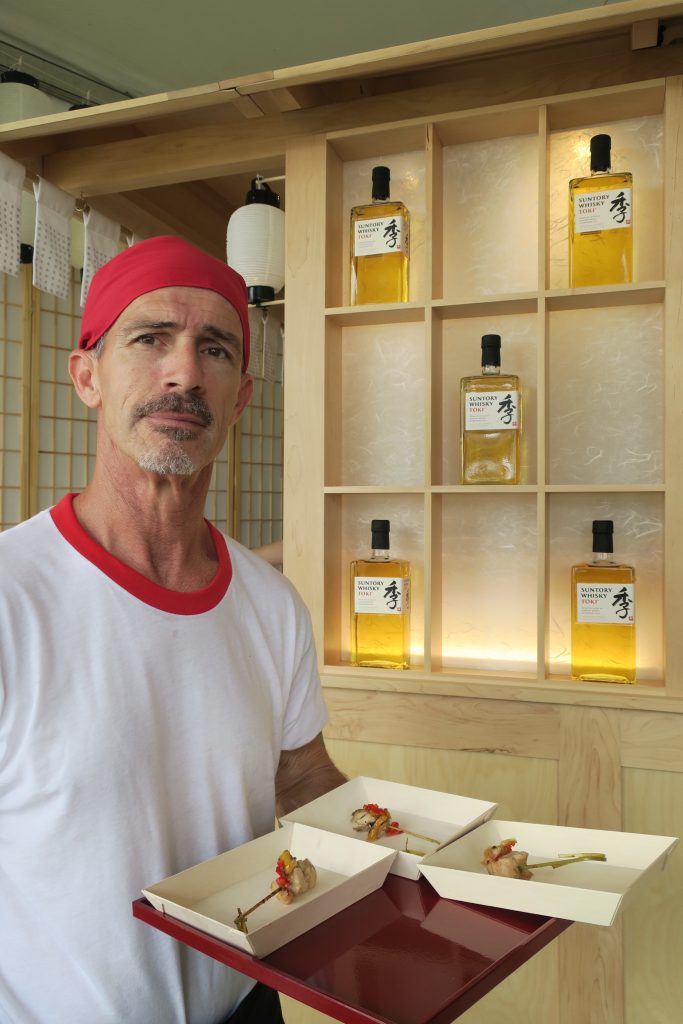 I had planned on helping to weed the nearby community garden on Saturday, followed by some light packing for my trip to Vancouver. But before bed on Friday night, something told me to check my email. "I've been able to secure a ticket for you for Saturday!" a message from a PR firm read.
I felt a most extraordinary and peculiar sensation: disappointment that I would have to forgo weeding in order to attend Chicago Gourmet.
Before I delve further into my perversely skewed priorities, duty requires that I spend a moment describing the delights of Suntory Whisky Toki, a Japanese whisky released this past June. Suntory's PR firm organized my Chicago Gourmet media pass in spite of sell-out conditions on Saturday, and even went so far as to procure me a "Staff" bracelet when my media pass was stolen from the PR rep.
The very idea of Japanese whisky was met with grave skepticism even just a few years ago, according to Gardner Dunn, the Suntory Japanese Whisky Senior Ambassador. "Eight years ago, I had to convince people it wasn't made from rice," he said, as we chatted in Suntory's shoji screen-clad tent. (The whisky is made almost entirely from corn, with a touch of barley added for its enzymes.)
Oddly enough, this whisky hasn't yet been released in Japan. I asked Dunn why, and he said, "We think it's good enough, and maybe we'll release it there in 2018. We're not sure." In the meantime, this Japanese whisky is available only in North America, the market for which it was tailored. "We know what the U.S. consumer wants," Dunn explained. "I'm seeing a craze for bourbon, rye… sweeter whiskies. That's why this whisky has a little complexity but is easygoing."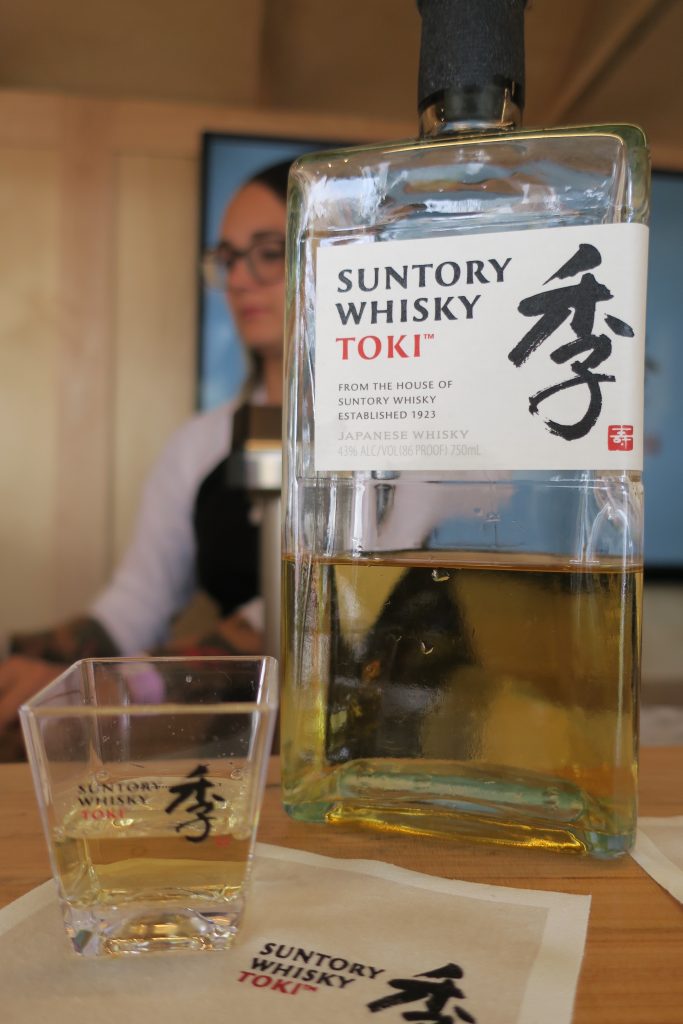 He's exactly right. I tried this blended whisky neat, and though it had a fresh and light aroma undergirded with some wood, it felt lush on the tongue. That initial richness quickly gave way to big spice and some fresh tobacco on the finish, and on the whole, it felt very well-balanced. Peat-phobes need not fear this whisky.
It's pleasant enough neat, but really, it was intended to stand up to dilution in a highball, a cocktail which is reportedly wildly popular in Japan. In fact, I met a man dubbed "Mr. Highball" in the Suntory tent, and he told me that though highballs were an American invention ("Be sure to write that they're an American invention," he said), they have become exceedingly popular in Japan, where people drink the mix of whisky and sparkling water with food, "like a beer."
The Suntory Whisky Toki is big enough and spicy enough that it doesn't entirely lose its character when mixed with sparkling water, as some whiskies do. With a twist of citrus, it makes an exceedingly refreshing (and low-sugar) cocktail, and it indeed works well with food, as I discovered when I paired it with some savory and bright miso-glazed chicken with Fresno pepper and burnt lemon. "You need to have a soda water with big bubbles," a companion of Mr. Highball explained. The best, according to her, is Fever Tree.
The whisky costs about $40 a bottle, which doesn't seem at all a bad value, particularly in comparison to other Japanese whiskies, which typically cost upwards of $70. A search of Binny's selection revealed only one less-expensive Japanese whisky, the Mars Whisky Iwai.
If you've never tried a Japanese whisky, you certainly couldn't go wrong by starting with some Suntory Whisky Toki.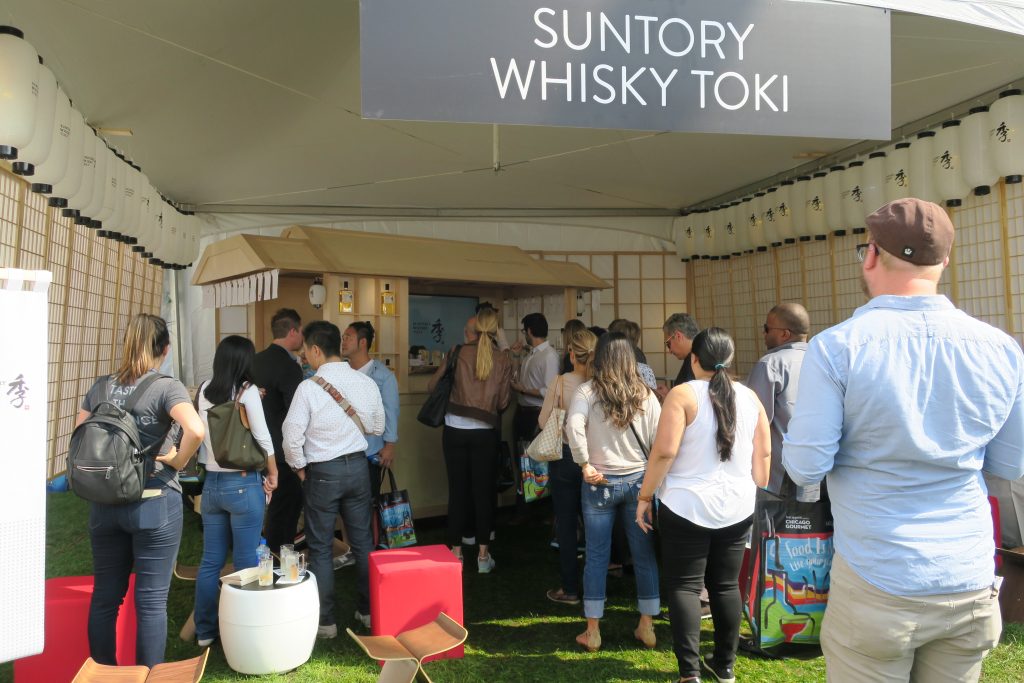 With my duty complete, I turned from the Suntory tent towards the heart of Chicago Gourmet, a sea of tasting booths and hungry people. And tasting mean one thing to me: work. Weeding is like meditation. Tasting I've turned into work. It's pleasant work, to be sure, and I love that it's part of my work. But delightful though the work may be, it's still work.
I looked around at all the people who weren't working, and I can't deny that I felt a bit baffled. Chicago Gourmet ranks among the city's most expensive events. Tickets this year cost $185 per person, plus a shameless $22.27 ticketing fee charged by Eventbrite. That totals an insane $207.27 per person.
Unless, of course, you want to spring instead for a Grand Cru ticket. And at this point, why not? Those will set you back $229.57 per person, including fees. That price doesn't necessarily include seminars such as "The Tao of Tacos," however. That run for the border costs an additional $106.92.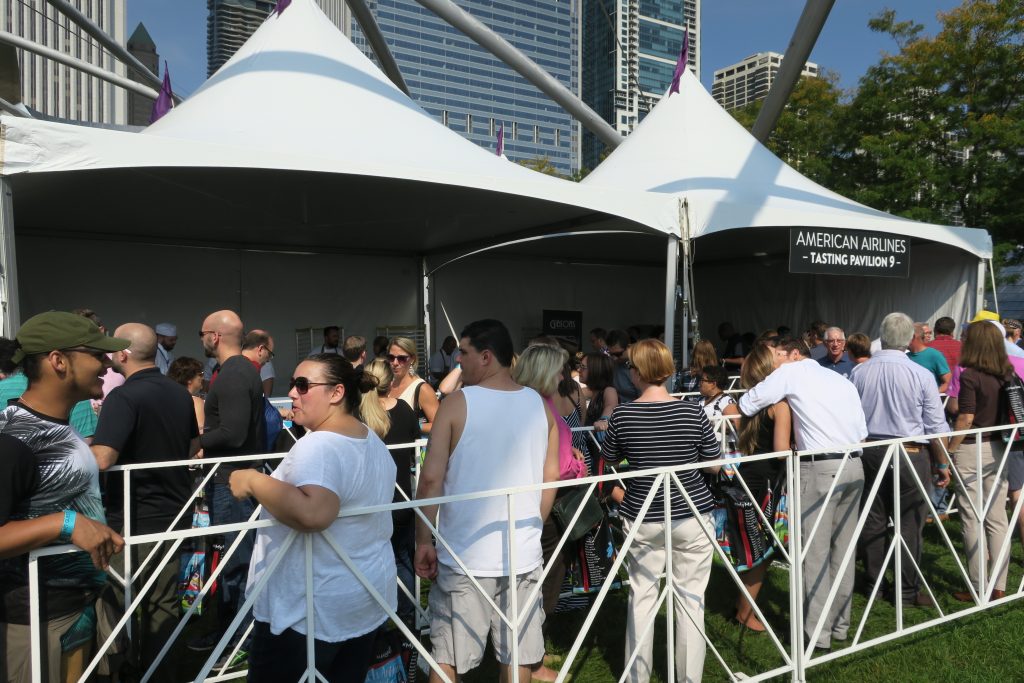 You then get access to a beautiful park full of tents offering all-you-can-eat nibbles from notable restaurants as well as numerous all-you-can-sip tastes of various wines, spirits and cocktails. It's all very fancy.
You also get access to lines. Long lines. And it's hard to feel fancy when you're standing in a line — several of them had amusement park-style switchbacks — with an empty plastic plate in your hand. The line for the seafood pavilion alone easily held more than 100 people.
I decided to try a little experiment. I selected one of the shortest lines, the line for Tasting Pavilion #8, to see how long it took to get something on my plastic plate, and whether that something was worth the wait. There were no switchbacks. Switchbacks make me feel like I'm waiting in an airport for my luggage to be searched and my body to be backscattered. Just a line.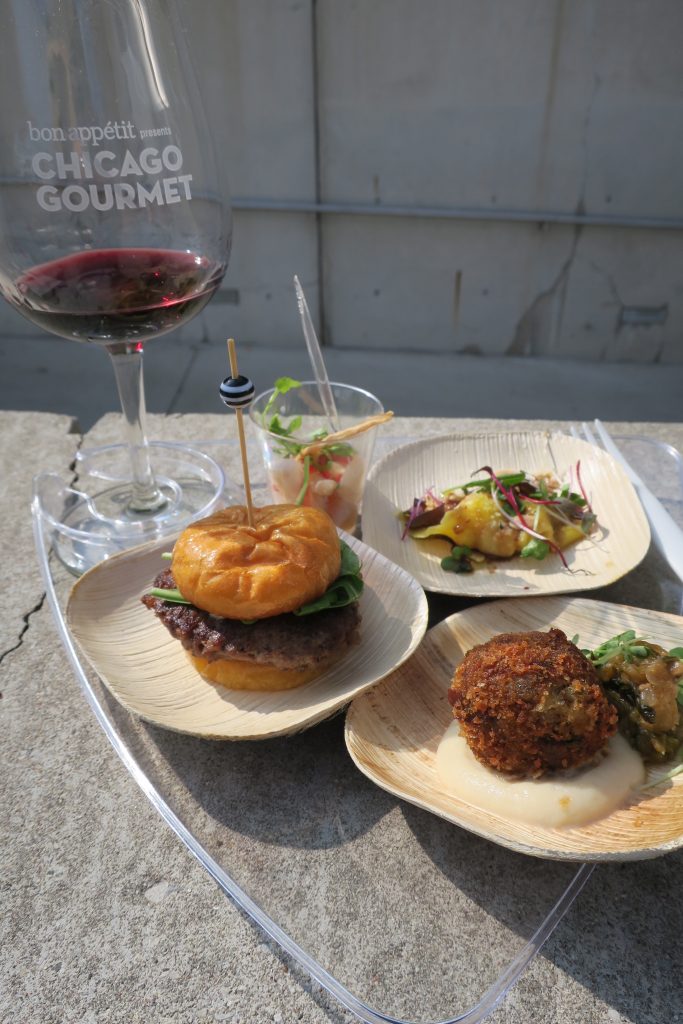 It took me exactly 15 minutes to make it through, and for my effort, I was rewarded with some overcooked butternut squash agnolotti (actually an agnolotto) with a pomegranate/balsamic reduction, serviceable shrimp and scallop crudo with cilantro and Fresno pepper in a citrus marinade, a decadently rich burger of braised short-rib with peppercorn aioli and baby arugula, and a savory pork croquette with sweet-and-sour cabbage atop a celeriac/truffle oil purée.
I adored the burger. But I know other adorable burgers that can be had for about $15. With fries.
The wine and spirits booths also proved to be hit and miss, and the hits tended to have lines as well. The Prisoner sentenced people to waits of about 10 minutes, by the look of things. But to be fair, those unwilling to wait for Roederer, for example, could walk right up to the Prosecco booth.
I felt unwilling to wait for Roederer, and I didn't even have to pay for my ticket. How did people who plunked down more than $200 to attend Chicago Gourmet feel about queuing for their Champagne? I just don't see how it's worth it, paying that kind of money to access food and drink — after a wait — that's presented, in many cases, as if it were part of a sales pitch.
Do any of you pay to attend food festivals like Chicago Gourmet? Why not just have a fabulous dinner for $200 a person somewhere? Somewhere that serves food not on plastic plates.
Obviously I'm missing something, because Chicago Gourmet sells out every year. What am I missing? Write a comment and fill me in.