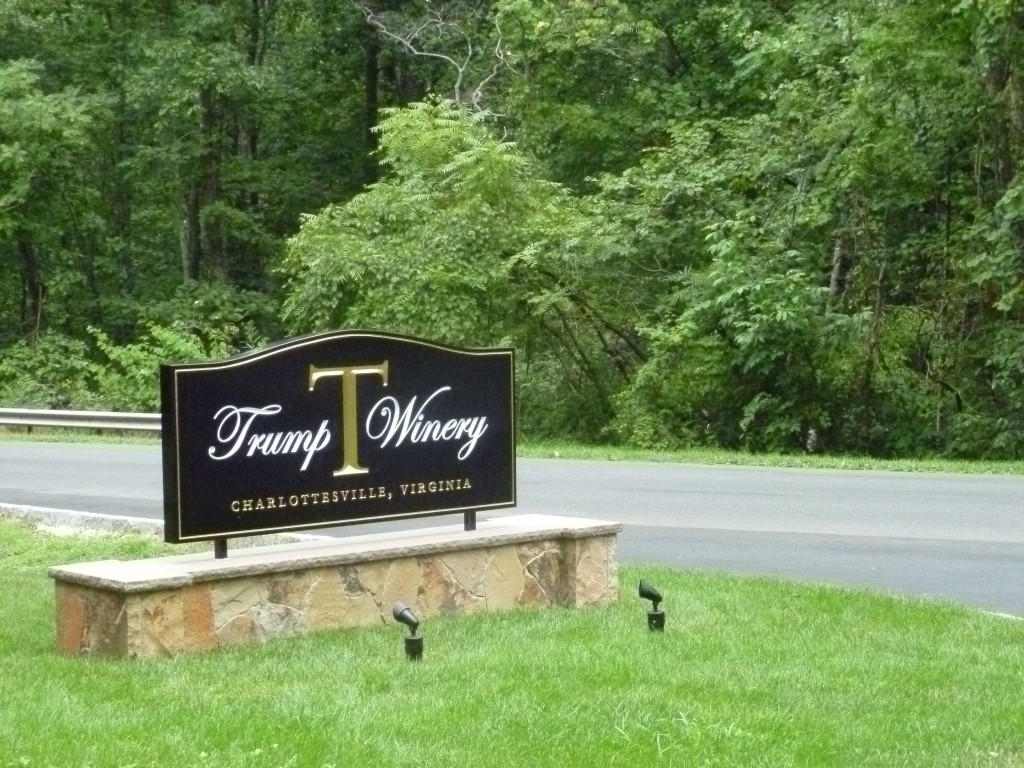 With the presidential primaries in full swing, I decided to pay a visit to the Trump Winery in Albemarle County, Virginia. I've written before about Virginia wines, and I had high hopes that the wines of Trump would display the same finesse and elegance with which he has run his campaign.
I tasted a range of unusual cuvées during my visit:
Great Wall Blanc de Blancs: As you may have surmised from the name, this sparkling wine contains only white grapes. I found it to be bland and lacking in complexity, but a surprising number of people in the tasting room seemed really excited about it. This wine is not a collaboration with Great Wall Winery in China, which manipulates its grapes in an unfair way according to Tiffany, who was pouring the wines. The locally grown grapes were in fact funded by Mexico, though she couldn't explain why they would do such a thing.
Aloha Blanc: Trump bucks conventional wisdom with this wine, making it with pineapple instead of grapes. Tiffany confided that although the label states in no uncertain terms that the pineapple used in the wine comes from Hawaii, it actually comes from Kenya.
Mexican Red Blend: Another collaboration with Mexico, this lively wine includes too many grape varieties to list here. It tasted multi-layered and rich, and it struck me as an excellent value. I was therefore surprised to hear Tiffany tell me that Mexico didn't send its best grapes. "They have lots of problems, and they're bringing the problems to the wine," she explained. I responded that I actually quite liked the blend, and she admitted, "Well, some of the grapes, I assume, are good."
Good Brain Grenache: "This wine says a lot of things," Tiffany explained enigmatically as she poured. I looked forward to tasting something nuanced and well-structured, but it tasted underripe and overly aggressive. The mid-section sagged. Even so, the finish, by some strange circumstance, was very strong. I certainly wouldn't purchase this wine, but I saw a number of people in the tasting room gulping it down and begging for more.
Muslim Terroir Blend: Unfortunately, I didn't have the chance to try this wine. It seems a small minority of the bottles were labeled "Terror" instead of "Terroir." Instead of sorting those out, Trump Winery decided to turn away the entire shipment. Previous vintages that did make it into the U.S. are being rounded up and interned in secure offsite cellars.
Five-Year-Old Tawny Port "Cooper Cuvée": I took a sip of this last wine and remarked, "With all due respect, it seems awfully young, doesn't it?" Tiffany retorted, "No it's not!"
April Fools! To read about what the wines of Trump Winery actually taste like, click here. And to read my scathing review of The Terrace at the Trump, a restaurant in the Trump Hotel Chicago, click here.