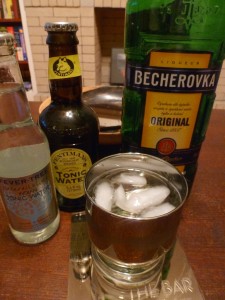 It's not necessary to clog a glass of brandy with egg nog to enjoy a festive cocktail. Many seasonal recipes lean toward the hot and heavy (buttered rum, anyone?), but something zesty and light can make a much better drink for pairing with rich party food. Oddly enough, the beautiful Czech spa town of Karlovy Vary provides some help.
Perhaps best known in America as the location of the Grandhotel Pupp, where Queen Latifah stayed in the film Last Holiday, Karlovy Vary is the home of Becherovka, a 76-proof spirit brewed with, of course, a secret blend of herbs and spices. According to the Becherovka website, only two people in the world know the formula. Presumably they travel on different airplanes.
This rather bitter liquor might be placed in the same category as vile Jägermeister, but I find Becherovka much more complex and palatable. Although many consume Becherovka neat or on the rocks, I enjoy it most in a "Beton," which translates as "concrete" in Czech. The name actually comes from the ingredients, Becherovka and tonic.
Like a gin and tonic, a Becherovka and tonic features aromatic herbal and floral notes as well as a touch of bracing bitterness. But the Beton goes further, with strong flavors of clove, pine and even some cinnamon. A gin and tonic is unquestionably a summer cocktail, but a Beton is Christmas in a glass. The recipe is simple: