7 December 2011
Comments Off

on A Concrete Christmas Cocktail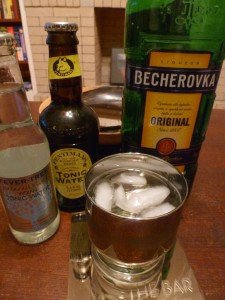 It's not necessary to clog a glass of brandy with egg nog to enjoy a festive cocktail. Many seasonal recipes lean toward the hot and heavy (buttered rum, anyone?), but something zesty and light can make a much better drink for pairing with rich party food. Oddly enough, the beautiful Czech spa town of Karlovy Vary provides some help.
Perhaps best known in America as the location of the Grandhotel Pupp, where Queen Latifah stayed in the film Last Holiday, Karlovy Vary is the home of Becherovka, a 76-proof spirit brewed with, of course, a secret blend of herbs and spices. According to the Becherovka website, only two people in the world know the formula. Presumably they travel on different airplanes.
This rather bitter liquor might be placed in the same category as vile Jägermeister, but I find Becherovka much more complex and palatable. Although many consume Becherovka neat or on the rocks, I enjoy it most in a "Beton," which translates as "concrete" in Czech. The name actually comes from the ingredients, Becherovka and tonic.
Like a gin and tonic, a Becherovka and tonic features aromatic herbal and floral notes as well as a touch of bracing bitterness. But the Beton goes further, with strong flavors of clove, pine and even some cinnamon. A gin and tonic is unquestionably a summer cocktail, but a Beton is Christmas in a glass. The recipe is simple:
Beton
1 Part Becherovka
1-1.5 Parts Tonic
Gently mix the above in a highball glass with a large cube of ice or two. If you're feeling fancy, garnish with a lime slice or a sprig of rosemary. If the ratio above proves too boozy for you, you can adjust it to your taste, of course.
I usually purchase my tonic at Whole Foods, which sells a corn syrup-free version in inexpensive six packs. But for this post, I stopped at In Fine Spirits to pick up some "craft" tonics. After all, a cocktail this simple calls for quality ingredients.
Both Fever Tree and Fentimans are wildly expensive at about $2.50 per bottle, but you can eke two cocktails out of the Fever Tree and three out of  the Fentimans. In our taste test, both tonics did well, with relatively small bubbles and aromatic herbal/floral notes. Alone, the Fever Tree tasted more austere, with a slightly more medicinal aftertaste and a flavor that made me think of little white flowers. The Fentimans tasted a bit sweeter, and instead of white flowers there was a hint of Lemon Pledge.
Mixed with the Becherovka, the Fever Tree version hit me with a lusty blast of clove,  juniper and cinnamon. It was a Christmas party in my mouth. The Fentimans Beton still felt very Christmasy, but it tasted somehow rounder and deeper — more like an intimate gift exchange by the fireplace.
Either tonic makes a beautiful Beton, but if you prefer Canada Dry or Schweppes, go for it. You'll have a uniquely delicious cocktail in any case.
Find It: If your favorite liquor store doesn't carry Becherovka, Binny's offers it for $23 per bottle.