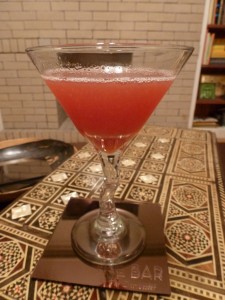 If you conduct even the briefest of Internet searches, you will discover all sorts of blogs, newspapers and magazines recommending wines for Thanksgiving. I've seen articles recommending Beaujolais (ideally Cru) and rosé Cava, for example, both of which sound lovely and not nearly alcoholic enough for a major family holiday. I decided it was time to dust off my mixologist cap.
A pumpkin or pumpkin pie martini sounded too much like dessert, and neither turkey, gravy, stuffing, nor green bean casserole offered a flavor profile I wanted to recreate in a drink. That left cranberry sauce.
Since I'd never worked with 100% unadulterated cranberry juice, as distinct from the cranberry juice cocktail used in Cosmopolitans and Cape Cods, it seemed like a fun challenge to use it as my inspiration.